35 Photography Project Ideas That'll Bring Your Photo Books to Life
Add creative techniques, styles, and shots to your collection (and maybe be mistaken for a professional).
It's easy to take 50 photos of your kids' soccer games (and 100 photos of the floor when they steal your phone and run away), but if you feel like you don't have a lot of variety in your pictures each month, we've got some ideas to help you find inspiration. Whether you're a beginner photographer or just looking for new styles and techniques to take creative shots, you can step up your game with these creative photography project ideas—plus, you'll have a plethora of pictures to choose from at the end of each month when it's time to design your Monthbook. And you'll want to print your photos to keep track of your growing skills! We've broken our ideas down into themes that'll transform your camera roll into a professional-looking gallery…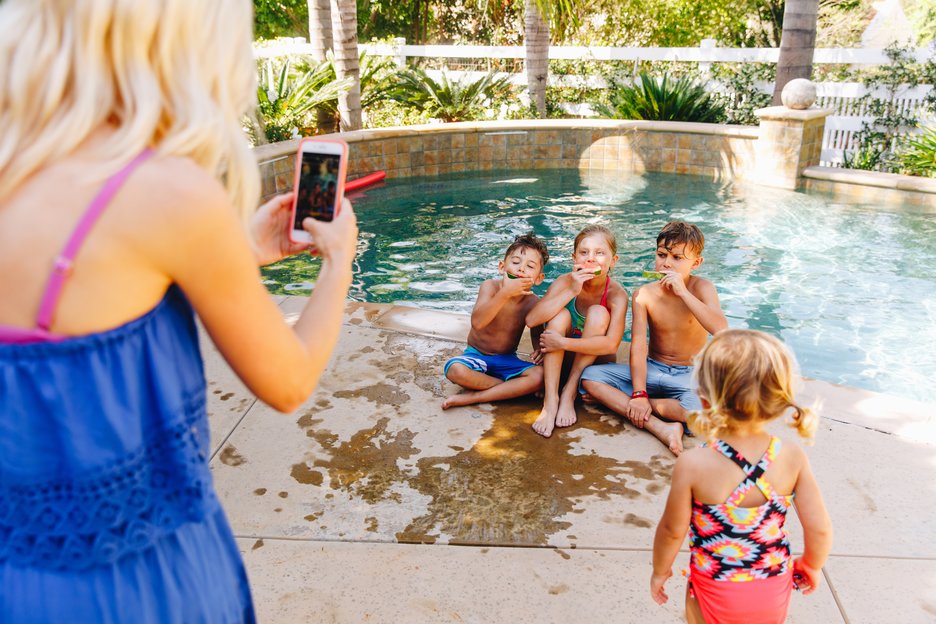 Parenthood
If you can't wrangle someone to take the shot for you, set up your self-timer and get in the frame. You could be cutting the crusts off PB&J's or settling in for storytime—whatever you're doing, these everyday moments with your kids are the ones worth capturing. You never know what the camera will help you discover!
Self-portrait
We're not asking you to take a selfie, we're reminding you to get in the picture! You snap so many shots of your family members, it's time to take one of yourself. Adjust your camera so it's in portrait mode, set the self-timer, and make sure you're in the frame. Capture whatever you're feeling in the moment—happy, stressed, and everything in between.
An Old Photo
Find an early photo of you holding your child in your current home, then have them pose in the same spot while holding up that same photo to show how much they've grown. Bonus if you can imitate the position with them!
Grandparents
Crack open the door or peek around the corner and sneak a photo of your kids with their grandparents for a cute candid. Instead of them posing and smiling, you'll capture the beautiful, real moments of their relationship.
Bedtime
Take a photo of your sleeping subjects—and celebrate the victory of actually getting them to sleep. Bedtime is when your kids (and your spouse) are most vulnerable, so capture the moments when they're at peace or when their fingers are bunched up around the comforter.
Neighbors
If you primarily snap photos of your family, take to the streets for a new subject and really capture the people who make up your neighborhood. Maybe you notice what someone is wearing, or their expression. What's something new you can learn about someone who lives just a few doors down from you. Remember to ask their permission to take their picture and don't post photos of anyone without their consent. And consider printing all your neighbor photos into a Chatbook and getting copies for the block!
Pets
Snap a shot of your cat peacefully sleeping in the sun, or your dogs cuddled up on your bed (even though they know they're not supposed to be there). If you want to create a photo book that's all about your fur baby, try our InstaPet Series.
Food
You don't need to have an Instagram dedicated to food in order to take drool-worthy photos of your dishes. Whether you're baking or frying something up in the skillet, take a photo! (Especially if it's a new dish—get a reaction shot from your kids when they try.)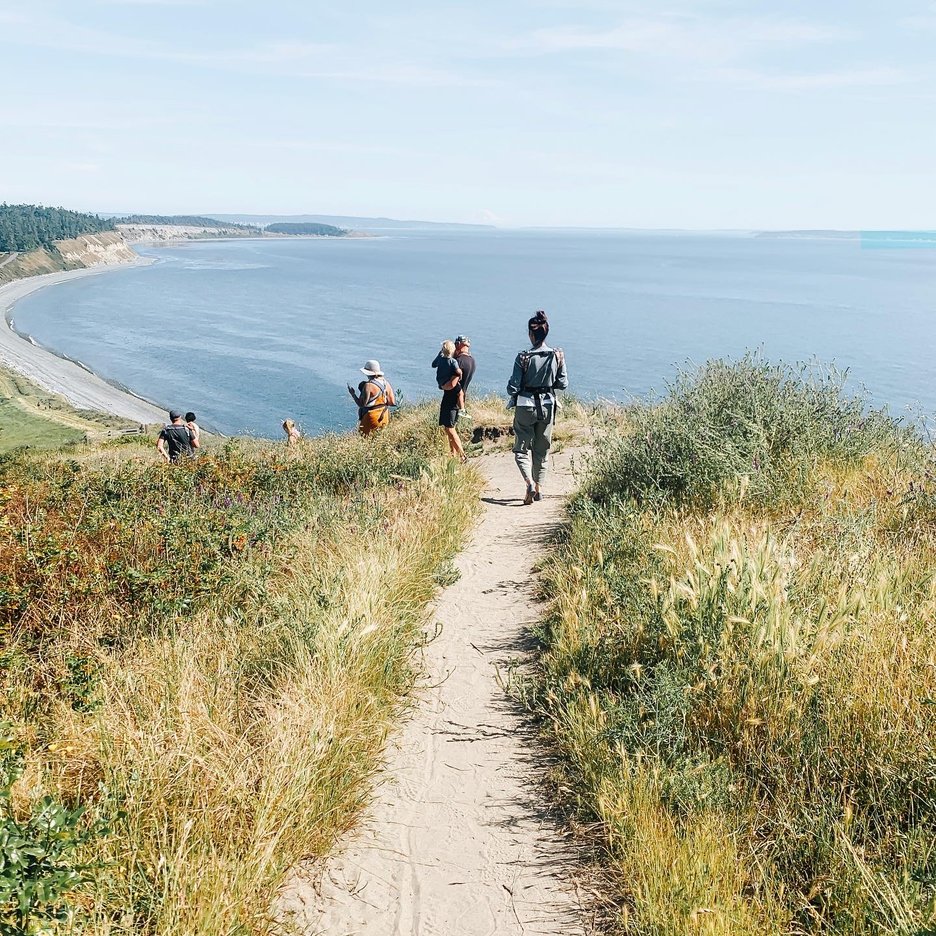 Go Panoramic
Road trips and vacations are filled with opportunities for great landscape shots. You're more likely to keep the photo if your family is in it, so include them in your frame while shooting a landscape. If you're taking a photo with something super tall in the background, try taking your panorama vertically instead of horizontally.
Fly a Drone
If your family has a drone with camera capabilities, use it to explore new vantage points, neighborhoods, and other places you otherwise couldn't go (like over a lake, or way up in the sky to take an epic picture of a rainbow).
Beach
The beach is a popular place to shoot thanks to the water, sunset, and footprints in the sand. That might be because the ocean brings a sense of calm. Try to capture what brings you peace, like the first time you dip your feet into the water.
City Streets
Between the street lights, foot traffic, and passing cars, there's plenty of hustle and bustle to document. Pick something that feels out of place (like a delicate flower growing in between 2 slabs of pavement) or snap photos of the street lights reflecting off cars and the cars spraying water as they hit puddles. In addition, try taking a photo of yourself living in the moment.
Take a Hike
Hit your normal trail, or find a local spot, and take in the nature around you. Snap shots of plants and animals you've never noticed before and document your journey along the way. Get close to flowers and take photos of their details, like when a bee lands on the petals or its caught in the wind. Take a photo before you embark, one halfway through, and one at the end to celebrate your everyday victories.
Driveway or Sidewalk
Everything has a story, even the asphalt and cement under your feet. Snap a pic of the chalk art your kids spent hours creating (especially those hilarious chalk outlines of their bodies), or the dandelions that have begun to peek out between cracks of your sidewalk. Try picking one up and blowing it into the wind for a photo that has motion.
Bathtub
Treat yourself to a bubble bath—and take a minute for a photo session. Safe beneath the bubbles, take a shot of your feet peeking out so you can remember a moment when you were calm and relaxed—and when you had a moment to yourself! You can also try adding milk to your tub and dropping items in, like flowers, to create interesting and beautiful shots.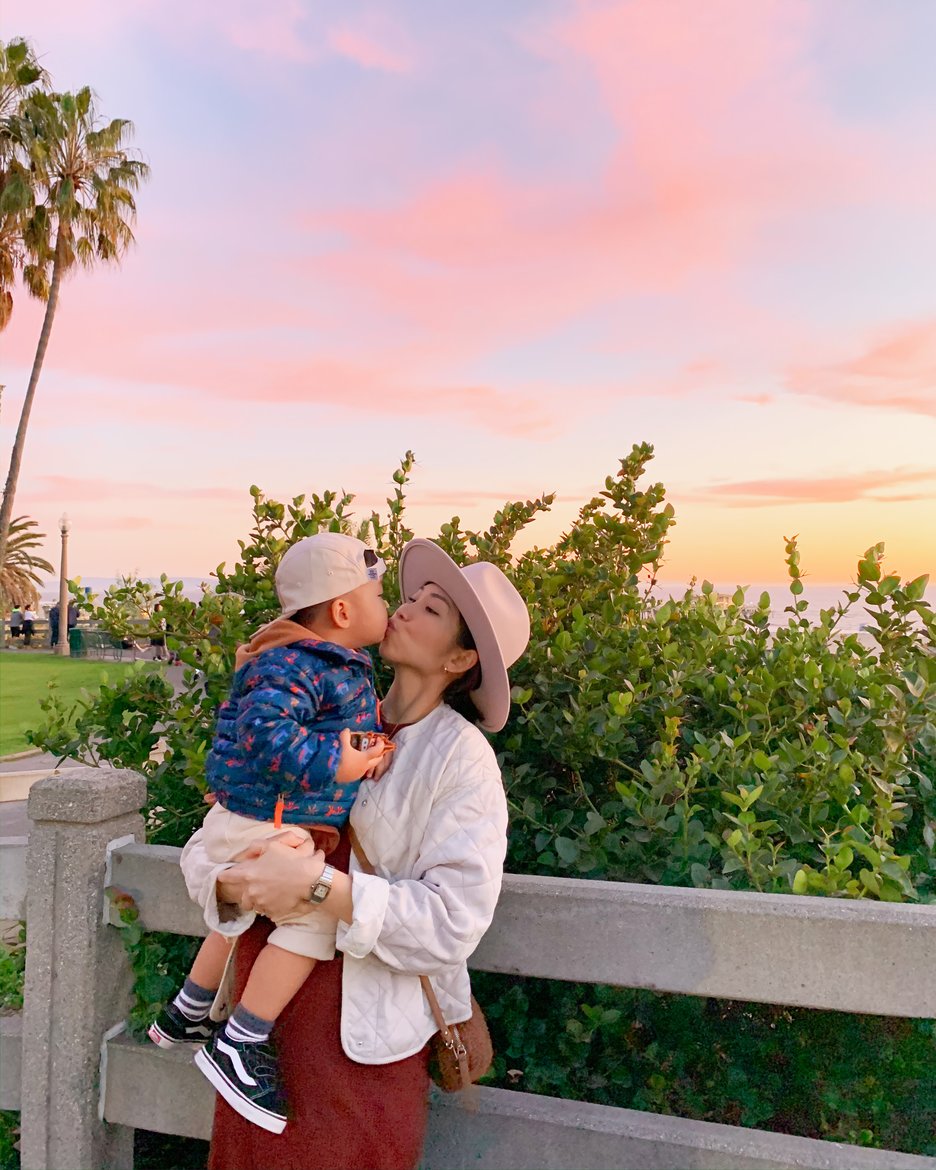 Sunrise
The light and colors that emerge at sunrise are different than those you'd see on the horizon at sunset. Go for a gorgeous photo of the sun rising (which offers brilliant shades of orange) or opt to add something in the foreground, like taking the photo from behind a fence or with a mug of coffee placed in front of the sun.
Shadows
As the sun goes down, the shadows come out—and while your kids may think that means Peter Pan is coming to whisk them away to Neverland, it's prime camera time for you. Whether you head outside or stay indoors, look around to see how you can play with the shadows. Place items around you to add to the shadows and see how you can use your own to change the silhouettes in the frame.
Smoke
Try blowing out a candle that's been lit for a few hours, then move the wisps of smoke underneath your lens to create an amazing effect. The longer you wait to blow out the candle, the more prominent the smoke, and you'll have some extra time to make sure your photo is just right.
A Photo of a Polaroid
Whether it's a Polaroid that's decades old or one you've taken recently, there's something so beautiful about photos that are immediately printed with a white, square frame around them. Throw a few onto the table and take a picture of how they scatter, or arrange them somewhere in your house they haven't been displayed before.
Sunrise
The light and colors that emerge at sunrise are different than those you'd see on the horizon at sunset. Go for a gorgeous photo of the sun rising (which offers brilliant shades of orange) or opt to add something in the foreground, like taking the photo from behind a fence or with a mug of coffee placed in front of the sun.
Leaves
Capture the seasons by periodically taking pictures of the leaves (or lack thereof) on the trees in your neighborhood. This is a really cute way to keep track of the changing seasons in your Monthbooks, plus another way to keep tabs on how your photography skills are growing—by focusing on the same subject!
Glass Table
Take a new vantage point! Put something on top of a glass table, like a vase of flowers or even your pet, and slide underneath to take a beautiful (or surprisingly hilarious) photo.
Snow
When you see the snow start to fall, try to snap photos of individual snowflakes as they begin sticking to your windows so you can see the unique qualities of each one. Try putting your camera in the snow face-up and snap a pic as the snow falls down, or wait until everything is covered and take pictures of the marks your kids leave behind in the powder.
Change Your Focus
Bring something close to the camera lens, like a plant, and set the focus on something in the distance, like one of your kids doing their homework at the table. The plant in the foreground will create a cool perspective during an everyday moment.
Spills
Did you knock over a glass of chocolate milk? Did all your tupperware tumble out of the cabinet? Before you clean up, snap a photo of the chaos. Take a moment to stop, pause, and take notice of your environment.
Elevation
Head to a high vantage point, like the top of a staircase (or even up a tree!), and take a shot of what's below you. Whether you're sneaking candids of your kiddos or photographing a shot you set up, coming at your subject from a higher vantage point can completely change your perspective.
Create a Rainbow
If you have a prism, disco ball, or even a mirror, glass, and water, you can create your own rainbows. Add rainbows to a room that doesn't get a lot of light or in a space that makes you happy (or, make a rainbow above all your kids' dirty clothes!).
Go Small
Find something tiny, something that you often overlook—like an ant or the buttons on your jacket. Get up close and see how much detail you can squeeze out of your camera. What have you never noticed before?
Lightbulb
Take the shade off your lamp or hold your lens up against a hanging light (holiday lights will work!) and focus on the filament for a cool photo that also lets you experiment with the foreground and background.
Movement
If you're shooting with your phone, adjust to burst shots, stand still, and focus your frame before your subject runs through it. You may catch some seriously funny faces while your subject's in motion, like when your kids hurl themselves down the slide at the playground.
Chest Mount
If you can, use a chest mount or harness and do something outside your comfort zone. Try heading down the slide with your kids or even jumping on a zipline. Set your camera on a timer, so that when you're in the middle of your journey, it can snap a picture you normally couldn't capture yourself.
Something Funny
Remember, your photos don't need to be staged! Take a picture of whatever made you laugh today—which could be the facial hair your toddlers drew on their faces or your bigger dog sleeping in your smaller dog's bed—try snapping a photo so you can look back and laugh again.
Rain
Get outside and splash around! Snap photos of the rivulets dripping down your rainboots and umbrellas, or stay indoors and take some shots of the rain running down the street and the drops racing down the window. If it doesn't rain often, get outdoors and take shots of the morning dew that lines the grass!
Filters and Presets
Once you have a few photos, pick a few to add filters to, or use presets to change the look or style of your pics. See what details you can highlight (or even hide) by experimenting with your camera's filters or by adding presets to edit your photo's designs (like brightness, saturation, and other settings).
To capture those sweet, peaceful shots, it's helpful to keep your baby asleep. As new moms and dads know well, a little one's favorite place to sleep is often in a parent's arms—so use that to your advantage. "The pictures you will cherish the most are going to be the one of you holding and admiring your little bundle of joy," says Rachael. "Take turns snuggling your baby while the other take the pictures. I guarantee your new little baby will stay asleep."
If you'd rather have pictures of her sleeping on her own, simply "crank up the heat a few degrees," Rachael suggests. "They will stay asleep a little better."
In addition, even the tiniest noises—like the click of the camera shutter or your whispered instructions to your spouse—can wake up a sound sleeper, so drown those noises out with soothing sounds. "A white noise machine or even just having the vacuum running in the background can help keep a baby asleep," says Melody.
3. Follow Your Baby's Lead
You've probably seen photos of perfectly posed newborns, complete with props and outfit changes. While they may be cute, they're best left to the professionals. "If you haven't been trained how to pose a baby and don't know how to use Photoshop, do not attempt it," says Melody. "No baby can hold their head in their hands for a photo. It's Photoshop magic."
Instead, you're much better off wrapping your baby in a cute swaddle or an outfit you love, and see what happens from there, she says. "Baby-led posing comes out beautifully."
4. Make the Most of Your Photo Shoot
Just because you don't actively pose your little one doesn't mean you can't get a good variety of shots. "Find a position that you and your baby are happy with—where the baby is safe," Melody recommends. That could simply be however your baby falls asleep—swaddled on his or her back or curled up on his or her belly. "Then, move your body."
Rachael agrees. "In one single pose I can get four to six totally different pictures by just tilting my camera," she explains. "Get close and tight pictures, then get a full body frame. Tilt your camera 45 degrees, stand on a chair, lay on the floor, see how many angles are possible, and go crazy."
Capture the baby's toes, fingers, nose, hair—all those sweet details that you want to remember forever. For even more options, add a different blanket or invite a sibling to come lay down too. Without changing your little one's position even once, you can get dozens of different photos.
Above all, don't strive for perfection. "Professional newborn photographers spend hours learning how to properly pose, handle lighting, and work their cameras," Melody says. "Just enjoy taking pictures of your little one. These are images you will have forever."
____
Want more tips and tricks for your busy family? Join the Chatbooks #MomForce community on Facebook.