15 Creative Photo Book Cover Ideas You'll Want To Try ASAP
We've got you "covered" when it comes to picking the perfect photo to be the cover of your photo book.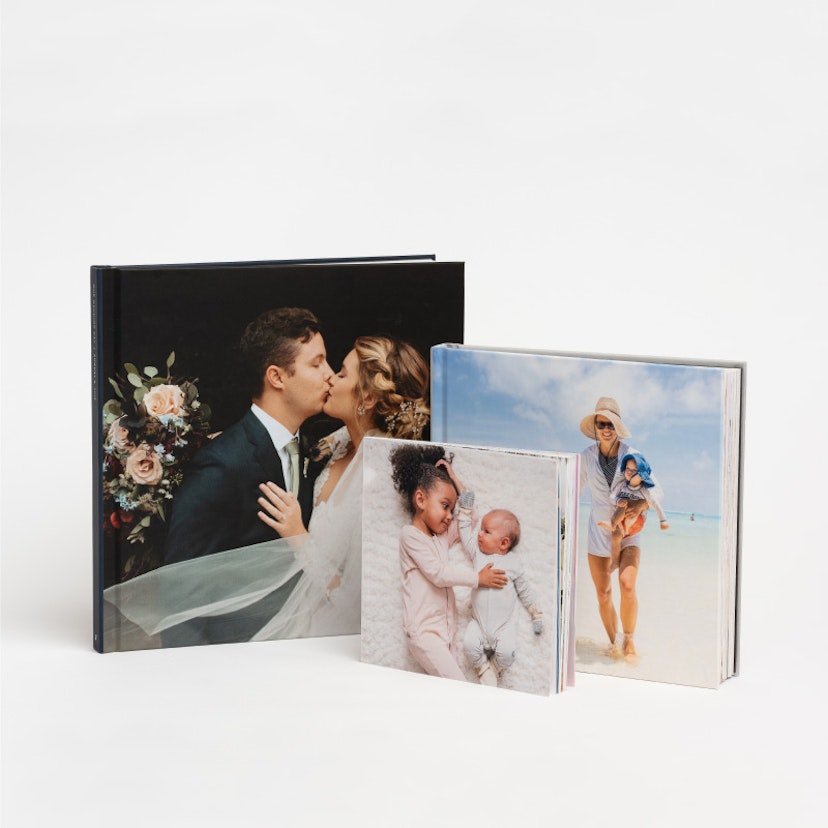 The only thing more fun than posting your fave photos to Instagram is getting those pics curated into a Chatbooks photo book. Our books are wonderful to display on your bookshelf, in your child's room or stacked up on your coffee table. With so many books to make and photos to choose from, figuring out the perfect cover might feel a little overwhelming. Luckily, we've got you covered (see what we did there?!) with a bunch of creative cover ideas that'll do your memories justice. Read on and get inspired for how you can style your next Photo Book Series!
If you have a little Picasso at home, scan their best artwork onto your computer or just snap a pic of their work on your phone and upload it as a cover for your photo book. This book can feature all of your kid's creative endeavors — it'll be a great way to hold on to all of their work.
2. Moment from a road trip
For the family that's full of wanderlust, fill a book with all of your adventures and make sure the cover features your family on one of your greatest road trips. Now is a great time to revisit old photos from your many expeditions. The cover image can be a funny moment that happened in the car, a selfie from a day trip or, if you have a cool car, just shoot a pic of your ride on a stretch of highway and use that as the cover.
One of the best things about the Chatbooks photo book is that it makes a great coffee table book. Finish off your living room aesthetic by creating a photo book with your favorite designed quote on the cover.
One of the best things about the Chatbooks photo book is that it makes a great coffee table book. Finish off your living room aesthetic by creating a photo book with your favorite designed quote on the cover.
If Halloween is your favorite holiday, then this book cover idea is for you. Create a book dedicated to your family's' best Halloween costumes from over the years. Use a pic featuring your favorite, award-winning costume as the cover image.
Perhaps you're living out your dream in the city of love (bonjour, Paris!), or you spent a few years in the city that never sleeps (let's hear it for New York). Either way, a great way to pay homage to your city of choice would be a collection of all your favorite photos from that place bound into one book. Make sure to get a stunning photo of the skyline for the cover.
You know your baby is cuter than anyone else's, which is why you have so many kid photos on your phone. Put those photos to good use by creating a birthday book of your little one so you can document ALL the moments, and be sure to snap a picture of them on their birthday for the cover.
If your camera roll is full of screenshots of the best memes the Internet has to offer, consider creating a meme book to entertain you and your family. Bonus: You can cut back on screen time but still enjoy those online comics!
Teachers need to be celebrated for all the work they do. Find your favorite photo of them in their element, and use it as the cover photo for a book filled with pictures and notes from their students.

There are two kinds of people in this world: those who take selfies and... those who take selfies. Find your favorite selfie with a friend or family member and use it as an organic cover photo.
11. Favorite meals (recipe book)
Whether you're a well-seasoned chef or a TikTok novice, you can create a recipe book complete with pictures of your own creations. Put your best meal on the cover and show this book off in your kitchen.

Music fanatics everywhere will love this idea. Use your favorite album cover (or a collage of your favorites) as the cover of your photo book full of pictures of you at your favorite concerts, rocking your go-to band tee, playing the guitar or any other great musical memories.
Those furry friends are just as much a part of the family as anyone else, and they deserve a book dedicated to all their "good boy" moments.
Nothing brings a smile to your face more than the nostalgia of the good old days. Find all your old photos that you can show to your children, scan them or snap them and include them in a #tbtb book. Use a particularly fond throwback pic for the cover.
Documenting your outfits can be a great time capsule and a fun way to express your style. Take photos of your "outfit of the day" and save those photos to create a "year in review" book of all your fashion endeavors. Include your best ensemble on the cover.