20 Creative Sibling Photo Shoot Ideas That'll Make You Smile
Siblings are lifelong friends (even if they stole your favorite toy as a kid), so gather your brothers and sisters and choose from these photo shoot ideas for a perfect family moment.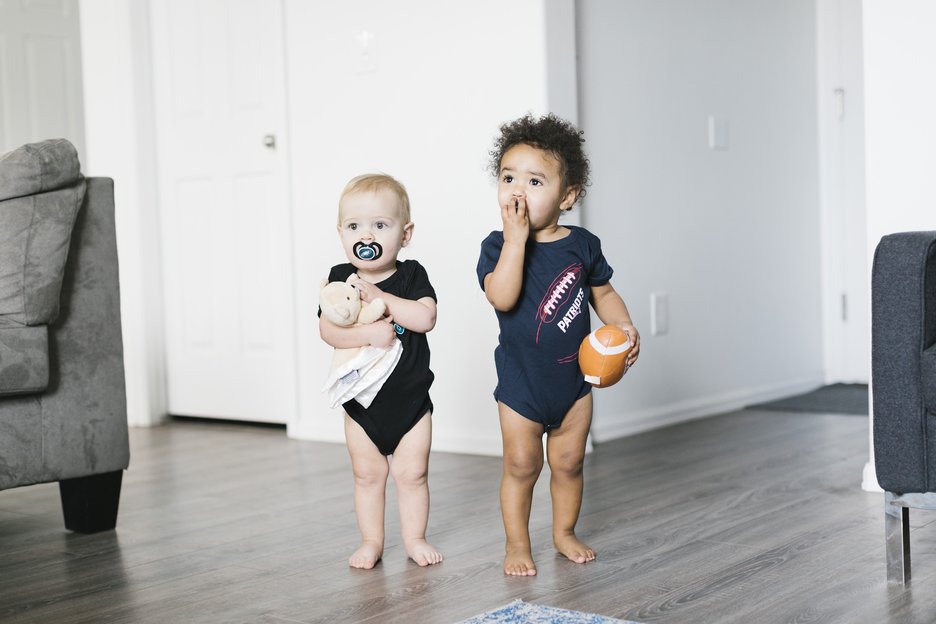 Photo taking is fun, until it involves your three-nager. At that point, there's a good chance that some tears will be shed in order to get the perfect shot. Add another kid in there and you'll be lucky to make it out of a photo sesh without a complete meltdown. Even though photo taking with kids can be tricky, when you look back at those super cute Instagram Photo Book Series, doesn't the struggle feel totally worth it?
That's why we compiled the cutest sibling photo shoot ideas so you can capture the biggest smiles and the biggest personalities. These 20 tips are sure to capture all of those precious sibling moments with as few tears as possible. And the best part: These sibling photo shoot ideas are totally free (no complicated props or backdrops here).
1. Overhead shot. There is nothing cuter than seeing little fingers as your kids are flipping through their favorite books or playing with their favorite toys while also showing off their cute hair bows.
2. Playing outside. A dog pile of your littles? Sounds picture-perfect. Maybe even throw mom or dad in there for some extra fun.
3. In their bedroom. Get them in their element doing the things they love most: playing with toys, rocking in their favorite chair, or making their bed (we all know they don't love to do that, but a mom can dream!)
4. On the stairs. This adds a cozy feel to any shoot. Capture your kids at home, sitting on the steps that they are probably used to hanging out on anyway.
5. Coloring together. Let their personalities shine through as they color together. Just have their imaginations take control and see their true colors as they get creative while on camera. Hold onto their creations as an extra memento to keep along with the photo you print of them in action.
6. Running outside. Looking for an authentic smile? Let them run around together outside and capture those sweet and spontaneous moments.
7. Playing on the bed. Let them snuggle up together for this precious shot. Your mama heart may burst, and we promise you'll want it saved forever in a Chatbook.
8. Holding Hands. Odds are you might have to do some convincing to get these shots (unless your kids love hanging onto each other!).But there is something so sweet about seeing your kids hand-in-hand. Promise them a snack after you nail the perfect shot and they'll be much more willing to stay still.
9. Sharing a favorite treat. The kids will definitely be on board with this one. Have them share an ice cream cone, a doughnut or a few big slices of watermelon for some cute messy-face photos.
10. A group hug. A big group hug is sure to get a laugh out of the kids, leaving you with the perfect family picture.
11. Playing their favorite outdoor game. Their favorite games just got cuter. There's nothing better than a framed photo of your littles with a giant ball or on a jungle gym.
12. Arms around each other. This pose is just as sweet as the hand-holding photo op, but may not require as much coercion to get them to cooperate.
13. Playing with pets. Snap some action shots of your littles with your fur babies — they deserve some attention, too!
14. One sibling is in focus. Try a staggered pose with one kid in front of the other, and focus in on whoever is in front for an artsy and memorable pic. Have them switch places and take some more shots so no one can claim you're playing favorites.
15. Sitting on the couch. So simple and somehow always so cute. No need to get dressed up — this is a very organic shot. If you're a sports family, dress them in your favorite team onesies.
16. Looking at each other. Gather the kids on a big comfy chair and just have them look at each other. They're bound to burst into giggles, but that's exactly what you're looking for! If you have a new baby at home, use this as an opportunity to capture a sweet moment of them holding their new baby sibling.
17. Playing their favorite sports. Action shots are fun to take and even more fun to participate in. Try some pool noodle baseball or even a quick game of tag to get smiles going.
18. Piggyback rides. Looking for a fun way for siblings to hug it out with some giggles in the mix? Have them take turns giving each other piggyback rides!
19. Back to back. Capture this cute little profile shot and warm every heart who sees the framed photo hanging up in your entryway.
20. Jumping.The only hard part for a jumping photo is getting the timing right. Other than that, crazy faces and untucked shirts are totally acceptable.