13 Pet Photo Album Ideas That You'll Love Fur-ever
Hold your appaws!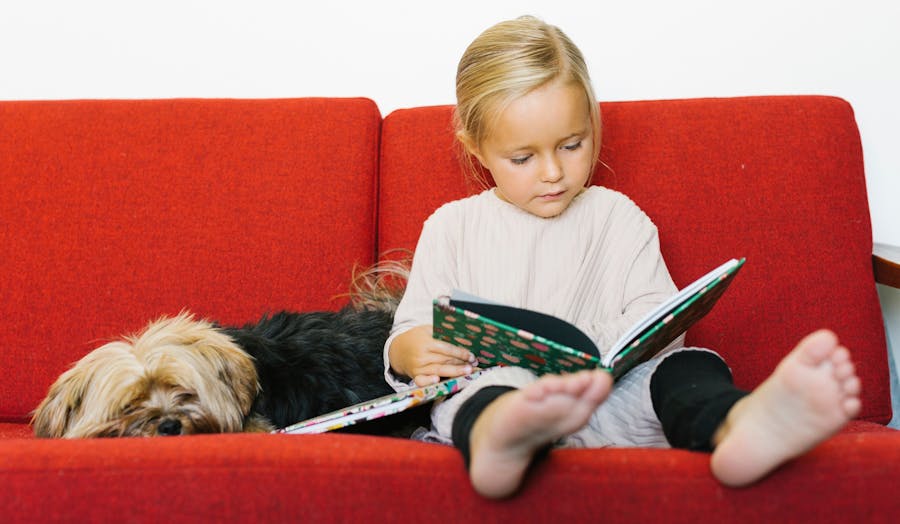 on February 19, 2021
There's a chance that the family pet is your favorite child. They never talk back, they always give you snuggles and you don't have to wipe their butts. Now is the perfect time to show some love to your fur baby with a custom pet photo album. Not sure which direction to take with all your pictures? We've got you covered with these 13 ideas for photo albums that'll do your dog, cat, hamster or even fish justice. Read these fun pet photo themes and just try not to make a book in the beyond easy Chatbooks app. Bonus: Your kids will love looking through the pet photo albums you make!
A book of firsts
Looking for an easy theme that'll make you cry happy tears? Print all of your photos that showcase "firsts" for your fur baby: the day you brought your pet home, when they learned their first trick, or a moment from their first birthday with your family. If your phone's camera roll is overwhelmed with pet pictures, this is a great way to get your photos into your hands and free up that much-needed phone storage space!
InstaPet Series
One photo book is never enough, especially when you take a bajillion photos of your pet. If you have an Instagram account dedicated to your furry friend, connect it to the Chatbooks app! Opt for the InstaPet Series in the app for an easy way to get all of your pet pics printed and sent to your front door.
Funny photos 
You know your pet has a great sense of humor because they are always making you laugh. Make a photo book full of all of the pet pics that make you and your family LOL.
Holiday moments
Collect all of your pet-centric holiday pics and plan out a festive photo album. Who wouldn't want to immortalize those memories of your dog in a cozy sweater, the cat cuddled underneath the Christmas tree or even your hedgehog perched on a Christmas display.
In memoriam
If your beloved animal has passed away, create a photo book that is an homage to your pet's life and can bring back all your favorite memories.
Pet adventures
Squads that explore together stay together! You and your pooch are adventurous and love the great outdoors, and you probably have plenty of pictures to prove it. Make your next photo album feature all of your fav outings.
Vacation
If your pet loves road trips and spending days at the beach, you need a vacation photo album for your fur baby!
Family resemblance
Perhaps you've taken some pictures of you and your pet in matching sweaters. Find those doppelganger pics and create an album all about how you and your fur family member look the same.
Sleepy snaps
Is there anything more adorable than a sleepy kitten or a snoozing pup? You know there isn't, because your whole camera roll is full of those photos. Create a cozy little photo book full of sleepy, lazy Sundays.
Family photos
Pets are an important part of the family and should be included in family photos. Whether it's your little kids chasing Fido around the house or a grumpy cat being held in the middle of your laughing family, find all the family pictures with your pets included and create an adorable photo album.
Over the years
Pets grow pretty quickly, and documenting their growth over time can make for the sweetest ever pet photo book.
Birthday book
Let's be honest: You go all out for your pet's birthday. From "barkuterie" boards to party hats for cats, you've probably taken a bunch of pictures of pet birthdays throughout the years. Turn them into a photo book!
Funny and sweet pet quotes and sayings
Fill a book with pictures of your pet along with some quotes to match each photo. Pair a funny quote with a hilarious picture and match a sweet image with an emotional saying. Your kids will love picking up this book to read all about their fur siblings.