How to Create Photo Books from Old Family Photos
Revamp your old family albums (and save those loose photos) by printing them in a photo book!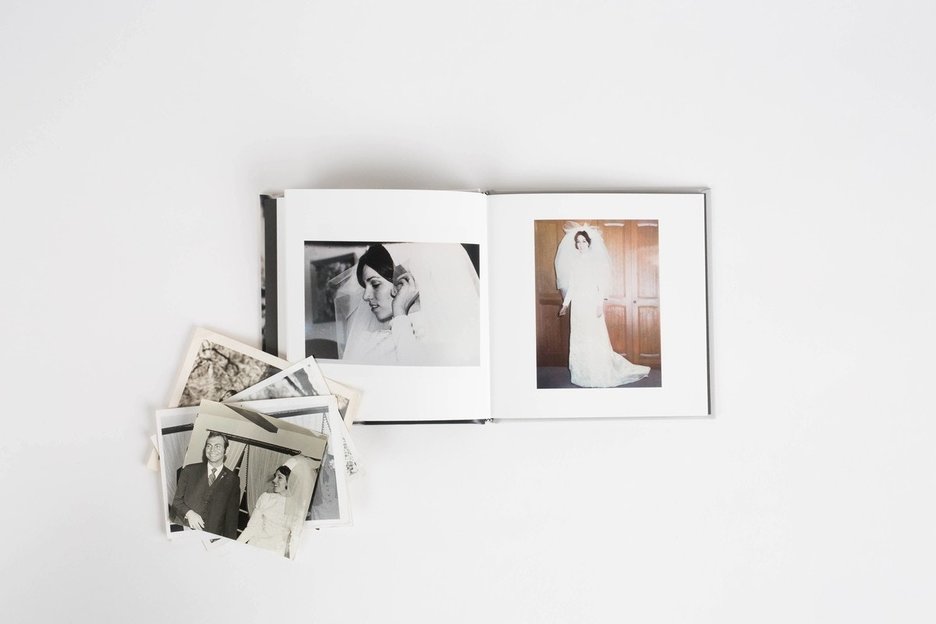 The time to get your old family photos out of the attic and into a Chatbook is long over due. Seriously, the time is now! Using the Google PhotoScan App, you don't even need to dust off your old scanner either. This app makes it easy to scan your old family photos onto your phone, into Google photos, and then to download them into a Chatbook. Use this step by step tutorial to help you scan your photos into a photo book with the highest resolution possible. Digitizing and then printing your old photos into a Chatbook will save them from years collecting even more dust. Don't your memories deserve a little more TLC? These old photo Chatbooks are bound to become family heirlooms for years to come.
1. Make sure you have the PhotoScan by Google Photos, Google Photos, and Chatbooks apps (it will make this process MUCH easier, promise!).
2. Start in PhotoScan and select some old photos you would like to put into a book. For this example, we decided to use an old family wedding album.
3. When you open PhotoScan, allow the app to access your camera and it will then become a photo lens. The app will then ask you to position one of your photos within the frame. Click the white button at the bottom to capture the photo.
4. After taking the initial photo, a circle will prompt you to move your phone to match up with the necessary circles in the four corners of the photo.
5. Follow the arrow and move (don't tilt) your phone so that the middle circle lines up with each of the corner circles individually. Hover over the aligned circles and when the circle turns blue, you know that corner is complete.
6. After the photo is scanned in, you can click on the circle in the bottom left corner to view the photo. We HIGHLY recommend doing this for each photo because occasionally we found glitches along the way – either the photo was incorrectly cropped or simply needed to be rescanned. And, if you don't adjust the photo in this app, you might have to rescan the photo again entirely.
7. You can now adjust your photo. You can rotate the photo to the correct orientation. Also, if your photo looks like it is incorrectly cropped, click 'Adjust Corners' and then drag the square to the size you would like the photo to be.
8. Once all of your photos are scanned in, click the blue 'Save All' button in the top right-hand corner. This will save your photos to your phone and in Google Photos. *Unfortunately, the app doesn't save any data so always remember to click the save button*
9. Next, open Google Photos and you will see all of your scanned photos.
10. Click the menu button in the top right corner and then choose 'select photos' to choose all of your recently scanned photos (and any others you would like) to add to your Chatbook.
11. Add the selected photos to your Chatbooks share tray. (If you can't see the Chatbooks icon here, select 'more options' to the far right of your share tray and turn Chatbooks ON. Then select Chatbooks.)
12. You can now select which book you would like to add your photos to. Here, we selected the 'Family History' Chatbook.