21 Unique Engagement Photo Ideas You'll Just Have To Try
Get ready to be inspired with these crazy creative photo op ideas for your engagement pics.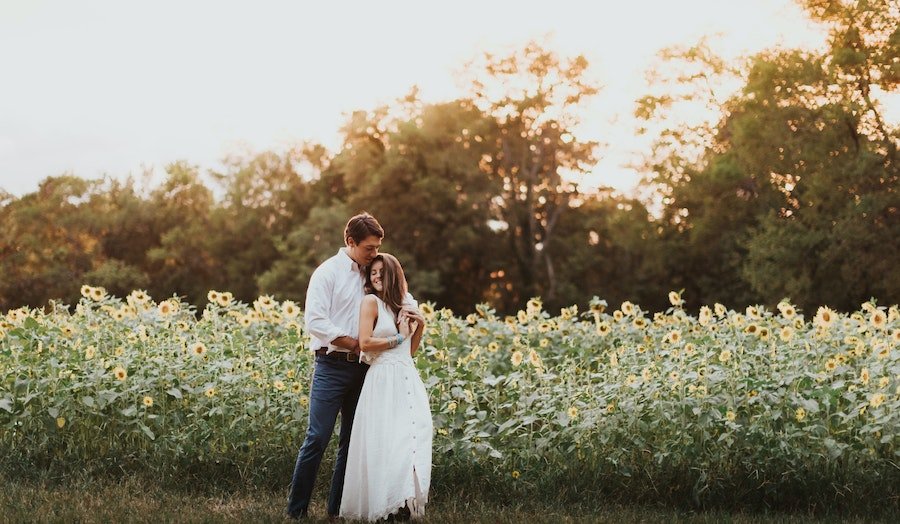 First comes love, then comes marriage, then comes — wait, we can't forget about your engagement photos! Before you start thinking bridesmaid dresses, vows or cake toppers, you'll want to plan engagement photos. Whether you use them on your wedding website, save the dates, or just as a keepsake, this is the time to shoot those dreamy shots. And it doesn't matter if a photographer or a friend with a great phone camera is snapping your pics, you'll need to find the right outfits, plan the poses and pick your location. We know, it's a lot. To make things easier, we found 21 unique engagement photo ideas so you and your partner can shoot the romantic pictures you've dreamed of.
And after all that time spent on finding the right outfit and location, it's no wonder your camera roll is filled with sweet shots of you and your fiancé (especially after it took you 10 minutes to get the perfect sunset shot). Don't let those pics get lost in your phone, print them in a wedding-inspired photo book (print them in a Layflat photo book and add blank text pages to every other page to create a personalized guest book for your wedding), or hang them on your wall with Canvas Wall Tiles. And if you love saving your favorite memories from every month, print 30 pictures each month with a Monthbooks subscription.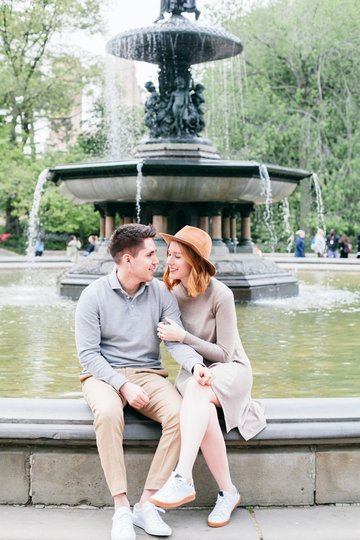 Find a local park, nature preserve or even downtown fountain to pose with your partner. Water features make for excellent backdrops, especially when the sun goes down and the lights dance on the water just right.
Hop on for a piggyback ride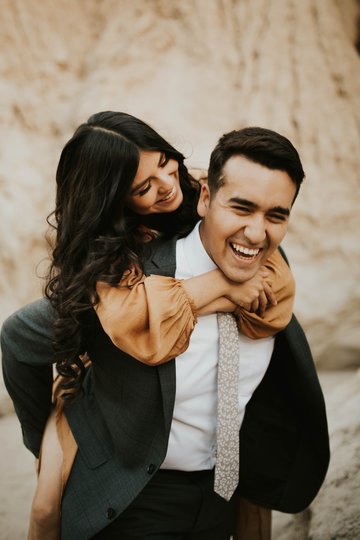 Piggyback rides are a super easy and cute way to embrace your partner, show your intimacy with one another — and also crack a laugh! Go for a kiss on the cheek for a super cute shot.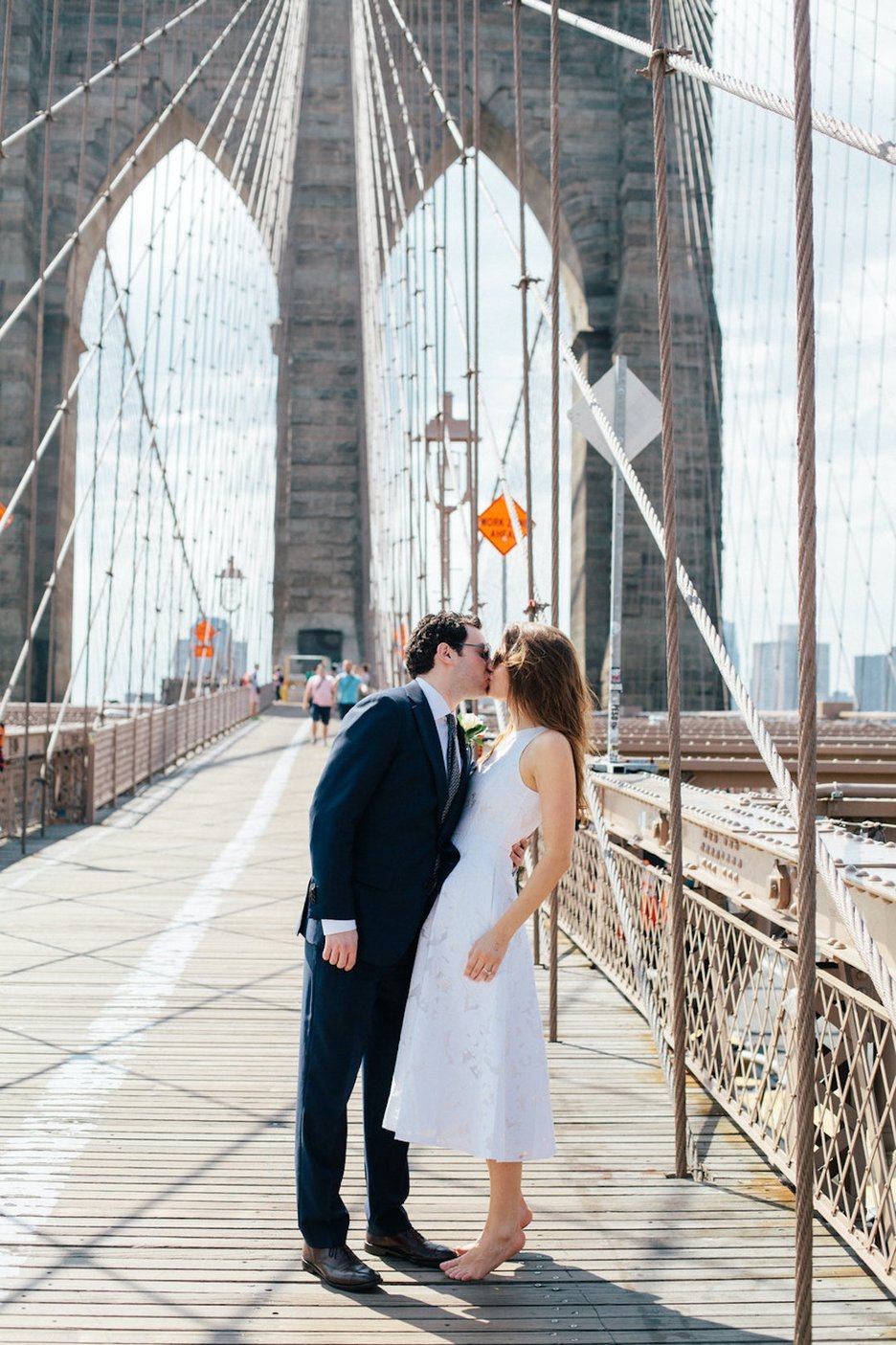 We'll cross that bridge when we get to it... for our engagement photoshoot! The stonework and sheer heights of bridges, not to mention if they hold historical or geographical significance to you, makes for great, iconic engagement shots.
Walk a landmark or museum

If there's an indoor or outdoor location with architecture that just calls to you, then hit the catwalk as a couple! If you live in a location with a historic landmark or love visiting a local museum, get dressed to the nines and use that spot as your backdrop.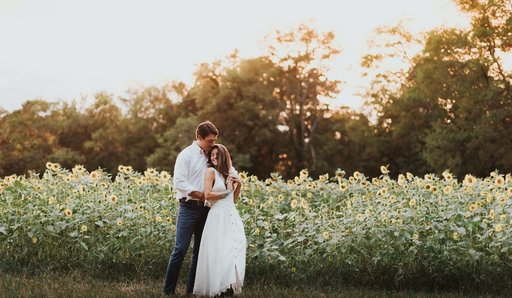 Everyone knows you can't go wrong with a field of flowers, and if you're the kind of couple that likes to say, "you are my sunshine," a field of sunflowers sounds like the perfect fit. (Especially if you grab some golden hour shots.)
Opt for a memorable location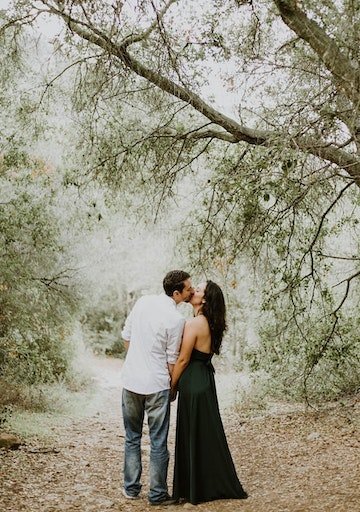 Maybe there's a beautiful hiking trail where you had your first kiss, or perhaps there's a cute cafe where you first met. Whatever your place is, choose that as your backdrop for a beautiful and memorable engagement photo shoot.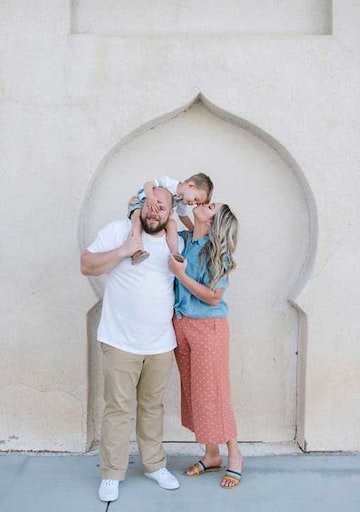 If you have children, they deserve to be included in this special moment. This is a great way to show everyone how important your little family is to you.
Don't be afraid to get silly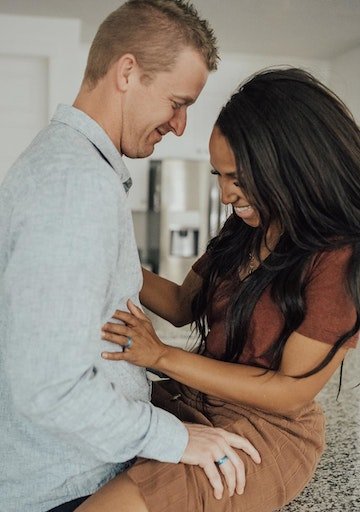 The thing that made you fall in love with them in the first place was their sense of humor, so be sure to show that in your photos. Don't be afraid to take some goofy pictures that will make you and your S.O. smile, laugh and fall in love all over again.
Natural greens and florals can serve as an amazing setting for photos. The natural light will bring out the shine in your blowout. And if you live somewhere cold or rainy, this is a great option for staying dry and warm during the photo session.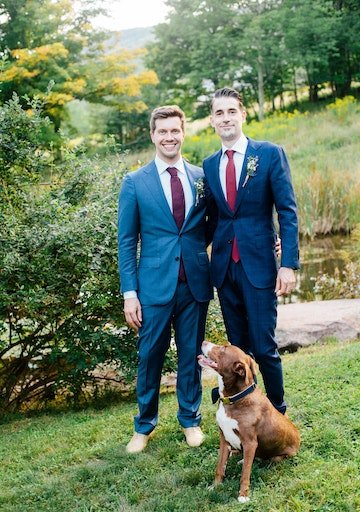 You may have a third love in your relationship and that third member walks on four legs and has a lot of fur. Bring your pet in on the photoshoot for some adorable moments.
Even if you have to drive to find the perfect backdrop, mountainous pictures will be a timeless addition to your photo selection.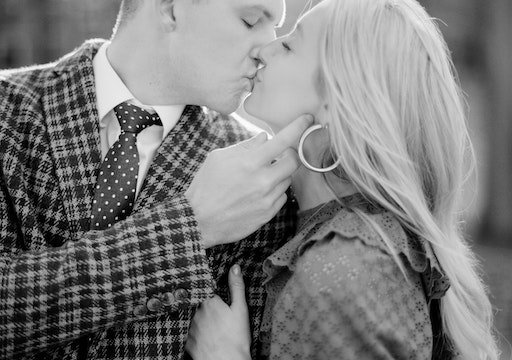 Choose your best and most *extra* outfits to celebrate. A photo shoot with you and your significant other dressing to the nines make for some super memorable pictures.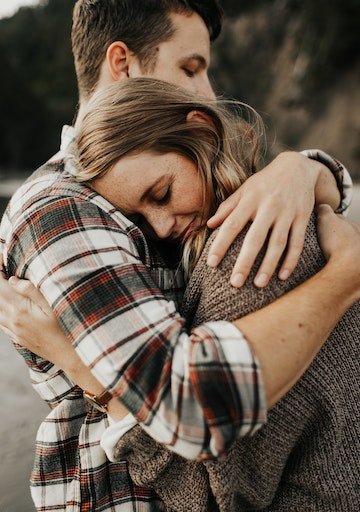 If your personality is chill and low-key, then don't do anything that makes you feel out of place. Go for something understated and let your love do all the talking.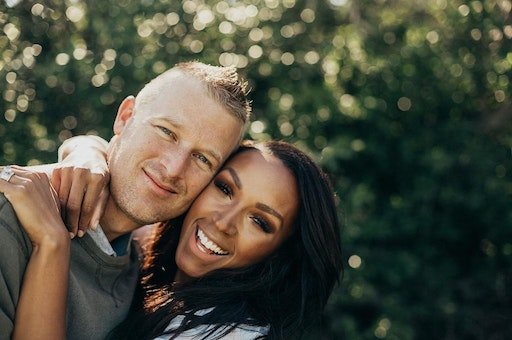 Sometimes all you need is a simple photo of you and your love's happy faces. Don't worry about getting the perfect backdrop. Just choose the best picture that shows how happy the two of you are.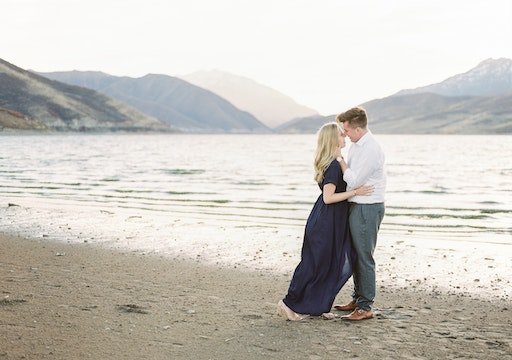 There is nothing more romantic than a walk along a shoreline. Find a beach or a lake where you can snap some photos of the two of you walking barefoot. Take a moment to play and run through the water for some beautiful candids.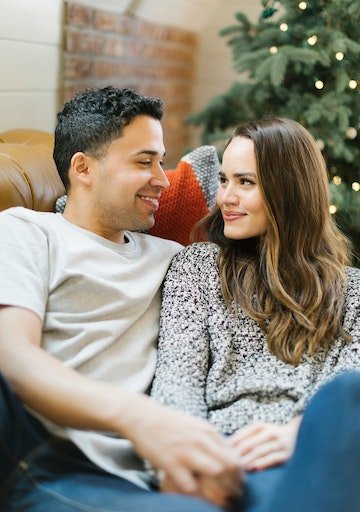 They say that home is where the heart is, so try a home photo shoot. Cuddle up on the couch or hang out around a backyard fire pit for cute, casual pics.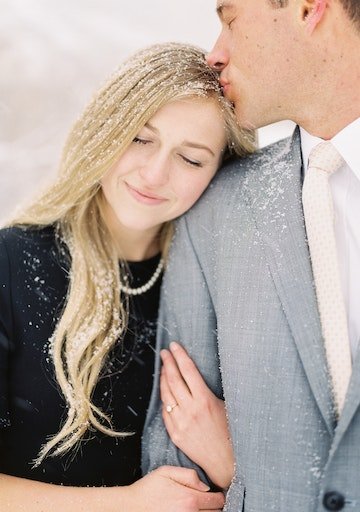 Nothing is more romantic than a light snowfall in the winter. If you live in a place where it snows (or even if you don't), take some time for a winter snow photo shoot. You'll love the romantic lighting and beautiful pictures.
Coordinate your outfits with the scenery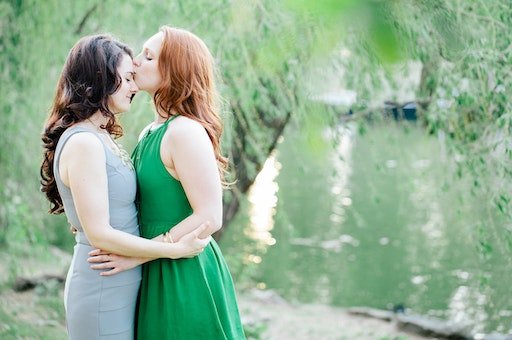 For vibrant engagement photos, wear colors that coordinate with your scenery. Pro tip: Consider matching your engagement shoot colors with your wedding colors for on-point invitations.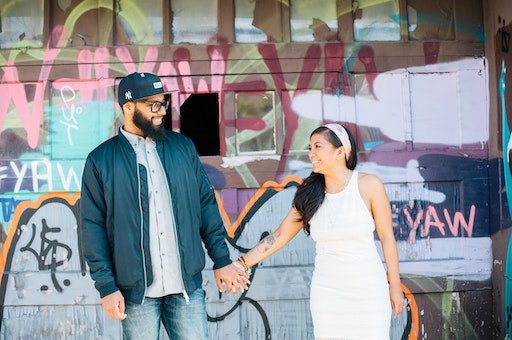 Find some city backdrops for your city photo shoot. Graffiti and a bit of grit make crisp, formal outfits look that much cooler.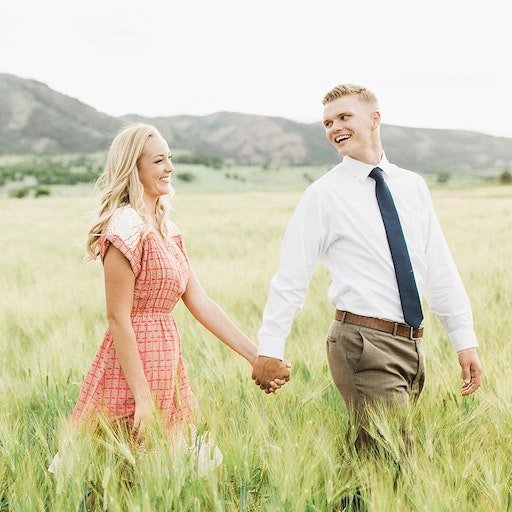 Stumped on a setting? Go classic with a romantic field photo shoot. Channel your inner Jane Austen with a walk through tall grass, holding your love's hand.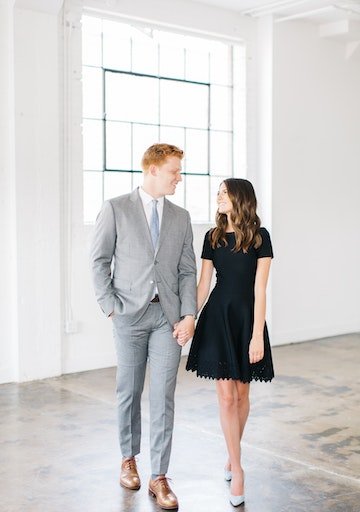 Nothing is more classic than a studio photo shoot. The natural lighting and stark colors will create a classy, modern vibe.