15 Winter Photoshoot Ideas You'll Want To Try This Season
Baby, it's cold outside, so warm up with these awesome winter photoshoot ideas.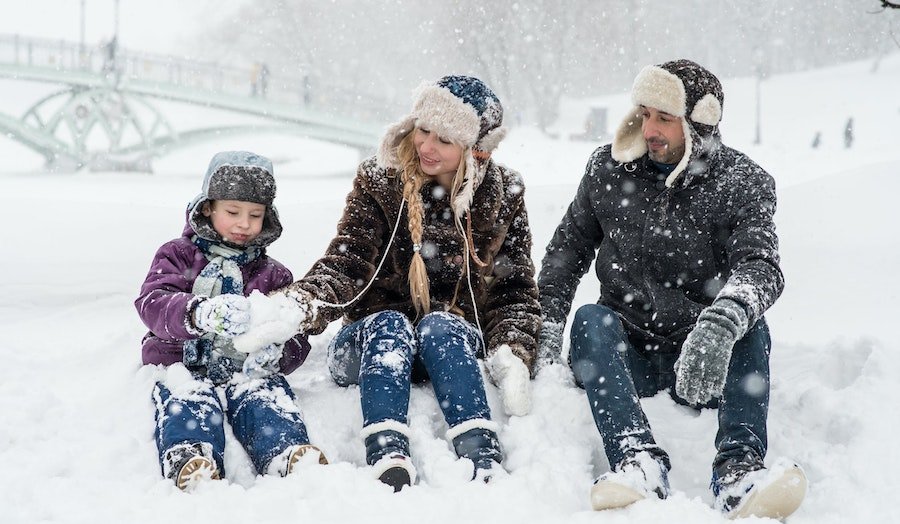 Break out your matching pajamas, red and green ugly sweaters and other seasonal accessories for a photoshoot that'll make your holiday card the envy of all holiday cards! Stumped on winter photoshoot outfit ideas? Baffled by winter photoshoot ideas for babies? Christmas is the busiest time of the year, so we already found 15 winter photoshoot ideas and photography tips to help you take amazing photos (and what will hopefully be your new favorite holiday tradition).
And after all that time spent on finding the right holiday cards and presents, and time spent at parties and around the table with friends and family, it's no wonder your camera roll is filled with sweet shots of you and your family (especially after it took you 10 minutes to get the perfect shot). Don't let those pics get lost in your phone, print them in a holiday-themed photo book (print them in a high-quality Layflat photo book and add blank text pages to create a personalized gift), or hang them on your wall with Canvas Wall Tiles. And if you love saving your favorite memories from every month, print 30 pictures each month with a Monthbooks subscription.
Sunrises and sunsets
As the timing for sunrises and sunsets change with the season, take advantage of some beautiful lighting. The reflectant sun on the white snow and frost-bitten air will provide some incredible landscape shots that will need #nofilter.
Falling snow
Nature loves to be candid, so snap a few shots of mother earth doing her thing. Pictures of the falling snow creates a dreamy, ethereal winter wonderland look that you'll love to use in your shoot. Pro tip: Start with a fast shutter speed (1/250) to really catch those falling flakes.
Wintry landscapes
Whether you live in a big city or snowy mountain town, shooting landscapes is a great way to capture the winter feeling. In a city, take pictures of your local downtown and capture Christmas lights, decor and crisp street style. In the country, find a mountainscape or snap some shots of suburban streets and photograph wintery family moments.
Winter nights
Grab your tripod for an awesome winter sky shot, or have your subjects dress in their warm winter gear and grab some incredible night portrait shots.
Icicles
If you live somewhere cold with snow, odds are you're familiar with icicles. Take family photos in front of an icicle-laden roofline with all your holiday decorations looking their best. Pro tip: Do not stand directly under the icicles as they can fall on you.
Cozy photos
The weather outside may be frightful, so get cozy! A delightful part of the wintertime includes cozy cabins, fluffy coats and warm scarves that make it all worth it. Be sure to have a winter photoshoot replete with your coziest outfits and backdrops such as a cabin in the woods or a roaring fire.
Fireplaces
Speaking of fire… grab some romantic shots around a fireplace for an awesome photoshoot. The majestic flames will make for some great action shots and you'll be safe and sound in your warm abode.
Holiday colors
Silver bells, red-nosed reindeer, white Christmas, golden rings and green tenenbaums fill the atmosphere at this time of year, and these colors are great for photoshoots. Be sure to capture the magical feeling of the winter season by incorporating lots of holiday colors.
Pet photos
You know what's cuter than your pet? Your pet in a fluffy sweater or a Santa hat! Pets are part of the family too, so get some shots of the cat or dog enjoying the winter wonderland.
Build a snowman
Some great action and candid shots will come from your friends and family spending time together participating in their favorite winter activities. Snap photos of the kids laughing as they build a snowman.
Snowy paths
As you enjoy the little moments this winter, try to remember that next year all your troubles will be miles away! Give yourself some healing time this year to go on some walks and drink in the cool, crisp air. As you do, take your camera with you and shoot a few shots of the pristine snowy paths before any feet tread on the fresh snow.
Holiday treats
Whether it's frosted cookies or a slice of grandma's home-made pie, those holiday treats hit different this time of year. As you spend time baking with loved ones, don't forget to take pictures for colorful, sugary, delicious photos.
Sleigh ride
Traditional holiday activities such as a sleigh ride can be romantic and adorable, and a great opportunity for some beautiful photos. If you are more of the adventurous type, take pictures of you and your family enjoying a sled race together instead.
Snow angels
What's a winter photoshoot without some snow angels? Anyone from 1 to 92 will want to join in on this awesome shoot to make you feel like you're floating on the clouds!
Macro shots
They say that no two snowflakes are the same. To test that theory, we recommend some macro shots of snowflakes. This might take some patience and testing out some macro lenses, but we promise that this shot will be exciting and worth the effort!