16 Heartwarming Proposal Stories That'll Make You Smile
The romantic moments that led up to the most exciting "YES!"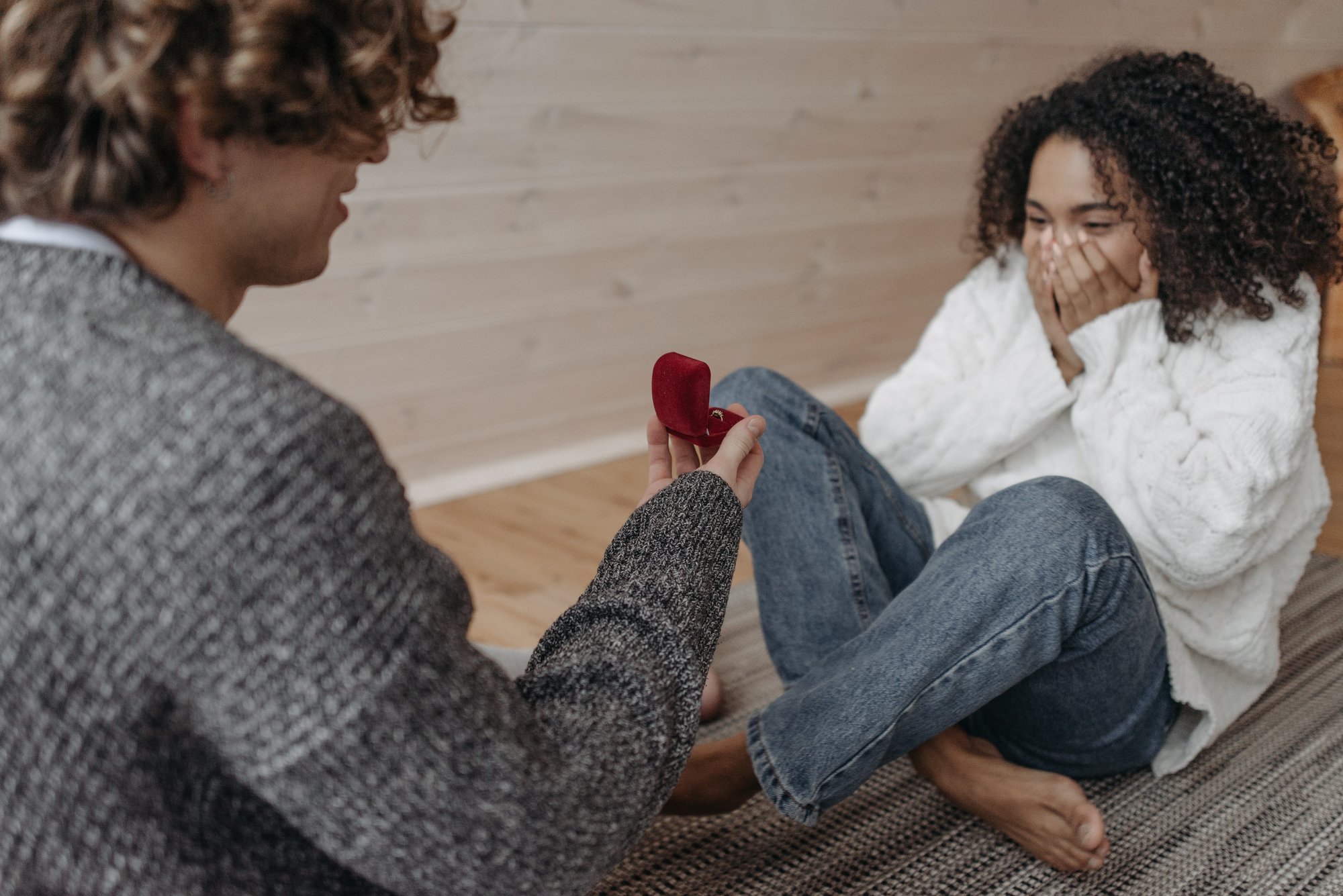 Whether you're researching engagement proposal ideas to pop the question yourself, or just looking for a dose of serotonin from cute proposal stories, these real-life, surprise proposal ideas are perfect for finding inspiration—or for getting your fix between Hallmark movie marathons. From a picture-perfect horse-drawn sleigh to ruining your soon-to-be spouse's surprise, we've found the perfect mix of heartwarming and funny proposal stories.
These cute real-life proposal stories are the ones you'll want to document. Engagement ideas don't have to be super intricate, nor do they have to be popular proposal ideas. And you don't have to have a professional photographer hiding in the bushes—your sister's candid shots of your engagement make your big day that much more sentimental. You can turn those photos into the guest book for your wedding (with a super cute designer cover), plus create a high-quality Premium Layflat of the magical moments as a coffee table book. And don't forget about sending your parents (and future in-laws) a copy of your photos in a Classic Photo Book! Remember: The best proposal ideas come from the heart!
To learn more about these amazing stories, and read about the best marriage proposal ideas, check out the comments on this Instagram post!
Searching for the best ways to propose? Don't sweat it—because whether you're looking for cool proposal ideas, sentimental proposal ideas at home (for a private, intimate moment), or just some cute proposal ideas you can personalize for you and your partner, we've got you covered.
Plan a road trip adventure somewhere you know your partner loves, or has been wanting to go. You can even plan the trip together! The key is to organize the details of your proposal ahead of time. Before you pop the question, have your camera ready, or enlist in the help of friends and family to hideout and snap pics. After the big "YES!", create a travel photo book right from your phone so you can remember this life-changing day forever.
Create a Classic Photo Book of your favorite memories together and add "Will you marry me?" as a text page on the page of your book. When you print your book, you'll automatically create a shareable Mini Movie of your photo book. Mirror your device with your TV and play your soon-to-be fiancé the Mini Movie of your photo book!
Recreate your first date with your soon-to-be fiancé. Surprise your SO with a photo book of all of your early pictures together and reminisce over each one, calling out the way you felt, the butterflies in your stomach, and how you tried to play it cool when you needed a mulligan on your first swing at mini golf! Then, when they're not expecting it (and fully immersed in your love story), drop down on one knee and pop the question.
For more creative engagement proposal ideas, or advice on how to plan a surprise proposal, read on!
Find Inspiration From Real-Life Proposal Stories
"My husband proposed at the Grand Ole Opry in Nashville. We took our friends on a vacation there as a wedding gift and I packed his bag thinking there's no way he had a ring if I packed his back for this trip. That Friday night we went out and I just talked on and on about how I wanted a ring. That next night he surprised me and pulled the ring out of his wallet in front of our two best friends. Best moment."
"My husband proposed at our favorite Mexican restaurant and was so nervous he spilled the salsa bowl over on the table. It was adorable and perfect."
"My now husband of nine years, and I met on January 16th. He asked me to marry him TWO WEEKS later, which was my birthday! I said yes! I also LOST the ring two days later. He bought another ring and asked me to marry him again on Valentine's Day! We got married exactly one year after we met for the first time."
"My husband proposed outside of my house, with no ring, no special dinner, and not even flowers! But we have been married for 21 years. P.S. He took me ring shopping before getting married."
"When we first started dating four years ago, he took me on a horse drawn carriage light to look at Christmas lights. To propose years later he recreated it, asked the driver to pull over at the brightest house with a radio station corresponding with their lights. Song chosen by home and a slide show of us on the windows. He proposed there and my family surprised me there as well. We were on the local news."
"My husband got me a Costco pizza that I was craving and peach rings. He put the ring in with the peach rings and when I found it, he got down on one knee and proposed! It was totally fun and my style."
"My love and I were at a beautiful beach hotel and my fiancé told me we were going to get dressed up for dinner. (Thank goodness I put makeup on!) We got ready and my fiancé said he wanted to take some nice pictures by the ocean. He told me to turn around and he'll get some "candids." I turned back around and he had a portable speaker out playing Bleachers "Let's Get Married" and was down on one knee. I cried, I asked if he was sure he wanted to marry me, and then I blacked out. I bet whatever he said was beautiful but I don't remember. All I remember is I said yes and we are still engaged a year later. Hoping to plan that wedding soon!"
"When we were coming back from a hike, I noticed his very pregnant sister 'hiding' in the trees with a camera and when I pointed her out, she handed my then-boyfriend his guitar and he proposed with a song he had written for me."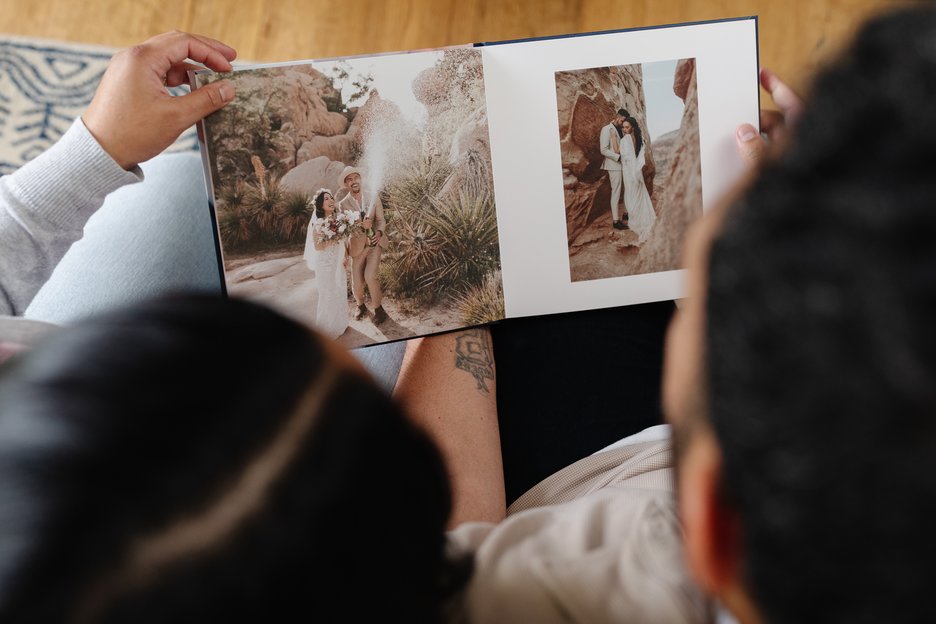 "My poor husband had asked if I was coming home for the weekend, I told him yes. Well, the next day I should have gotten home around 4 pm, and I ended up being home a lot later (four hours later). He was a nervous wreck when he came to get me, we drove up to the canyon. He pulled over randomly got out of the car, came to my side of the vehicle, and gave me a bouquet that said 'will you marry me.' I've never seen a man drop so fast to his knee. The best question I've ever said yes to. We celebrated 12 years yesterday."
"My husband got me a puppy (a spontaneous decision that happened to be the day of the proposal) and we went to this beautiful canyon to get pictures taken when all the leaves were falling off the trees and he proposed."
"I ruined my husband's plan. I had a virtual conference I was participating in and while he had set up for us to go to the zoo and behind the scenes at the otter enclosure (we love otters), I declared I had a brief happy hour and then meeting that night before he could casually suggest we go to the zoo… he ended up proposing with our two pups by our side, but I felt like such a jerk for blowing all his hard work and plans away without even knowing. Now we go to the zoo all the time with our two little otters (kids) and sometimes joke about how I ruined that Plan A proposal."
"My hubby had something romantic planned, but ended up forgetting his clothes to change into after work, causing him to propose in his dad's clothes. Plus he was so nervous/excited that we didn't even make it to the intended location, he popped the question as soon as he could. The way he asked me was 'If I gave you something to wear, would you wear it?' My 19-year-old brain went to some item of clothing and I replied with 'As long as it isn't too small.' Good thing it was a diamond!"
"I love picnics, so my now husband took me on a picnic in the Utah mountains with the cutest picnic basket filled with all my favorite foods (from various restaurants) and we had a picnic in the freezing Utah February weather. He had a little chalkboard in the basket that said, 'will you marry me?' and he asked me to get something out of the basket so I saw the sign while he got on his knee."
"My husband planned to propose on top of the mountain when skiing, but some of our family couldn't make it to the top so he waited and ended up getting bruised by the box. He proposed at my favorite spot at the lake with a stunning pink sunset!"
"My husband took me to the lantern festival which was so beautiful and then to the capital in SLC for a walk. He talked about some of his favorite memories with me and then started talking about the future… then all of the sudden I could tell he was so nervous, he got quiet for like 30 seconds and THEN I realized what was going on.. and he got on one knee and proposed! The capitol is such a special place to us now!"
"My husband and I met at an Indiana YMCA church in March '78 when he was home for a spring break. We had two dates before he left to go back to college in Michigan. We wrote lots of letters and only talked on the phone a few times since long distance was so expensive. By the time he came back for a visit April 23rd, I introduced him to my folks. He proposed that night before he left to go back to school and I said YES! We got married that August even though he still had a year of school to go. People thought we were nuts. We will celebrate our 44th anniversary this summer!"
Ultimately, the best wedding proposal ideas are the ones that reflect who you are as a couple. Whether that's getting down in the sand for a beach marriage proposal or toasty and warm as you pop the question by the fire at your favorite campsite, the best engagement proposal idea is the one that feels right in your gut. From a public declaration to a private, intimate moment, these proposal ideas (taken from the aforementioned wedding proposal stories!), will point you in the right direction. Just make sure you have a plan to capture photos from one of the most exciting days of your life. Good luck!