Creative Wording and Etiquette for Wedding RSVPs
Try these creative ideas for wedding RSVPs that stand out — plus, learn when to send them to guests, and when guests should return cards to the wedding party.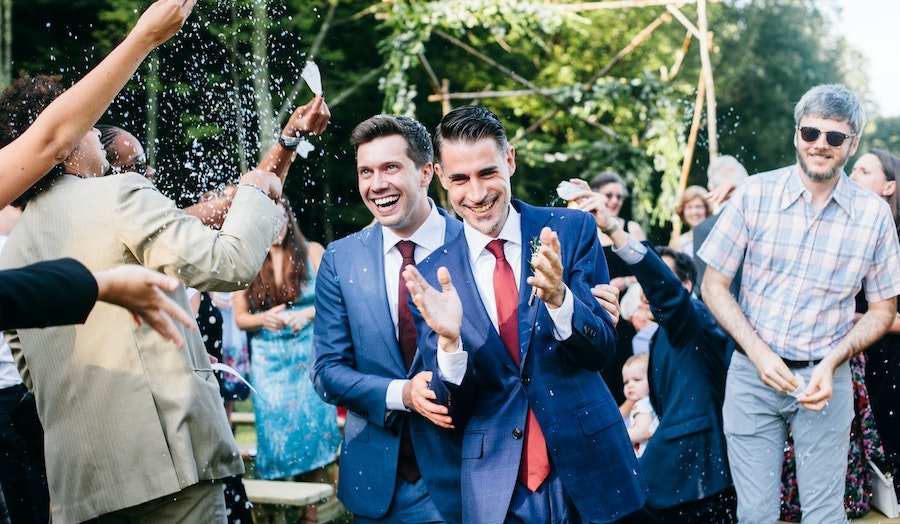 Whether you're walking down the aisle or competing for an aisle seat to score the best photos of the couple reciting their vows, weddings are special for a variety of reasons — especially if you've hired a babysitter for a child-free date night. RSVPs are incredibly important to send and fill out, as they help the wedding party finalize the guest count (and that count includes dessert for you, score!). Here's the best advice for sending out and wording RSVPs for couples, plus the proper response etiquette when you receive a wedding invitation.
If you're in need of a wedding present for the happy couple, gift them a Layflat photo book so they can print their favorite photos from the big day! You can also gift them a year of Monthbooks so that they can document their first year of marriage.
How to Respond to a Wedding RSVP
If you've received a wedding invitation, make sure you check which names are written on the invitation envelope — those names are the people who are invited. For example, if the invitation is addressed to Mr. and Mrs. Smith, and not The Smith Family, then just Mr. and Mrs. Smith are invited, not their children.
If there's a large "M" with a line next to it, fill the line with the names of the guests responding. This "M" is meant to be followed with letters that make up the words "Mrs.," "Mr.," "Ms." and "Miss." If there's no "M" in front of the line, respond with full names. After you've written your names, look for other information like an entree option, then write down the initials of each invited guest next to the meal they'd like (and write in any allergy information, too).
After you've filled out your card, seal the RSVP and put in the mail — and don't forget to add the date to your calendar! If you're responding via email, make sure you include your party's full names and if you're attending. If you are, be sure to include any necessary information, like dinner options.
When to Send RSVPs to Your Wedding
RSVP cards are included with wedding invitations, which are typically mailed six to eight weeks before the wedding day. Make sure you've finalized your guest list and confirmed your menu before sending out invites.
What Should Be Included in my RSVP?
Check that the envelope holding your invitation and RSVP cards clearly states who is invited to your wedding (if you don't want to invite kids, include "adults only" or just include the names of the family members you're inviting).
Your RSVP cards should also include a deadline for guests to reply, usually three to four weeks before the big day. It should also include a choice of entree (if you have meal options that need a headcount ahead of time).
Here's one thing you shouldn't include: It's typically not proper etiquette to include information about your registry on the wedding invitation or RSVP card.
RSVP Card Examples
Cards should always include lines for guests to fill their names, plus lines that allow them to check off if they're accepting or declining the invitation. Here are some examples:
Please respond by
the first of October
M________
___Delightfully Accepts ___Regretfully Declines
___________
__Will Attend __Unable to Attend
Please respond by
the first of October
201-901-8010
jerryandbeth@email.com
Kindly respond by
the first of October
M________
___Heck Yes!
___Will Forever Regret Not Attending
Please initial next to each guest's meal choice
___Baked Salmon
___Filet Mignon
___Beef Bourguignon
Remember to always pre-address and add stamps to the envelopes you're including with your RSVP cards. That way it's super easy for your guests to reply — which means they're less likely to forget — and they don't have to worry about finding a stamp.
If you're past deadline and still missing some guest responses (we all have that one cousin), give them a few extra days to respond. If you still don't have a reply, follow up with a phone call after a week.
In order to avoid getting replies that don't include your guests' names (which happens!) you can also number the back of each RSVP card with either pen or invisible ink.