As a parent, your camera roll is filled with mid-laughter smiles, pillow fort fun, and a couple hundred blurry photos of random things around your house (courtesy of your little ones, of course!). Rather than letting all of your everyday magical moments sit stagnant in your phone's camera roll, liberate them to create a creative storybook of your own!
If you're feeling creative and have 10 minutes to spare, here are 10 storybook ideas you can customize with your own photos. These storybook ideas will have you and your family loving looking back on all of your adventures together, big and small.
The Story of Your Growing Family
Create a photo book, right from your camera roll, about how your family came to be. Start out with first date pics with your partner (if you can find them!) and end with a family photo of both of you with your little ones. This is one of those themes for books that can be a real tear-jerker because it's such a beautiful way to show gratitude for your little fam, so beware!
Instead of letting all of those creative science fair projects and arts and crafts sit around and collect dust, snap pics of them and add them to your photo books to help document your kid's year.
You can opt for a monthly photo book option to keep up with all of the school year fun from first days, to school plays, to field trips, and so much more. Simply put, this option makes it a breeze to keep up with it all. Plus, encourage your kid's creativity by adding text pages with short story prompts to help them remember every single second.
The first year of your baby's life is a whirlwind—to say the least! Every day is filled with endless tasks to keep your new baby well and happy, but it's also filled with many mini milestones, like your baby's first walk outside, first tummy time, first smile, and so much more. While you're in the throes of new parenthood it can be tough to take it all in, but by wrapping up the best of each month in photos to create a photo book, you won't miss a thing.
It takes almost no effort and you can get it done while they nap. These mini photo books are also made for your little ones to enjoy with you. Their rounded edges and small size make them perfect for mini hands. So, if you're still looking for storyline ideas for your photo books, look no further than your little bundle of joy!
It was magical, it was spectacular, it was everything you wanted it to be, but besides a few photos here and there you may not have anything truly special to remember it with. That's where making a photo book to tell the story of your special day comes in.
Make it a cute date night with your partner and go through and add your photos together. Surprise each other by adding text pages and each writing your own story of your account of that day. It'll be so much fun to look back on as the years go by.
Show Off Every DIY Project
That kitchen reno on a budget that you did with barely any help? That was one for the books! Or, that challenging bedroom makeover you did? That was one for the books too! If you consider yourself a master of DIY projects, why not show off your before and afters with a photo book? This can be a super fun way to keep track of your home improvement projects and who knows, maybe you can use it as a portfolio when you decide to go pro.
If you've been feeling creative but are coming up short with book ideas to write, consider this a sign to tell your home reno story with photos instead of words since a picture's worth a thousand of them anyway.
Remember everywhere you've been with a photo book. It's a great way to showcase your amazing travel photos and the detailed stories behind each one. You can add collages to keep a story on one page. You can also add captions and text pages to tell all the tales and remember the exact locations.
If you're feeling extra creative, have fun with it and make a full storybook out of your adventures. Add maps of your destinations to your photo book, and then customize it with your own photos for the best storybook all about wanderlust. It could make for an adventurous bedtime story and have your little ones saying "Indiana Jones, who?"
Calling all geneology fanatics, this one's for you! Have an elaborate family tree somewhere? Take a pic and make it the cover of your family history book. If you're lucky enough to have a bunch of old family photos and passed down stories and documents like love letters and old journals, add them in! It's an easy way to preserve these heirlooms and keep them safe for the next generation to enjoy and learn from. Nothing says "create your own story" like crafting the actual story of how you came to be.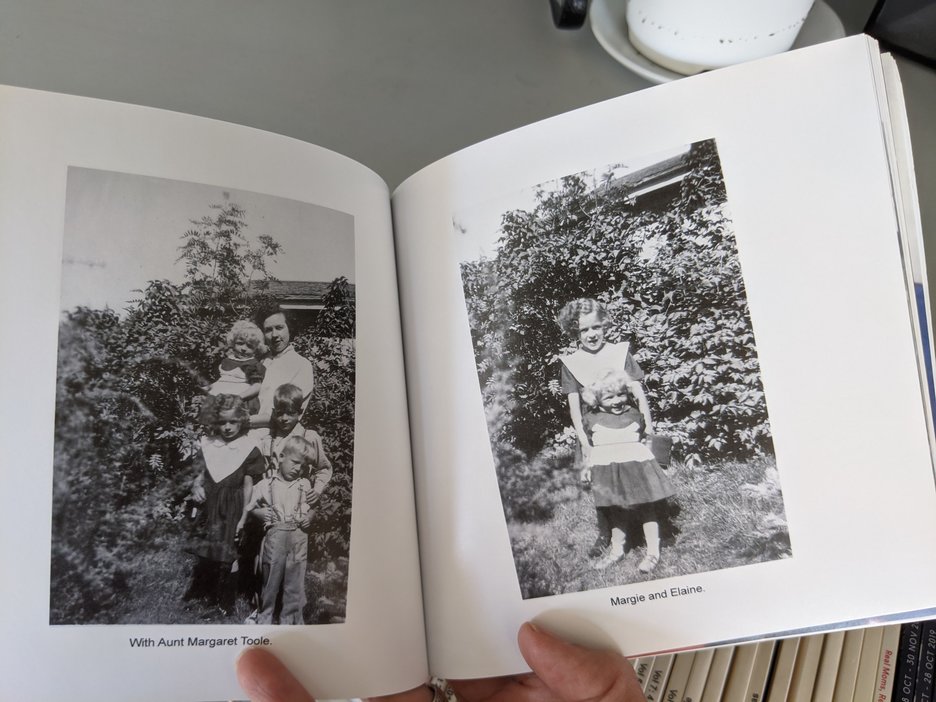 Have a dusty, food-splattered, unorganized folder somewhere filled with your favorite recipes? Turn them into a photo book! While the spaghetti sauce stains really do give these recipes character, why not turn them into something special you can pass down to the next generation?! You can even turn them into a photo book that has pages that lay flat so there's no need to clamp the pages open when you're cooking.
You can put your chef hat on and go all out and create some new recipes just for your new cookbook. You can add a short little story to go with each recipe and how it came to be. Some story ideas to write include: what inspired you, where you first tried this recipe, or who taught you this technique. Bonus: Print copies of your cookbook and gift to friends and family.
The Story of Your Fur Baby
Some of your kids have wagging tails, what of it?! Using a photo book to tell the story of your furry kids' journey into your home and your heart is a great way to celebrate them, even if they won't exactly appreciate it the way you do, unless of course there are treats involved.
If you have human kids, this could also be a fun opportunity to turn your furry kids into the main character of your sure-to-be-most-requested bedtime story/photo book. Some short story themes include making your pet into a superhero, astronaut, or a world explorer. Have some fun with it and customize your storybook with your own photos for the best storybook ever.
…Baby just say yes! (Bonus points if you get the reference.) Before the "I dos" there was the "will you marry me?" and the "will you be my girlfriend/boyfriend: circle Y or N" and the "does 7pm work for you?" There were a lot of moments that led up to where you and your partner stand now and they're worth remembering.
One of the best plots for short stories and your photo book is the story of your love. Add in all of those cute early pictures together, your engagement photos, your honeymoon photos, and the birth of your children together. You'll look back and realize it really is a love story. Aww!
Let Your Creativity Shine
If you have a big imagination and a knack for writing stories, and have been dreaming about coming up with some awesome fantasy book ideas, now's your chance. You can create your very own book using a photo book. Add photos to really set the mood of your plot, or you can draw your own illustrations, take a picture, and add them to your book. You can write your story using text pages and captions. If you're feeling like a real J.R.R. Tolkien, there's up to 366 pages for you to make your story come to life.
And there you have it! You can use a photo book for just about any idea for short stories. You can use monthly photo books to keep a monthly journal and to keep up with your busy and full life, and you can also use Classic Photo Books as the perfect blank canvas for you to fill with your amazing photos and creativity. Whatever story you decide to tell with your photo book is sure to be memorable and will be enjoyed for many years to come.