Congrats on your little bundle of joy! Now that your little nugget has made it earth side, it's time to document every milestone and memory. If your brain is feeling a bit foggy these days due to lack of sleep and you find yourself Googling "picture ideas for a baby keepsake book" at 2AM, we've got you covered.
Every day feels like a new milestone for your baby and you don't want to miss a thing. Good news! You don't have to. By simply snapping a pic on your phone, you've already captured the memory. It doesn't have to be perfect or polished, it just matters that you froze that sweet moment in time to remember forever.
If you're looking for first-year photo album ideas in between all of the hustle and bustle of parenthood, here's how. Next time baby is napping, you can create a baby keepsake photo book right from your camera roll in just minutes. And if you really want to stay on top of all of baby's milestones, start a monthly photo journal (and try these pregnancy and newborn printables for super cute pics). Your monthly baby album costs less than your lunch, is created right on your phone, and will be a treasured piece of your family's history for years to come.
They're Ready for Their Closeup
All of the trials of labor melted away when you saw that little face for the first time. This is one of those newborn photo book ideas that just seem so obvious, but is often forgotten. Add in their big "welcome to the world" photo, announcing their name and date of birth. Or, just the very first time you held them.
Remember when you heard that strange sound coming from down the hall and you couldn't figure out what it was until it hit you, Oh! That's my baby! Add in the newness of baby coming home for the first time! Have a picture of them in their bassinet for the first time or just being held on the couch? Add it in!
Have little ones at home that graduated to big sis or big bro? Or have fur babies as your firstborn? Perfect! Add in those precious pics of them meeting your new bundle of joy for the first time, you'll be so glad you did.
The Very, VERY First Time You Saw Them
Add in those ultrasound pics! Yes, they're blurry, and sometimes hard to make out but your little bean is in that photo, and it's the first time you saw that little face. Instead of letting those pictures collect dust in a box somewhere, add them to your baby book.
When They Were Still in Your Belly
Had a magical maternity shoot?! Add it to your baby book! Just because this may seem more like one of those pregnancy photo book ideas doesn't mean you can't add it to your baby book. Your baby is technically in those photos too.
That first gummy little smile! It's cuteness overload and you just can't get enough. Make sure to snap a pic of that sweet little smile to add to your baby book. Add a caption explaining what your little one was smiling at, at the time, too.
Did you have a big gender reveal party with friends and family? Or, did you have an intimate one with just your partner? Either way, that day was a big deal! It made the future of your little nugget more real, and that's when you came up with their name and maybe even bought some little teeny tiny clothes too. Add that special moment to your baby's book.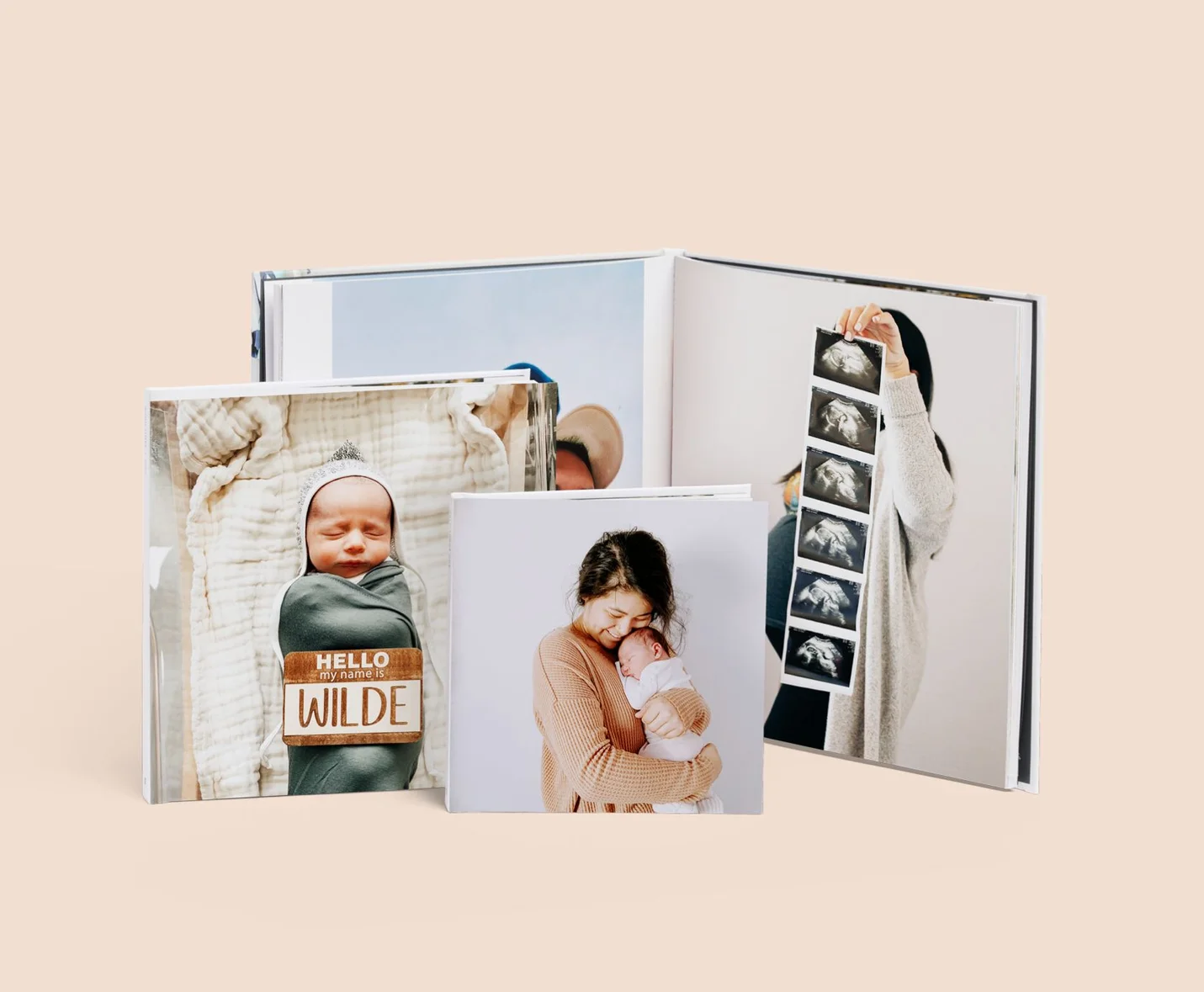 What's better than a big happy celebration in anticipation of your little bean to add into their newborn photo book?! These pictures are something they can enjoy when they're older and they're able to see the outpouring of love for them before they were even here.
Every month, try taking a pic next to what month they are turning before they turn one. If you want, add in a little blurb about things they are learning or liking or disliking. You can also add these photos to your monthly photo books along with all of the precious everyday memories you make with your little one.
Their Fave Stuffed Animal
Are they already attached to a favorite stuffed animal or blanket? Snap a pic and add it to your baby book! Your little one can look back one day and be amazed at how bright and new their favorite stuffie once was.
This one is easy! Get both parents (yes, including yourself) together with baby and snap a photo. Or if you want to be a little fancy about it, book a mini photoshoot with a local photographer to help you get the best shot. Either way, it's a special photo capturing this sweet moment in time and deserves to be remembered.
Find your babe snuggled in their fave blanket, sucking on his little thumb while he naps away? Snap a pic to remember the cuteness forever. Trust us, we know you feel like you could stand over the crib and watch him sleep forever—this way you can save the moment and try to catch some zzz's yourself.
Their First Time in the Great Outdoors
All of the sights and sounds of the outside world are just white noise to us but to your baby every new sound and color brings them a sense of awe and amazement. Get them outside on a family walk, or just a walk to the park and snap a pic. This is the perfect opportunity for some candids!
Make sure to include the grandparents in a precious photo with your babe. Believe it or not, this is new to them too, albeit a little familiar. It's a sweet photo to add to the baby book that you can look back on many years from now.
Being a new parent is a full-time job and then some, but it may be the best and most rewarding job in the world. Don't stress yourself out by adding your baby's first photo book to your overwhelming to-do list. Instead, the next time you have 5 or 10 minutes to yourself, simply start creating that book right from your phone. Add in some captions, and even send a copy to the grandparents. It will be a beautiful keepsake that will be treasured for a lifetime, and down the road your not-so-little-one will love flipping through the pages of their childhood.