Are your little Picassos constantly churning out masterpieces that leave you in awe? (Or, without much space left on your fridge?) Are you struggling to keep up with the never-ending stream of colorful creations and can't quite figure out how to preserve your kid's artwork? Don't worry, there's a simple solution for that: Chatbooks!
It's easy to save the whimsical doodles from your tiny tots and the intricate works of your older kids with Chatbooks. Using your phone, you can easily snap photos of every piece of art to be saved and preserved within the pages of a stunning photo book. Try these super creative ways to use Chatbooks to save your kids' artwork.
Get Caught Up with Classic Photo Books
Is your kid's artwork creating lots of beautiful clutter around your house? Is it covering every surface of your fridge, constantly in danger of getting food-laden fingerprints? Or maybe their artwork is starting to creep out of the drawer you've been storing (and forgetting about) them in. Either way, it deserves to be displayed and preserved so your littles can enjoy their work when they're not so little anymore.
Enter the Classic Photo Book by Chatbooks, the easiest way to upload your pics right from your phone's camera roll into a beautifully bound photo book. If you're wondering how to create an art book or where to start, this is the perfect place!
Simply snap photos of each masterpiece and upload them to your book. This way, those surrealist portraits covering your fridge won't be in so much danger anymore. Go the extra step and store and organize the originals in an accordion binder for safekeeping.
School Projects Kept Safe
Does your kid come home with a zillion adorable school projects every week? They're so cute but you have no idea how to preserve pastel artwork without getting the smudges all over the place. Sound like you? Give Softcover Monthbooks a try!
It's a monthly photo journal you can create right from your phone's camera roll. Similar to Classic Books, all you have to do is select and upload your photos into your book, only this one prints on a monthly cadence of your choice. It's a genius way to stay on top of your kid's projects without creating all the clutter.
The Miniature Masterpiece
Learning how to preserve children's artwork, especially little ones, has never been easier when you use a monthly photo journal to stay on top of things. Pick monthly photo books in this smaller size with rounded edges, making it perfect for mini hands!
Create monthly art books featuring your little one's creations, so you can enjoy their artistic journey from squiggles to recognizable shapes. These pint-sized books are perfect for little hands to hold and flip through!
Pro tip: Make it a fun family activity. Let your child choose their favorite artwork for each month and involve them in the book-making process. It'll be a bonding experience for both of you.
Curate Your Home Art Exhibition Monthly
Have some fun and make your own monthly home art museum photo book that you and your littles can look forward to. Document your kids' favorite pieces of the month with Hardcover Monthbooks.
Let them choose from fun cover and color options and watch their eyes light up each month when their very own art display book arrives. By building excitement around their favorite art pieces and displaying them in an organized way, you're not only preserving their work but you're helping your child's confidence soar.
Make it a Yearly Tradition
Does your child's school year fly by in the blink of an eye? Preserve the highlights with the Yearbook option. Snap photos of their artwork displayed in school exhibitions, art classes, and special projects. Collect pictures from school events, field trips, and everyday life, and weave them together into a stunning chronicle of their artistic and academic adventures.
Pro tip: Leave some blank space throughout the Yearbook to add handwritten notes and messages from teachers and classmates. It'll make the book even more meaningful!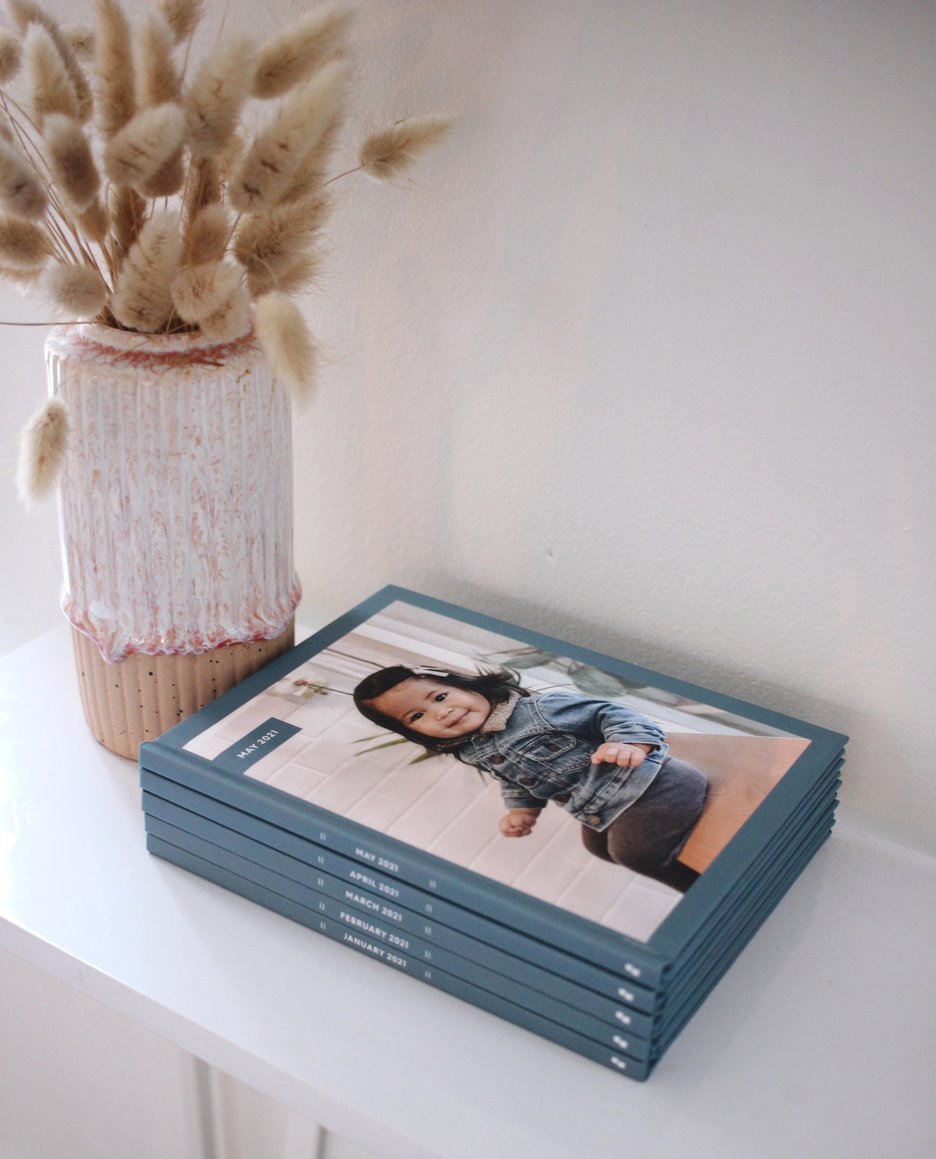 Create a Luxe Coffee Table Book
Your kid is the next da Vinci, show off their art with a book to match! This Premium Layflat Photo Book is not only a stunning conversation starter you'll want to show off, but how adorable would a heartfelt drawing made by your kid be on the cover of it? It's also just as easy to create as all of the other options, simply snap and select the photos from your camera roll and voilà! This one is guaranteed to impress all your guests.
Make it a Family Affair
One of the awesome things about creating a photo book is that you can easily add collaborators to your photo book. This means, if some of your kid's artwork lives at Grandma's house or Dad's house, it can still be included in their photo book, whether it's a monthly photo journal or a yearly one. Your collaborators can add photos and even print their own copies, making it super easy to share your memories.
Remember the Story Behind the Art
Was there a super cool story behind your kid's project? Or maybe their little handwritten story is just a teeny bit hard to read. That's why text pages exist! Simply add a text page to your photo book to remember every detail, or just clear some things up. It's easy, takes less than 5 minutes, and will be remembered for years to come.
Pro tip: Encourage your kids to write a short blurb about each artwork. It'll add a personal touch and make it even more special.
Don't Forget to Add a Title
Every great piece of art has a memorable title. If Van Gogh never named his Starry Night, would we just call it pretty swirly painting? No, because it's more than that, and so is your kids' artwork.
Pro tip: Sit down with your kid and have them come up with a fun name for each of their projects and jot them down along with the date. Then, when you go to make your photo book of their art, add a caption with the title and date, just like they do in museums!
Show it Off with a Flashy Cover
Did you know there are a ton of designer cover options for your photo book from Chatbooks? Have your little one help you choose which cover to put on their very own art book, or pick a favorite project to be the star, the choice is yours!
Pro tip: Add a cover photo with your kid proudly holding their favorite artwork—it'll make for a heartwarming introduction to their masterpiece collection.
From monthly photo books that capture the artistic growth of your children to Classic Photo Books filled with the adorable creations of your little ones, you can save and relive these memories forever.
Remember, each artwork is a testament to your child's creativity, imagination, and unique personality. By using Chatbooks to preserve their creations, you're not just saving artwork; you're saving moments of joy, love, and shared laughter.