11 Creative Ways to Design A Coffee Table Photo Book
Print your special occasion photos and create coffee table books your family—and guests—can enjoy.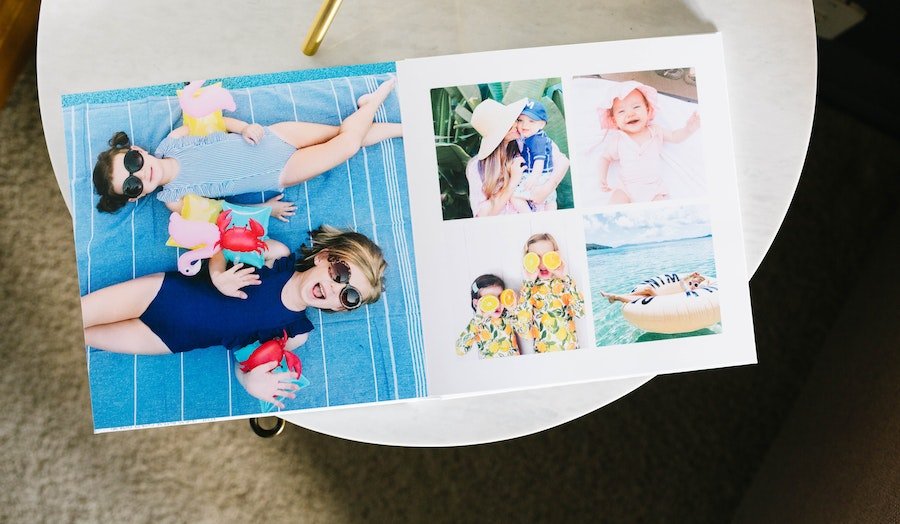 Each year, we take hundreds—even thousands—of photos of our birthdays, vacations, and other special occasions. In between those milestone moments, you snap tons of pics that capture your everyday memories (like that time your toddler painted the cat green). Don't lose these memories to the camera roll graveyard! The best way to make sure they don't disappear forever is to print them in a Chatbook and display them for all to see. That's why we came up with this list of creative album themes to turn your pictures into stunning, cohesive coffee table photo books.
Before you start designing your coffee table photo, choose the perfect product for your vision. Chatbooks' 10x10 layflats are super easy to make, starting at $80 for 20 pages. Each page is five times thicker than our standard photo book, plus they're created with archival ink that's certified to resist fading for 200 years (so each generation after you can enjoy photos of your life, too). Standard books are another great option for creating a coffee table book on a smaller budget or try stacking Monthbooks to freshen up your decor with new photos every month.
Why You Should Make a Coffee Table Book
There's no better way to add a personalized touch to your home than by using your own memories. Coffee table books are an easy way to hold onto your family's favorite photos—plus, it gives your in-laws something to look at when they visit! Adding a photo book to your table is a simple way to turn your house into your home. If you need inspiration, here are some photo themes that deserve to be front and center on your coffee table…
When you think of a coffee table book, do you think of hardcovers filled with photos from faraway places? Try personalizing a layflat with pictures from your own travels. Add photos from vacations with your kids, or opt to design a book filled with memories from your own childhood adventures.
Your wedding ceremony and reception are arguably some of the most important (and expensive) photos you'll ever take—so give them some love. When you upload your images to the Chatbooks app, add custom quote text pages. Pro tip: Add text of your vows if you didn't include a picture!
Before you walk down the aisle, make a layflat of your favorite memories with your partner. Leave every other page blank and ask guests to sign the book at your wedding! This is a super cute way to save messages from your friends and family—and show them the important moments in your relationship. Pro tip: Have different color options for your pens!
While maybe not as professional as your wedding photos, your honeymoon photos deserve a little love. Don't be afraid to display the photos you snapped smooching on the beach or smiling in front of the Eiffel Tower. A photo book dedicated to the post-nuptial celebration of your love is just as important as snapshots from the big day.
The quality time you and your spouse spend together before the birth of your first baby is special. It's the last time the two of you will spend as a family unit of two. Before you begin snapping pics of your newborn, celebrate your growing family with a photo book that highlights the loving moments between you and your partner.
With every new baby comes new photos (especially with your first child). Include photos leaving the hospital, or at the airport on adoption day. They grow so fast, so hold onto every first with a beautiful layflat dedicated to your newest family member. For any children you have after your first, include photos of the siblings meeting for the first time!
Whether it's for you or for Nana, the best place to showcase your favorite family photos is on the coffee table. From family reunions to sticky ice cream cones on a summer day, a compilation of your family's most-loved moments is perfect for your table. Choose from photos from over the years or fill it with your favorites from the past year.
From kindergarten to high school and beyond, you'll want to remember their graduation caps and "last day of elementary school" signs. Collect photos of each of your kids throughout the years and celebrate all their graduation victories—even the smaller ones.
Every birthday is worth documenting with a photo book, but for milestone birthdays—like one, eighteen, thirty, fifty and beyond—you'll want to pull out all the stops. Include any photos from previous birthdays (just snap a pic and upload them in the Chatbooks app) or other important milestones and adventures. Pro tip: Try to recreate an old birthday photo and put the two photos side-by-side in your layflat.
Even if you already have photo books dedicated to your wedding and honeymoon, there have been a lot of moments between your first adventures as newlyweds to now. Include birthdays, holidays, and other special occasions, like when you bought your first home. Anniversaries are about celebrating all the big (and small) moments that define you as a couple. Pro tip: You can always upload pictures from your parents' wedding and surprise them with a custom photo book of their own!
Between school projects and holiday crafts, our kids have a ton of artwork. The best part about snapping photos of your kids' art and adding them to a layflat is that the art is still big and beautiful—and not on your fridge. Even better? You have more space and less glitter on every surface.