30 Creative Maternity Photo Shoot Ideas You're Bound to Love
Show off that baby bump with these fun maternity photo shoot ideas!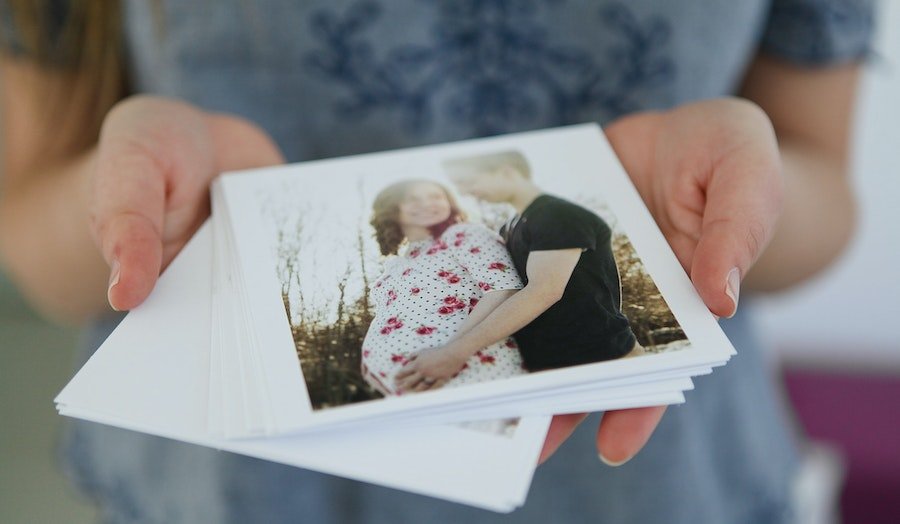 Trying to figure out the best way to break the news to your family about baby #3? Or maybe you're just looking for some high quality material for your next Chatbook before baby photos take over your book content? Maternity photo shoots are a perfect way to capture such a special time in your life. If you're anything like me, posing seems to be half the battle (ok maybe MOST of the battle). We're here to take out that awkward step and to give you tons of ideas for how to make that bump the center of attention and give you Chatbook-worthy photos that you will cherish for, like, ever. Here are the 30 best maternity photo shoot ideas, along with pro tips on when to take your maternity pictures.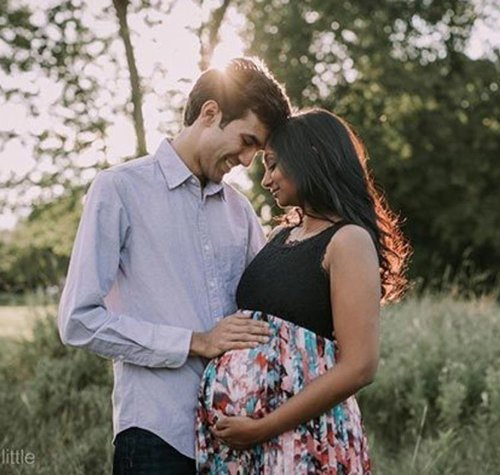 1. Simple, classic, and absolutely stunning: Try a shot with your partner where your hands are both on your bump and your heads touch.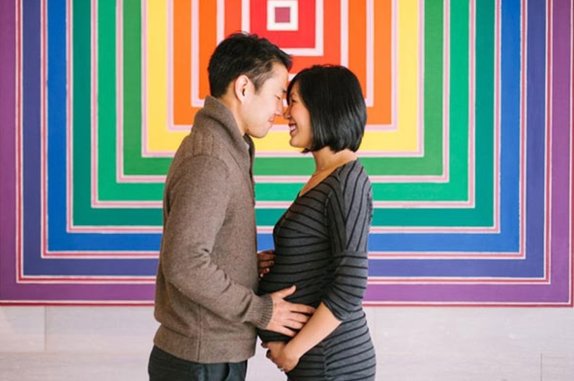 2. Go to your favorite local tourist attractions and get some artsy shots there!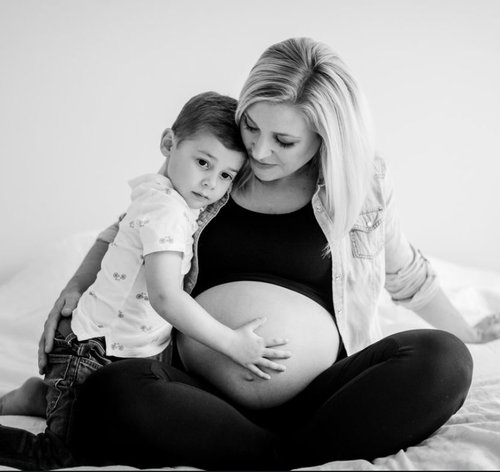 3. Snap a pic with your first born as you get ready to welcome baby number 2. The black and white also adds some softness to this shot.
4. Try a simple photo of holding hands with your partner in front of a bold background — this door makes such a beautiful statement!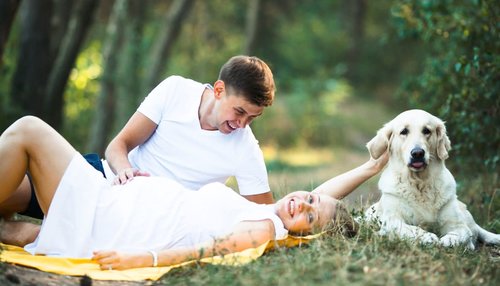 5. Don't forget your furry friends! Opt for a more relaxed photo shoot with your pets. Don't be afraid to lay down and get some shots from fun angles!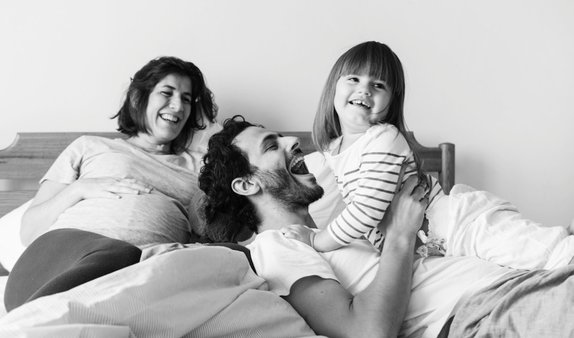 6. Have a sweet in-home shoot of the family in bed. This is a great way to get the whole squad involved, and score some cherished shots of your home, too!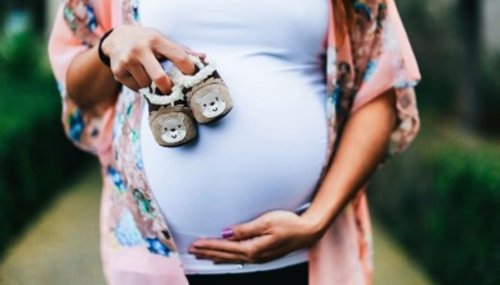 7. Go for the classic bump and baby shoe picture. This is such a fun way to announce that you're pregnant!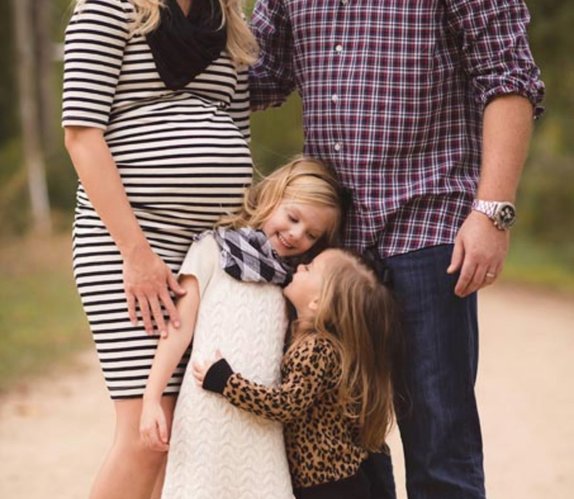 8. For a creative family shot, focus on the kids and the child-to-be.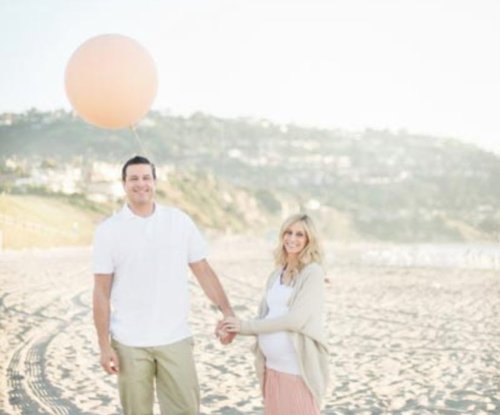 9. Who doesn't love a photo with big balloons? Color coordinate your outfit to your baubles for a cohesive look.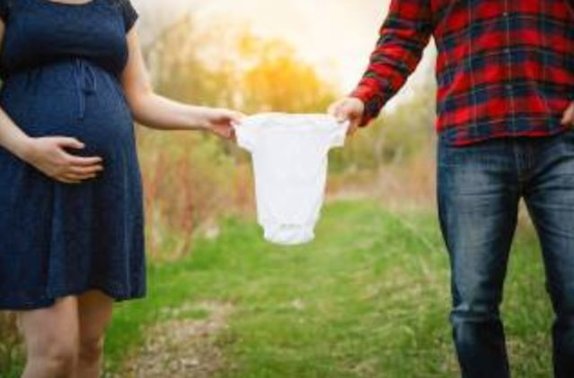 10. Take a classic shot of both parents holding a onesie, and focus on the bump!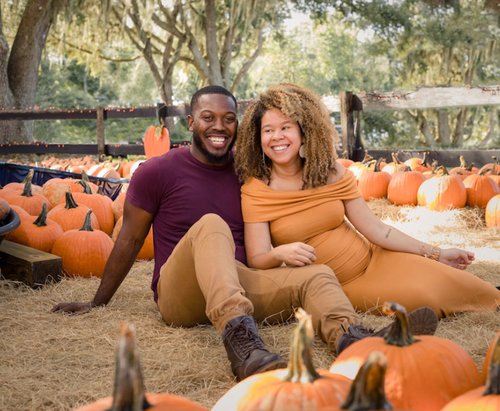 11. Experiment with seasonal shots. A pumpkin patch pic will be oh so precious.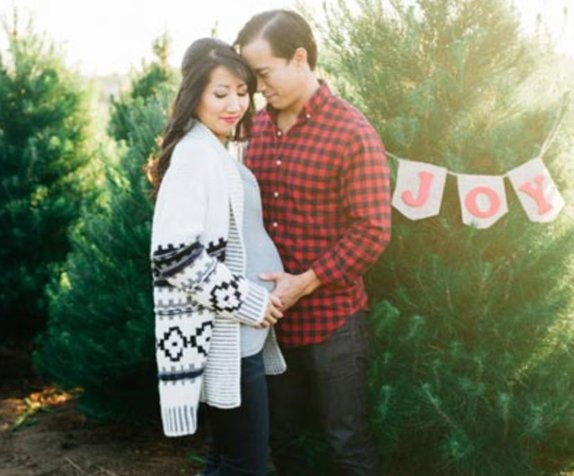 12. Show off the joy you have for the Christmas season and your new baby with this super fun tree-shopping shot!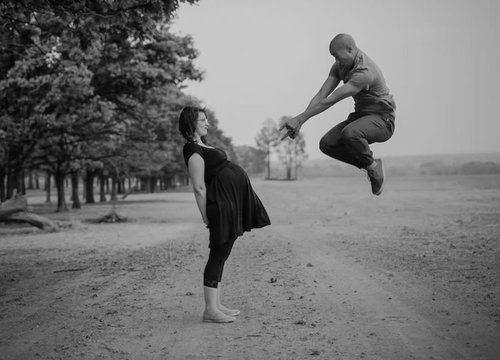 13. Let your personalities show with a few artful jumping pics. Maternity shoots are usually really serious, which is why we love this jumping shot!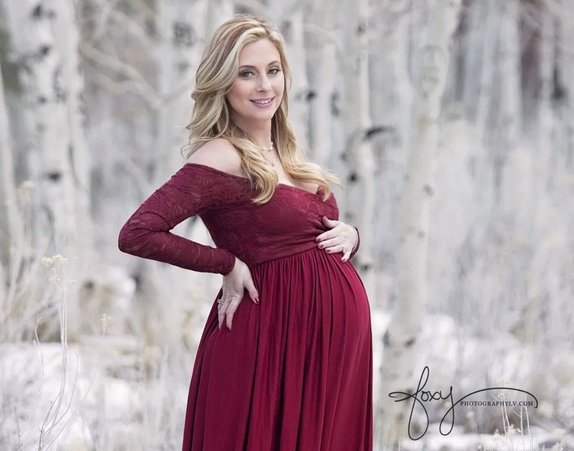 14. Love nature? Wander out into the woods in a flowy dress for some romantic, Jane Austen maternity shoot vibes.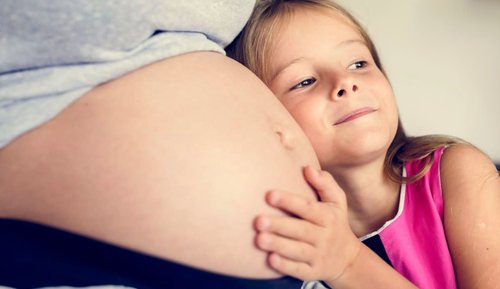 15. It's not ok for strangers to touch your belly, but your first born is a different story. Snap pics of them cuddling with mama.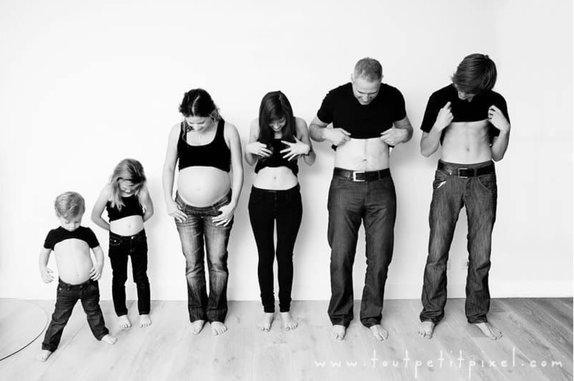 16. Have everyone show off their bumps! This is such a fun (and hilarious!) way to get the whole family involved.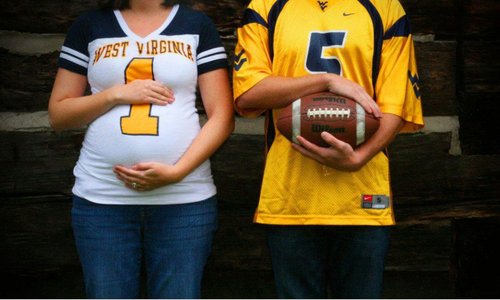 17. Incorporate your hobbies into your photo shoot with easy props you can find around the house.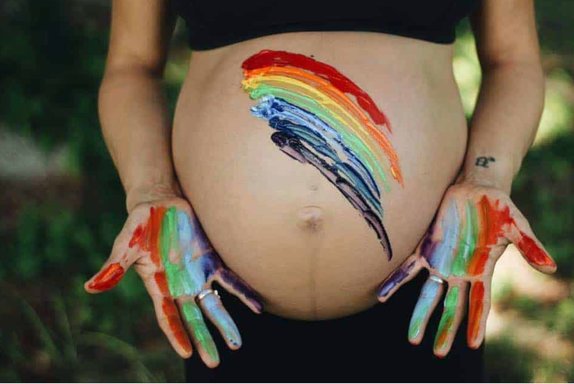 18. Celebrate your baby with a rainbow! Opt for non-toxic finger paint and get to drawing on your belly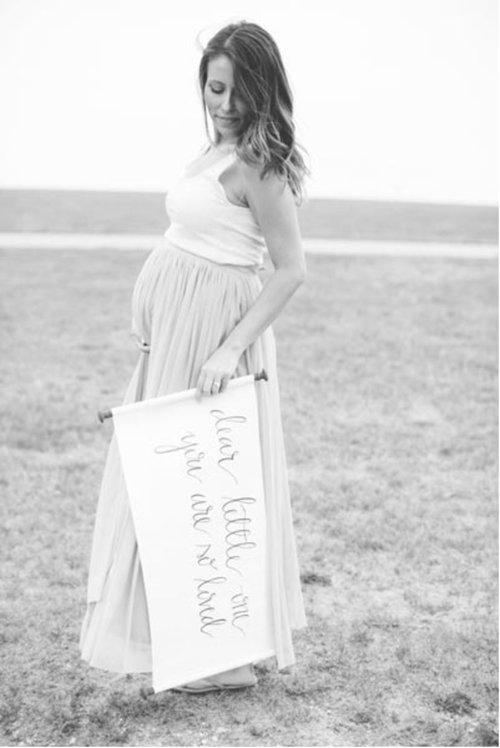 19. Write a note to your little for a fun way to welcome their arrival.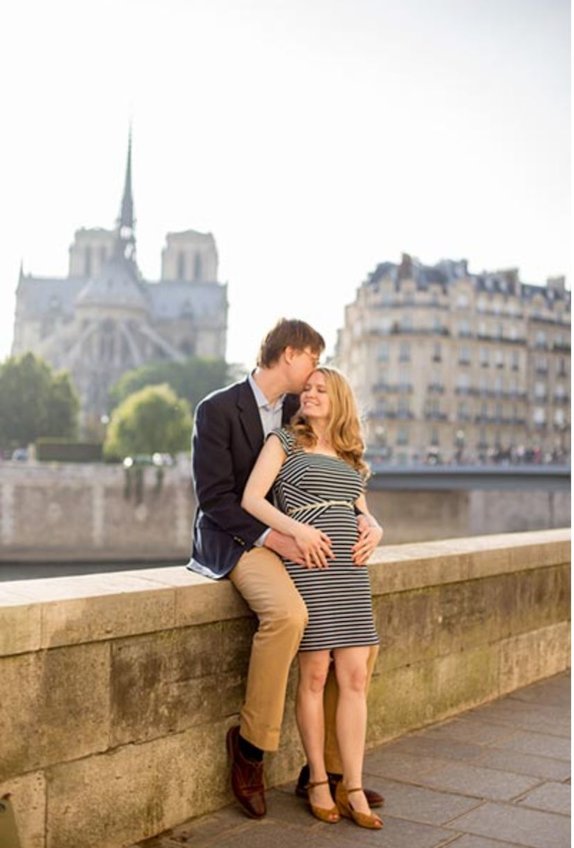 20. What could be more special than a maternity shoot in your favorite city? Consider locations like where you honeymooned, got married, or shared your first trip together!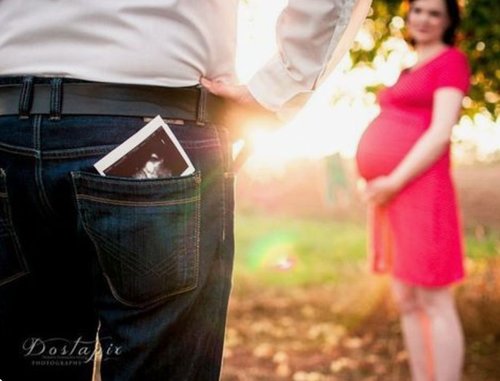 21. Play with perspectives, like in this photo of one partner hanging onto the ultrasound picture with mom blurred in the front.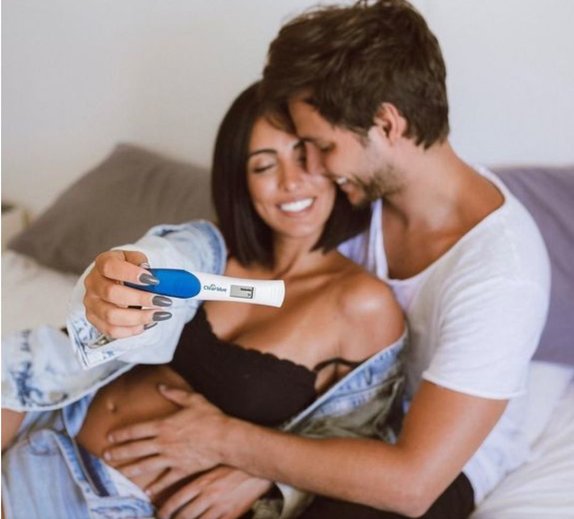 22. Get candid with an intimate shot of y'all with the positive pregnancy test. Precious!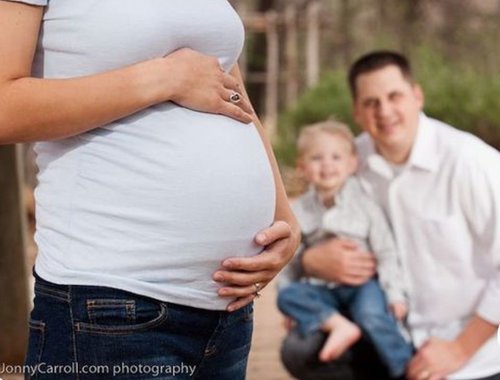 23. Use the portrait mode on your phone like a pro with a layered shot that has mama and her bump in the foreground.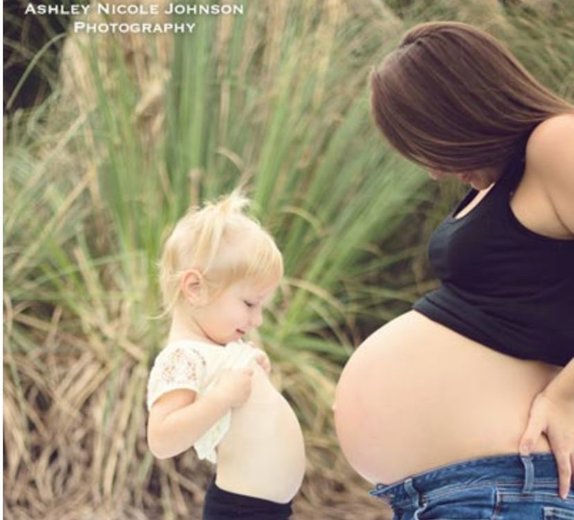 24. Whose bump is better?! This is a sweet way to show off a cute moment with your kiddo.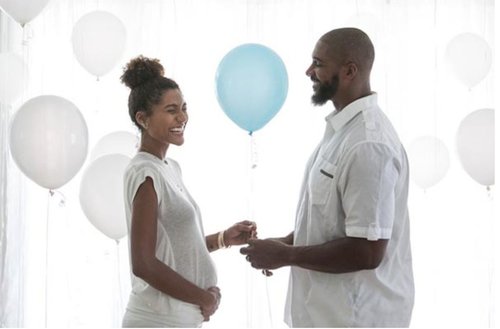 25. If you're into gender reveals, try a simple shot that is sure to find a spot hanging up on baby's wall!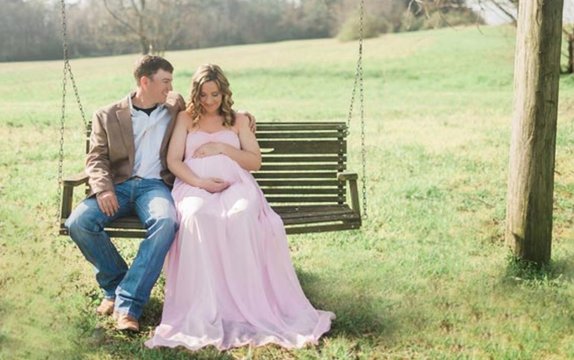 26. Go full-on country chic with a classic porch swing shot.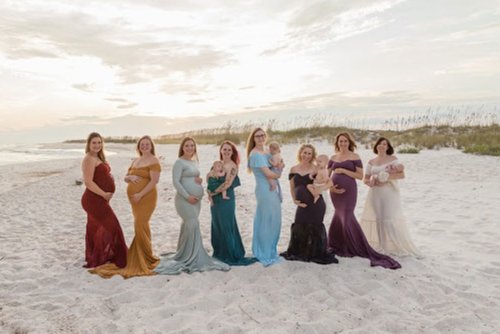 27. Celebrate all the people in your life who are expecting! Have your squad show up in primary colors for a bold shot that is total goals.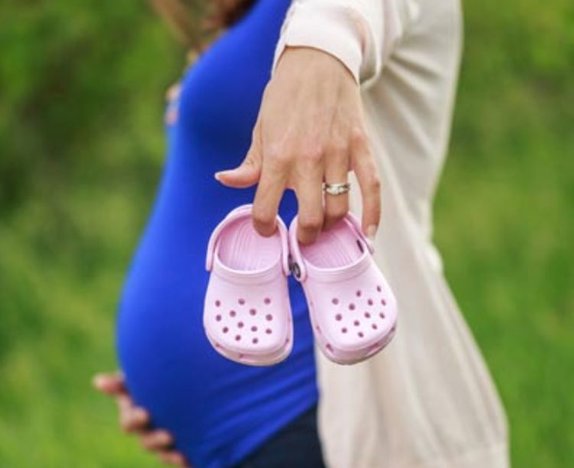 28. Show off your baby shower gifts in a cute, casual backyard shoot.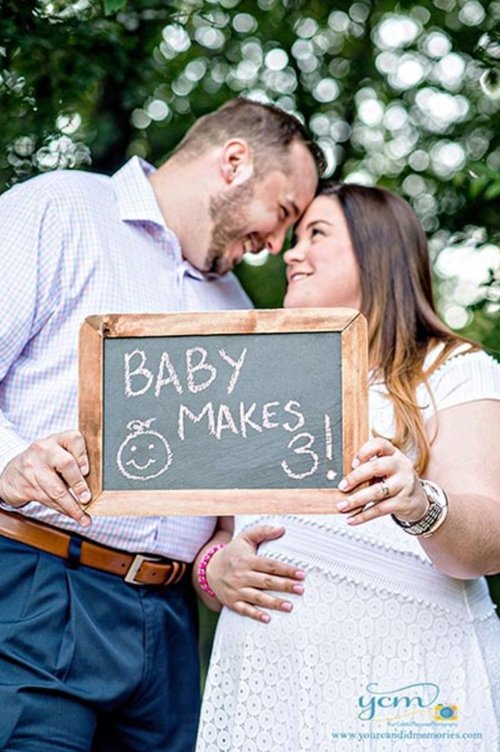 29. Get crafty with a chalkboard and a simple message.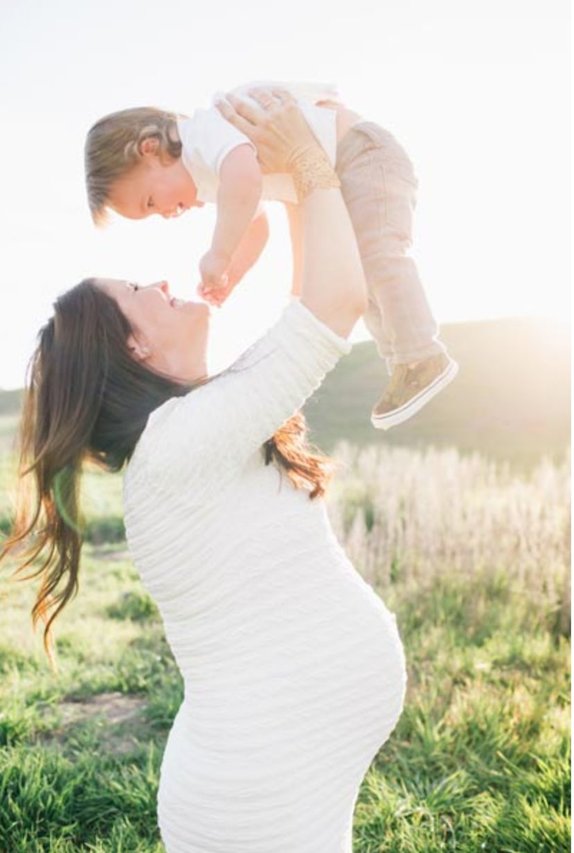 30. Lift up your little for a cute family shot you're sure to cherish for years to come.