13 Best Personalized Gifts for Grandparents in 2023
They may not understand FaceTime, but they know how to spoil your kids! Here are some thoughtful gift ideas to pull at their heartstrings.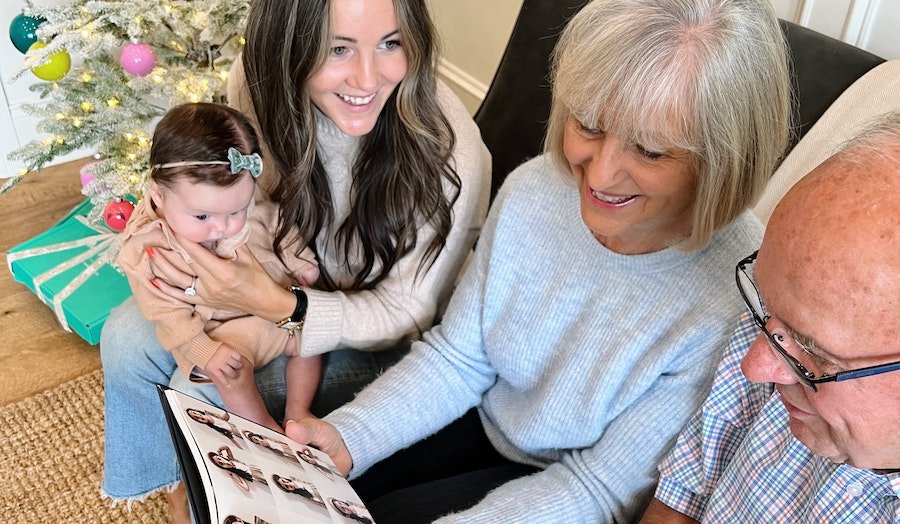 It's funny how the people who ate your Halloween candy when you weren't looking are the ones giving your kids the green light to chow down on a king-size candy bar nowadays. Grandparents are incredible for so many things. They (clearly!) spoil the grandkids, help with babysitting when you're in a pinch and so much more. Sending a text with an emoji? Not so great. Whether or not they can send a heart emoji instead of a cactus, the holidays are a time to show grandma and grandpa how much they mean to you with thoughtful Christmas gifts in 2023. Whether they live for DIY gifts or personalized photo gifts (::cough:: Chatbooks ::cough::), there's a sentimental grandparent gift idea in here for you.
And after all that time spent on finding the right holiday cards and presents, and time spent at parties and around the table with friends and family, it's no wonder your camera roll is filled with sweet shots of you and your family (especially after it took you 10 minutes to get the perfect shot). Don't let those pics get lost in your phone, print them in a holiday-themed photo book (print them in a high-quality Layflat photo book and add blank text pages to create a personalized gift), or hang them on your wall with Canvas Wall Tiles. And if you love saving your favorite memories from every month, print 30 pictures each month with a Monthbooks subscription.
Create A Family Recipe Book
No one can cook like grandma. In fact, she probably was the one who taught you and your siblings the perfect way to make a pot roast. Show your grandparents how important their legacy has been by creating a family recipe Classic Photo Book worthy of their kitchen table.
Make A Big Family Occassion Album
This gift is great for the family that has tons of pictures from all their adventures and travels together. The luxe paper, the thick cover, the richly colorful printed pages... the Chatbooks Layflat Photo Book feels like one big heart hug. It's also so easy to print another copy of a preexisting book that you have. Make a copy of your wedding album or duplicate that family reunion photo book and send it off to nana and pop to make their day.
Turn all of your photos of gran or gramps into a storybook of their love. Include photos from when they were dating and their wedding day, and be sure to sprinkle in other memorable tokens (like scanning in any important ticket stubs, cards or love letters). Use text pages to go through the timeline of how they fell in love.
Start A Family History journal
Recording family history is so important to have for future generations, and a great place to start is by recording those stories in a DIY photo book journal. Rather than filling their photo book with only old photos, leave some pages blank with a question for them to fill out. For example, next a photo of them on their wedding day, use a text page to ask: What do you remember most about your wedding day? This collection of old photos along with their written memories (and their precious handwriting) is something the family will treasure forever. To up-level this gift, pair this book with an ancestry DNA kit so they can fill out more family information as they learn it.
Help Them Hold On To Their Adventures
Are you obsessed with your Monthbooks subscription? Then get grandpa in on the fun, too. If your parents are living up their retirement, gift them a Monthbooks subscription so they can document their everyday magic. Do they travel a ton now that they don't have work? They can use their Monthbooks to print those trips to Tuscany and California. Are they deep into a hobby like gardening or playing music now that they have more time? They can make seasonal gardening photo journals or monthly music books with their subscription.
Design A Family Gallery Wall
As your family continues to grow, get nana and papa set up with a family gallery wall that you can add to whenever a new addition joins the family. Canvas Wall Tiles are perfect for this kind of thing. No hammers or nails are required to hang them, so you don't have to worry about giving the in-laws a job to do. Simply stick them to the wall and you're all set. If your family ever gets too big for the current gallery wall, gran can just unstick and re-stick them in a new spot. Easy peasy.
Inspire Them To Meet a Goal
Does grandma dream of getting really good at yoga? Gift her a little self-care kit to help her reach her goal. Include a yoga mat, a water bottle and a Classic Photo Book filled with inspiring quotes and photos of the two of you. To really wow her, use text pages to write out some things you admire about nana. She'll be a pro yogi in no time.
Gift Monthly Grandkid Updates
Does grandma says she wishes she could get updates about the grandkids every single day? Then get her a Monthly Minis subscription. Every time you add 30 photos of the kids to a photo book, it's shipped out to grandma so she can flip through and see what her favorite littles are up to. You can even leave some pages blank for the kids to draw pictures and write notes just for her.
Who doesn't love a cozy gift around the holidays? For this present, stick to the theme: things that warm your heart. Include items like a weighted blanket, a mug, some hot chocolate and a Classic Photo Book filled with your favorite photos of you with the grands. They'll love just snuggling up to flip through it on a snowy day.
Lay Out a Large Family Mural
Download a photo grid app like PhotoSplit to break up one large family photo into a grid of photos. Then print each photo in the grid onto Chatbooks Wall Tiles. It'll be so fun to watch them open this gift and start piecing together the puzzle of one of your fav family pics. Then everyone in the family can help them hang it up!
DIY A Crossword Puzzle Book
Find a crossword puzzle book or DIY one with a Chatbook. For the DIY version, simply add some of your favorite crosswords into a Chatbooks Classic Photo Book. If you're a crossword queen, try making some yourself using family facts.
Does gran or pops love gardening? Then give them a floral-themed gift this holiday season! Include their favorite bulbs, a fancy brass watering can, some seed packets for spring and a floral Rifle Paper Co. Designer Cover with all of your favorite photos of them printed inside.
Uplevel Their Holiday Decor
Do your grandparents just love decorating for the holidays? Odds are they've been using the same Christmas decorations for 40 years. Jazz up their collection with Canvas Wall Tiles featuring your favorite Christmas memories. Now, every year, grandma can hang them up in the living room during the holiday season to reflect on Christmases past.