11 Cute School Picture Day Outfit Ideas for Memorable Back-to-School Photos
You'll look back on these pictures for years — so here are some cute and funny options you and your kids will love.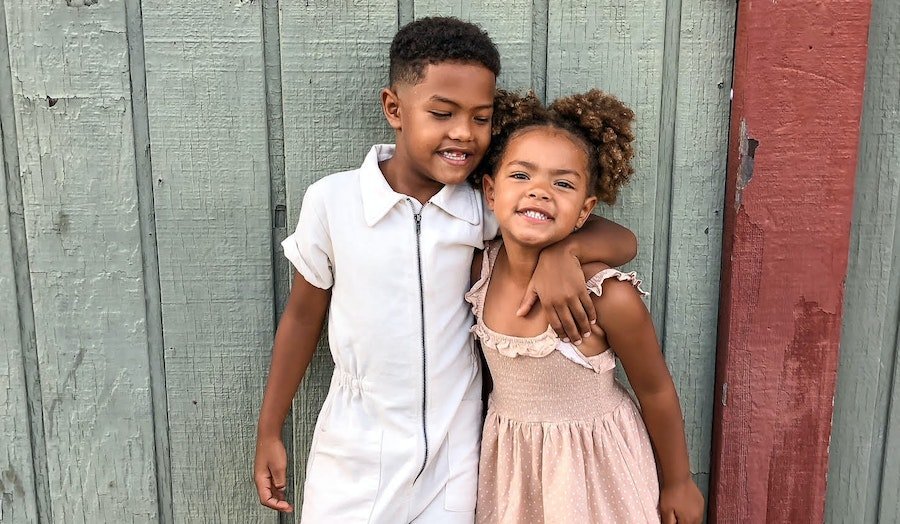 Your kids' school picture day photos will live in a variety of places for years to come: your wallet, the wall (use these Canvas Wall Tiles to show them off in chronological order!), and even in a frame on grandma's mantle. These are the photos your family will hold onto forever. Keeping your memories, and finding ways to print them, is important — just like making sure your kids say cheese for great school portraits. These are the best school picture day outfits ideas for super cute back to school photos your family will cherish for years!
Want an outfit that your kid won't look back on and cringe? We got you. Looking for school picture day clothing ideas that will help their personality shine? Done and done! Get ready to be majorly inspired by this guide to cute and creative school picture day outfits!
If you or your partner have an iconic photo from an old school picture day, recreate the outfit with your little one (or your high schooler, if they're into the idea). You can also dress your kiddos in the same outfits as their older siblings if you still have the clothes.
What does your child want to be when they grow up? If they're game, dress them in the clothes of their future profession before they head to school. Imagine having a professional photo of your mini astronaut or racecar driver!
As they grow, your kids will change their likes and dislikes over and over again. Keep track of their favorites by showing off their favorite hobby each school picture day. For instance, if you have a pint-sized punter, dress him in his football uniform.
You can't go wrong with overalls. This denim classic has been featured in thousands of school picture photos throughout time — because they're so darn cute! And if your child has long hair, an overalls and pigtails combo will make for a picture worth hanging on your wall.
Let your kids dress themselves and see what happens (this works especially well with older kids who don't listen to your fashion advice anymore). They may surprise you with their choices!
It may seem a little out of the box, but if you ever had a PJ day in school, you know how exciting it is to wear your jammies to class! The more excited your kids are, the better their photos will turn out. Plus, if it's a trend you can keep at for a few years, your kids will be known for their unique yearbook photos!
Let them have some fun with picture day! Whatever their favorite character may be — a princess, a sorcerer, or even a pup from Paw Patrol — help them channel their role models for a photo that captures their confidence.
Same shirt, different year
If your kids have a few years of school photos ahead of them, have them wear a big shirt that they can continue to grow into, and wear every year on school picture day. When you hang years worth of school photos on the wall, your guests will do a double take!
If your kids really love dressing up and their Halloween costume still fits, why not get another use out of it? If they really love their costume, it'll make for a super fun and unique photo (and a great trend if they're down to wear a costume every year).
Get them in the school photo spirit by encouraging them to dress as their favorite singer. They can choose their favorite outfit from a music video (for some of us, it's Britney Spears' all red costume from Oops!... I Did It Again) and channel their inner superstar when the flash goes off.
While most students dress up for school picture day, go for a completely formal look. Whether it's a suit and tie or dress and fake jewelry, your kids' formal photo will stand out!