62 Funny and Motivational School Quotes for Students
"You have brains in your head. You have feet in your shoes. You can steer yourself any direction you choose." —Dr. Seuss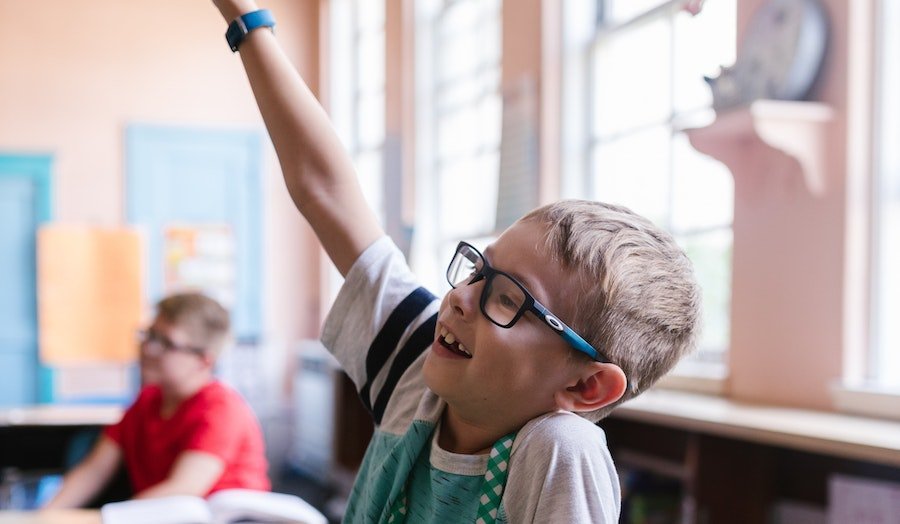 For both kids and parents, going back to school is a mix of emotions — which is why we're always taking a million pictures of our kids posing in their cute first-day outfits or refusing to smile at the bus stop. And sometimes, our kids need a little extra motivation before the big day. Stuck on what to say? Try one of these inspirational school quotes to remind them they're not alone in their first day jitters! These positive back-to-school quotes are perfect for making your student feel at ease before they head off into a new school year. Whether it's a funny saying or a sincere one that'll get their heads in the game, we have a quote for you.
And between grabbing your new school supplies and picking a cute first-day-of-school outfit, don't forget to snap pictures of your memories and print them in a photo book you'll be able to look at for years to come. If you want to make a Classic Photo Book dedicated to their first day of school celebration—and leave room in your Monthbooks for other exciting photos—that's your call! No matter which photo book you print your memories in, your family will just be glad to have them in their hands.
Looking for more ideas to get your kids feeling good for the next school year? Try showing them pictures from last year's first day in your photo books and reminding them of how nervous they were on the morning of, but how much fun they had throughout the day. If it's their first day of school ever, show them pictures of their siblings' or parents' first days to remind them that everyone has a first day of school.
"The difference between try and triumph is a little umph." —Marvin Phillips
"The first day of school is always a fashion show. The rest of the school year? A pajama party." —Unknown
"Take your risks now. As you grow older, you become more fearful and less flexible. And I mean that literally. I hurt my knee this week on the treadmill, and it wasn't even on." —Amy Poehler
"Dreams come a size too big so that we can grow into them." —Josie Bisset
"You can never be overdressed or overeducated." —Oscar Wilde
"Sign on a high school bulletin board in Dallas: Free every Monday through Friday: knowledge. Bring your own containers." —E.C. McKenzie
"Everybody is a genius. But if you judge a fish by its ability to climb a tree, it will live its whole life believing that it is stupid." —Albert Einstein
"Nothing is impossible, the word itself says 'I'm possible!'' —Audrey Hepburn
"You don't learn to walk by following rules. You learn by doing, and by falling over." —Richard Branson
"We all learn by experience but some of us have to go to summer school." —Peter De Vries
"First day of school! Wake up! Come on. First day of school." —Nemo from Finding Nemo
"You have brains in your head. you have feet in your shoes. You can steer yourself any direction you choose." —Dr. Seuss
"Middle school is kind of like Middle-earth. It's a magical journey filled with elves, dwarves, hobbits, queens, kings, and a few corrupt wizards. Word to the wise: pick your traveling companions well. Ones with the courage and moral fiber to persevere. Ones who wield their lip gloss like magic wands when confronted with danger. This way, when you pass through the congested hallways rife with pernicious diversion, you achieve your desired destination—or at least your next class." —Kimberly Dana
"Don't try hard to fit in, and certainly don't try so hard to be different...just try hard to be you." —Zendaya
"I've always loved the first day of school better than the last day of school. Firsts are best because they are beginnings." —Jenny Han
"The most important day of a person's education is the first day of school, not Graduation Day." —Harry Wong
"Education doesn't just make us smarter. It makes us whole." —Jill Biden
"Learning is a treasure that will follow its owner everywhere." —Chinese Proverb
"Education is what remains after one has forgotten what one has learned in school." —Albert Einstein
"Education is not preparation for life; education is life itself." —John Dewey
"Children want the same things we want. To laugh, to be challenged, to be entertained, and delighted." —Dr. Seuss
"Although no one can go back and make a brand new start, anyone can start from now and make a brand new ending." —Carl Bard
"I like a teacher who gives you something to take home to think about besides homework." —Lily Tomlin
"I had the feeling that to get into a schoolhouse and study...would be about the same as getting into paradise." —Booker T. Washington
"The beautiful thing about learning is that no one can take it away from you." — B.B. King
"Technology is just a tool. In terms of getting the kids to work together and motivating them, the teacher is the most important." —Bill Gates
"The future belongs to those who believe in the beauty of their dreams." —Eleanor Roosevelt
"I'm not going to school just for the academics. I wanted to share ideas, to be around people who are passionate about learning." —Emma Watson
"We don't stop going to school when we graduate." —Carol Burnett
"Education is the passport to the future, for tomorrow belongs to those who prepare for it today." —Malcolm X
"High school is what kind of grows you into the person you are. I have great memories, good and bad, some learning experiences and some that I'll take with me the rest of my life." —Giancarlo Stanton
"What I remember most about high school are the memories I created with my friends." —J.J. Watt
"I believe that education is all about being excited about something. Seeing passion and enthusiasm helps push an educational message." —Steve Irwin
"High school is about finding who you are, because that's more important than trying to be someone else." —Nick Jonas
"A well-educated mind will always have more questions than answers." —Helen Keller
"Be so good they can't ignore you." —Steve Martin
"Education is the key to unlocking the world, a passport to freedom." —Oprah Winfrey
"I'm not telling you it's going to be easy — I'm telling you it's going to be worth it." —Art Williams
"You're off to great places! Today is your day! Your mountain is waiting, so get on your way!" —Dr. Seuss
"Work hard, be kind and amazing things will happen." —Conan O'Brien
"No matter how you feel, get up, dress up, and show up." —Regina Brett
"Success is no accident. It is hard work, perseverance, learning, studying, sacrifice and most of all, love of what you are doing or learning to do." —Pele
"Let us remember: One book, one pen, one child and one teacher can change the world." —Malala Yousafzai
"Education is not just about going to school and getting a degree. It's about widening your knowledge and absorbing the truth about life." —Shakuntala Devi
"Start where you are. Use what you have. Do what you can." —Arthur Ashe
"Education is the most powerful weapon which you can use to change the world." —Nelson Mandela
"Change your thoughts and you change your world." —Norman Vincent Peale
"Intelligence plus character—that is the true goal of education." —Martin Luther King Jr.
"In school, you're taught a lesson and then given a test. In life, you're given a test that teaches you a lesson." —Tom Bodett
"The best way to predict your future is to create it." —Abraham Lincoln
"If you really want to do something, you will find a way. If you don't, you'll find an excuse." —Jim Rohn
"The roots of education are bitter, but the fruit is sweet." —Aristotle
"What makes a child gifted and talented may not always be good grades in school, but a different way of looking at the world and learning." —Chuck Grassley
"Some people dream of success, while other people get up every morning and make it happen." —Wayne Huizenga
"You must do the things you think you cannot do." —Eleanor Roosevelt
"If you put your mind to it, you can accomplish anything." —Marty Mcfly from Back to the Future
"Develop a passion for learning. If you do, you will never cease to grow." —Anthony J. D'Angelo
"Success consists of going from failure to failure without loss of enthusiasm." —Winston Churchill
"When we empower girls hungry for education, we cultivate women who are emboldened to effect change within their communities and globally." —Meghan Markle
"Practice isn't the thing you do once you're good. It's the thing you do that makes you good." —Malcolm Gladwell
"You have to stay in school. You have to. You have to go to college. You have to get your degree. Because that's the one thing people can't take away from you is your education. And it is worth the investment." —Michelle Obama
"Our greatest weakness lies in giving up. The most certain way to succeed is always to try just one more time." —Thomas Edison