Picture this: You're looking into the eyes of the love of your life about to exchange your vows on your big day. You're surrounded by a stunning landscape, the weather's perfect, and you're just about to say "I do" when all of a sudden you hear… barking? You can't contain your laughter and neither can your fiancé! If you're a proud pet parent who can't imagine not incorporating your furry loved one into your wedding day, you're in the right place! Read on to learn all about how to include your furry friends in your wedding festivities. Try these 15 tips to get the paw-ty started!
Put the "Bear" in "Ring Bearer"
Have a pup you want to include on your big day? Here's how to include your dog in your wedding: have him be the ring bearer! Attach the ring box to his collar as he struts down the aisle. But be sure to practice at home first and maybe keep a treat or two on you for the big event.
Pro tip: Make it extra special by printing a photo book of your engagement photos and have him bring that along with the ring. Then, after the ceremony, put your book on display for guests to look through.
Start your pet-inclusive wedding journey by searching for dog-friendly wedding venues. Many venues are embracing the idea of pets attending ceremonies, so finding one that suits your vision is easier than ever. A lot of outdoor venues are quicker to welcome animals than indoor venues, so brainstorm some local outdoor spots you'd like to say "I do."
Incorporate Their Personality Through Print
So you found your dream venue but they don't allow pets. That's alright! There are still plenty of ways you can include them on your big day. One fail-proof way is to create a stunning coffee table book of all your favorite pics of them and memories together.
It can be tough to find wedding venues that allow dogs so instead display your book at the entrance or at your sweetheart table during your reception to keep their essence close by. Don't forget, you can also mention your four-legged family member in your vows, too!
Have Your Guest Book Feline Fine
Think you can't bring your cat to your wedding? Think again! Even if they can't physically be there, they can still impress all of your guests. Create a beautiful guest book by creating a coffee table style photo book and include your best photos of you and your spouse-to-be with a few blank pages for guests to write you notes.
Where your cat comes in: Slap the snazziest photo you have of them on the cover of your guest book and have guests talking about it all night. Who needs a cat maid of honor when you have a cat guest of honor?
That's a Pretty Paw-Some Pocket Square
We live in a time where almost anything you can think of can become a reality, like customized pocket squares with your dog's face on it! Have your partner create or order a custom pocket square for your big day so you can also look into their eyes when you say "I do." If you're still wondering how to include your furry friends in your wedding festivities, keep reading!
Create a Pet-acular Seating Chart
Include your favorite pictures of your fur-mily to your seating chart. Whether you create place cards with your pup's face on them, or cute illustrations on your seating board, you can feel the presence of your furry pal. This is one of the easiest dog wedding ideas.
Create photo books filled with all of your pet-tastic adventures and display them along with your centerpieces on your guest's tables. Everyone will love flipping through them and they can be a great icebreaker for folks who don't know each other.
Pro tip: Sign up for monthly photo books so you can print out your fave memories each month and have plenty of photo books to display. You can also opt for a smaller version of these books if that fits better with your decor.
If you're really married to the idea of having your pet physically at your wedding, a quick Google search of "dog friendly wedding venues near me" should supply you with plenty of potential options!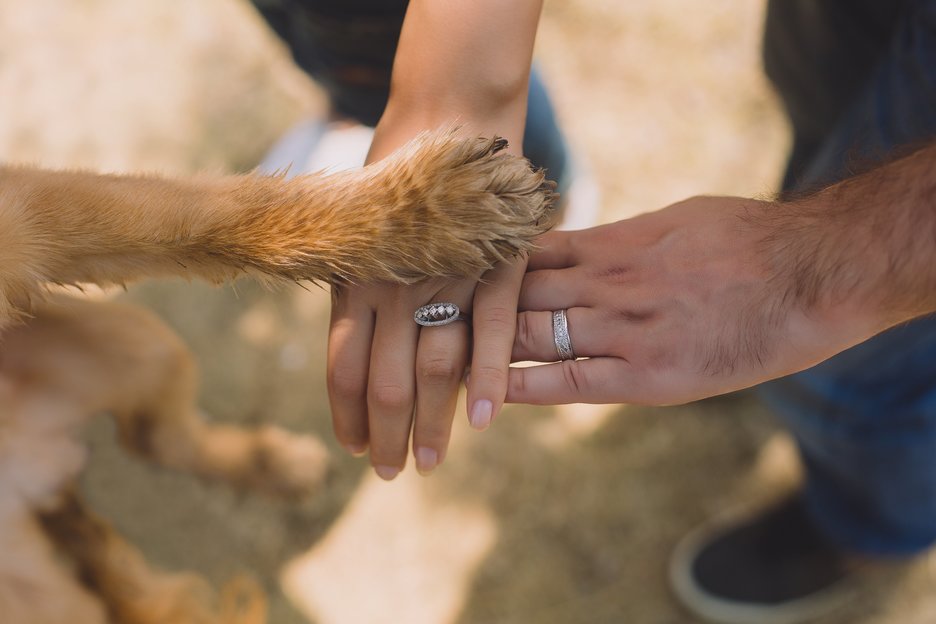 Have Your Signature Drink be the Purrr-fect Pawtini
This one is a crowd favorite: If you're still wondering how to have your dog in your wedding, make your signature cocktail or mocktail dedicated to your furry pal. Think of silly names like "corg-a-rita" or "bark & barrel bourbon bliss."
If you're able to bring your pets to your venue on your big day, don't forget to include them in your wedding photos! Capture moments of love and joy as your pets interact with you and your wedding party. Make sure to create a beautiful photo book commemorating this special moment in time with your family.
During the ceremony, have your pets take part in symbolic acts. For example, include them in the sand-pouring ceremony or exchange vows with your pets as witnesses. Some states like Colorado are spearheading the pet-friendly weddings movement and actually allow your pet to be legally recognized as your witness on your marriage certificate. How cool is that?!
Incorporate your pets into the design of your wedding invitations, adding a personal touch to your special day. You can add a photo of them, hire an artist, or try to sketch their likeness yourself. Either way, it's an adorable personal touch to your wedding.
How to include your furry friends in your wedding festivities: Set up a pet-friendly photo booth, of course! It's a fun and interactive way to include pets and guests in the celebration. Your dog-friendly wedding reception will have everybody wagging! Make sure to ask your vendor about getting copies of everyone's photos so you can create a photo book with them.
Pet-Approved Party Favors
Most importantly, don't forget the treats! It's important to thank your human guests and furry guests alike! Incorporate a "treat bar" along with your dessert bar. Or, create party favors with your pet's face on them.
Lead a celebratory parade with your pets and guests. This is a great idea if you won the battle of searching for pet-friendly wedding venues. It's a unique way to share the joy of the day with everyone, including your pets. It will make for amazing pictures unlike any other wedding you've seen before so be sure to print them and make a photo book out of them!
Pet-Friendly Wedding Registry
Create a wedding registry that includes gifts for your pets. From cozy beds to stylish collars, to monthly photo books where you can capture all of their silly little faces, your pets can benefit from the love and generosity of your wedding guests.
A wedding day is a joyous celebration of love and unity, and what could make it even more special? Including your four-legged family members, of course! From your dog friendly wedding, to including your pet in your guest book, to having them be the star of the show with your photo book centerpieces, there are countless ways to have your beloved pets join in the festivities.