30 Clever Wedding Guest Book Ideas Your Guests Won't Stop Talking About
Your wedding guests will be gushing over your unique guest book for years to come!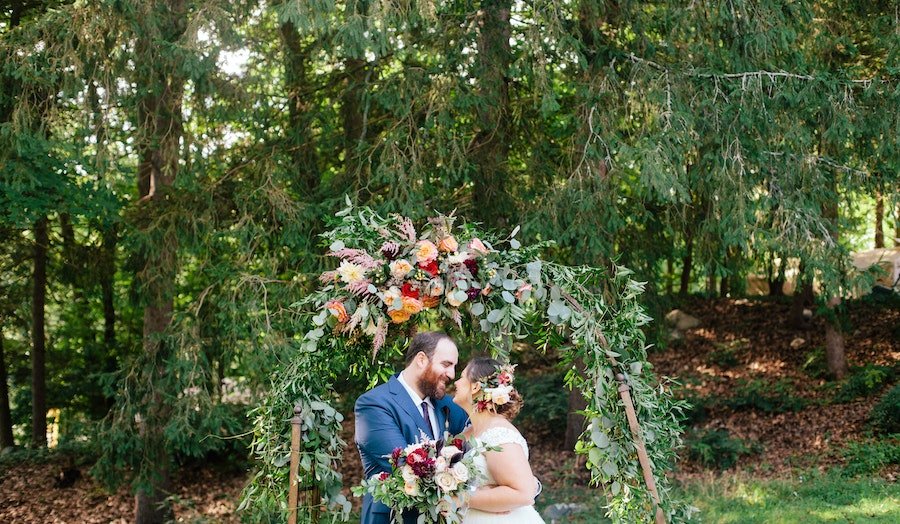 Planning a wedding is a full-time job — and you can drive yourself crazy scrolling through Pinterest trying to find the most unique or clever ideas for your big day. Whether your vibe is homemade, alternative, nerdy, non-traditional or just fun, we've created a list of super creative wedding guest book ideas to fit every theme. Let's face it: You and your partner are anything but boring. Why settle for a wedding guest book that doesn't really feel like you? These ideas range from out-of-the-box to more traditional so you can pick what your vibe is to celebrate your upcoming nuptials.
From wedding vows and engagement photos to bridal showers and bachelorette parties, your list — and your camera roll — may seem to never end. After all that planning, and after all those parties (and let's not forget the wedding itself), you're going to have a lot of photos you'll want to display. Print your wedding photos in a super high-quality photo book, like a Layflat (and send your in-laws a copy during the holidays in a Classic Photo Book), and display your favorite photos from your wedding on Canvas Wall Tiles. That way, whenever anyone visits the newlyweds, they can gush over the most special — and busiest — time of your life.
Layflat
Try this traditional guest book with a sentimental twist — make a Layflat photo book with pictures throughout your relationship and leave every other page blank for your guests to write on. Alternate between blank white or blank black pages, then give your guests metallic markers to make their messages really pop. Check out this video to see how it's done.
Shadow Box
Friends and family can write thoughtful messages on small wooden hearts, then drop them into a large shadow box that'll house all the wonderful notes your loved ones have for the newly married couple. You can mount your box in your new home, with special messages from every person that's important in your lives.
Polaroids
Instant photos are a great way to capture your guests' excitement and joy in the moment. Leave a blank guest book and some tape so your loved ones can take a photo of themselves they can tape next to a heartfelt note.
Custom Plate
Here's a guest book idea you can proudly display in your kitchen: Bring a plate of your choice (white may work best) and permanent marker for guests to add sweet notes and sign.
Globe
For the couple that likes to travel, a globe is a super fun way to nod at your love of travel. For a personal touch, draw hearts around any places you've visited together, or places that are significant before leaving the globe and permanent markers for your guests to sign.
Classic Photo Book
If the happy couple took engagement photos, the guest book is a great place to put them! Add your favorite photos to a Classic Photo Book and leave every other page blank so guests can sign next to their favorites. Hint: Use metallic markers for a pop of color.
Bible
If you're throwing a religious ceremony or wedding, and you're looking for a way to honor your faith in your guest book, ask your guests to leave a note by a Bible passage or religious text that they feel gives good advice or is significant in some kind of way.
Date Night Ideas
Grab fun colored permanent markers and plenty of popsicle sticks for your guests to leave fun date night ideas. Add them to a jar for fun date night ideas for the newlyweds, plus a super personal way for guests to contribute to your life!
Home State Homage
In place of a traditional guest book, get a board (or even a cutting board) in the shape of the state you and your new spouse live in for people to leave messages on. It's a great way to pay homage to the state you're building your home and life in, together!
Postcards
If you're hosting a destination wedding, or are just super avid travelers, a super original guest book option is postcards. Either gather postcards from the spot you're getting married, or places you've been or want to go.
Canvas Wall Tiles
Print important pictures from throughout your relationship or take a picture of a color you love (so the canvas is blank, but the color you like) and print it on Canvas Wall Tiles. Ask your guests to leave personal messages on them, and when you're back from your honeymoon, you can hang this easy peel-and-stick decor in your home. This way, you can see the kind words from your friends and family every day.
Jenga
Personalizing Jenga blocks is always a fun time (especially for a bachelor/bachelorette party). Have your guests write a sweet message or sign their names on one side, then ask them to add an action that would work during a game of Jenga on the other side. Go wild!
Vinyl Messages
Want a fun way to remember your guests' messages? Leave a telephone for your guests to record their messages on, then have those well wishes pressed into a vinyl record
you can play whenever you please — especially on your anniversary! This one is great for the couple that loves their record player. Or, you can also bring multiple vinyls of your favorite albums, or ones that mean something to you as a couple, and have guests sign them to display (you just won't be able to play them).
Picture Frame
Take a photo or graphic that means a lot to you (a picture of your proposal, a graphic of your home) and frame it with a large white photo mat. Ask your guests to sign around the mat on the big day, making the perfect piece of art to hang in the couple's home.
Video Messages
Create a video booth with a camera and a fun backdrop (and pick up props from the dollar store) so your guests can leave you messages on the big day. Don't forget to leave instructions on how to use your video camera — and a charging cable.
Calendar
Give all your guests a chance to feel special with a calendar guest book! They can add messages over the picture at the top, plus important dates throughout the year, like their birthdays or your first anniversary.
Anniversary Wine
Leave blank wine bottle labels at each of your tables for guests to sign, write advice and share funny messages. After your wedding, add the labels to your wine and open one up on every anniversary — don't forget to read the words of wisdom!
Thumbprints
Bring a painting of a landscape with a tree and ink for your guests to dip their fingers in. Leave instructions so your friends and family know to add their fingerprints as individual leaves on the tree, which you'll later be able to hang in your home!
Ornaments
If you're getting married close to the holidays (or are just a huge fan), hit the dollar star for different ornaments your guests can write on. Leave metallic markers so they can draw, sign and write messages you can hang around your house for the first holiday spent as a married couple.
Bucket List
Place pieces of paper and pens in front of a little bucket with instructions to add to the couple's "bucket list." Guests can add milestone moments, like getting your first pet, or fun items that can be used whenever like, "take a hike in a new state."
Surfboard
For fans of surfing, or just the beach in general, a surfboard is a great piece (with a lot of room!) for guests to sign — plus it makes a great display piece in your new home as a couple.
Photo Booth
If you're offering a photo booth at your wedding, ask your service to print an extra copy of each photo strip to add to a guest book. Guests can sign their name and leave messages next to each of their photo strips — great for showing off their personalities, and the good time they're having at your wedding!
Picture Line
Using clothespins and string, hang photos of the soon-to-be newlyweds with instructions for guests to pick their favorite one to take off, sign, and clip back on. It's a great way to show off the couple's journey together — and add a personal touch.
Welcome Sign
After all the pictures have been taken and your guests have strolled in through the party, have them sign a sign! Using one of your wedding signs (or maybe one from a bridal shower or bachelorette, if you're reusing the back), have guests leave notes right on the front! This is a great way to reuse your sign, and also have a neat guest "book" to display.
Time Capsule
Put a small notebook on each table at your wedding with a year on the front cover. Ask guests at each table to write messages in the book for the corresponding anniversary. This way, you'll be able to read sweet messages from your friends and family for the first 10, 15 or 20 years of anniversaries you celebrate!
Puzzle
For the couple that loves solving puzzles, is there any other way to go? Guests can sign and add messages to puzzle pieces and after the honeymoon, the couple can piece their puzzle of funny words and sweet messages together. And after all that work putting it together, be sure to frame and display your unique guest book.
String Art
Add nails into your preferred shape on a wooden board (like a heart, star, or even initials), then wrap thread, string or wire around the nails to create your desired shape. Make sure it doesn't take up the whole board so your guests have plenty of room to add sentimental messages and well wishes for the happy couple.
Instrument
If the couple is known for making music, leave a guitar, drum, picks or any other instrument or tool for guests to sign. Depending on the object, metallic markers could make each note really stand out!
Advice Cards
Give each guest or family a card to write their best advice for the couple on, then have them enclose it in an envelope you've already written their name on. If you write their name on the flap, you can tape or glue the front of the envelope onto a page so you have a whole book filled with your envelopes, safely secured.
Typewriter
For the couple that loves books (and hopes to one day have a library in their home), using a typewriter as your guest book is brilliant. Make sure you have plenty of paper and a working typewriter for guests to go wild with! Depending on how many pieces of paper you end up with, you can frame them and add them to a wall in your home.