25 Unique, Creative Ways To Tell Your Parents You're Pregnant
Learn how to craft your big announcement for your little bundle of joy.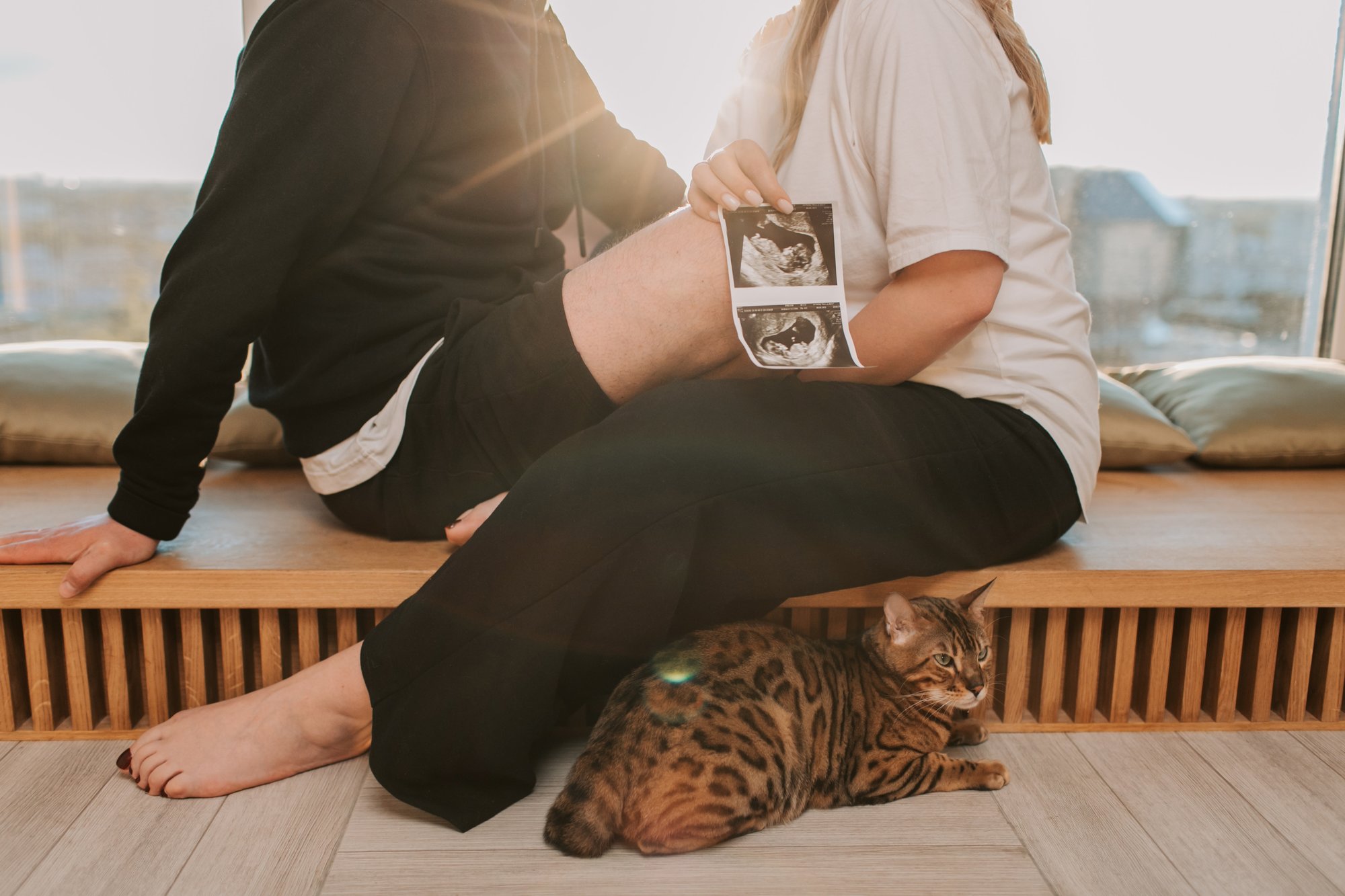 Welcome to your motherhood journey! Before you start sweating about building a bassinet or finding the right swaddle, enjoy this special time in your life and celebrate! While you're enjoying your little secret, you're probably bursting at the seams with excitement ready to announce it to the world, and especially to your family. That means it's time to brainstorm your pregnancy announcement. Whether you're looking for a funny pregnancy announcement, a surprise one, or just want to explore cute ways to tell your parents you're pregnant, we've got you covered.
And while you're at it, don't forget to capture the excitement and shock on everyone's face during the big reveal. You can add photos from the big moment right from your phone into a photo book your little one can look back on one day. It's a heartwarming moment that deserves to be a special piece of your family history.
Cute Pregnancy Announcement Ideas
Make it a Family Affair
If you're wondering how to share the news of your little one with your family all at once, consider surprising them with a photo book.
Easily create a Classic Photo Book right from your phone. Add in decades of family photos and even showcase your family tree. Start with your parents and gradually introduce your growing branch with a heartwarming pregnancy announcement photo. The cuteness!
The Surprise that Keeps on Surprising
If you're still wondering how to tell parents you're pregnant, consider this subtle surprise: Monthbooks. Capture your journey to parenthood with Monthbooks, a monthly photo journal created right from your phone, right from the beginning of your adventure.
Easily send copies to your parents, revealing your pregnancy announcement over a series of months—a delightful surprise in every book! The look on their faces when they finally piece together the clues will be priceless!
The Countdown
One of the best ways to share that a little one is on the way is with a little anticipation. Plan a countdown surprise using Monthly Minis, the mini monthly photo journal you create right from your phone's camera roll. Gift your parents one Mini per month, each featuring a hidden clue of your pregnancy journey, leading to the grand announcement!
Make it Grand
Design a stunning coffee table book capturing your life's beautiful moments right from your camera roll. A Premium Layflat Photo Book will also serve as a beautiful memento to this exciting time in your life. Save the last pages for the big reveal, complete with a heartwarming pregnancy announcement. If you're having trouble figuring out what to say, consider looking at a pregnancy announcement template.
Start a Baby Book
Create your very own baby book! Begin your baby's journey even before birth! Incorporate an ultrasound photo in your baby book and let your parents discover the surprise as they flip through its pages.
Add an Unexpected Surprise
If you love adventure, create a travel book filled with your explorations. Let your parents discover your pregnancy news while flipping through the pages of your global escapades. Bonus points if you're able to take a pic with your ultrasound abroad and print it into your announcement!
Make it Festive
Craft a festive holiday book filled with your holiday memories. Sneak in your pregnancy announcement photo, and watch your parents' hearts light up with holiday joy!
Drop Hints with Captions
Add a sprinkle of mystery to your Classic Photo Book with creative captions. Drop hints throughout, leading to the big pregnancy announcement reveal. Captions like, "We love our family, especially when new family members join…"
Drop Easter Eggs
Not literally of course! Snap some fun photos of yourself, your home decor, pets, etc. with hidden clues in the backgrounds such as ultrasound pics, tiny sneakers, or a baby blanket. Incorporate these sneaky hints in your Monthbooks. Let your parents decode the clues as they enjoy the journey.
Include the Grandparents
Create a Classic Photo Book that celebrates grandparents' love. Include pictures with your parents and yourself to showcase all the generations in your family. Slip in your pregnancy announcement, and capture their priceless reactions as they welcome a new generation to the family.
DIY Pregnancy Announcement Ideas
Craft a DIY Pregnancy Announcement using Monthly Minis. Add snippets of your ultrasounds over the months and connect them all for the big announcement, which includes your due date and any other information you want to share.
Snap an Instant Photo
If you have an instant camera, like a Polaroid, snap an instant photo of your ultrasound and quickly gather your family as it develops. The suspense and surprise at the end will have everyone smiling from ear to ear. Kudos to the first person who guesses right!
Take a Cute Family Pic
Buy a tiny pair of sneakers and take a pic with you and your partner's sneakers. If you have a pet, include their little paws too!
Go For a Photoshoot
Plan a themed photoshoot and design a Classic Photo Book to capture the magical moments and the exciting reveal. Show your family the photo book before posting the photos on social so they don't see it coming!
Craft a Coffee Table Book
Get inventive with your Premium Layflat Photo Book. Invite your family over and as everyone chats in the living room, point out a new coffee table book that you've been loving and ask your family to take a look. In the book, you can showcase artistic photos that lead to an unforgettable pregnancy announcement of you holding your baby bump. Surprise!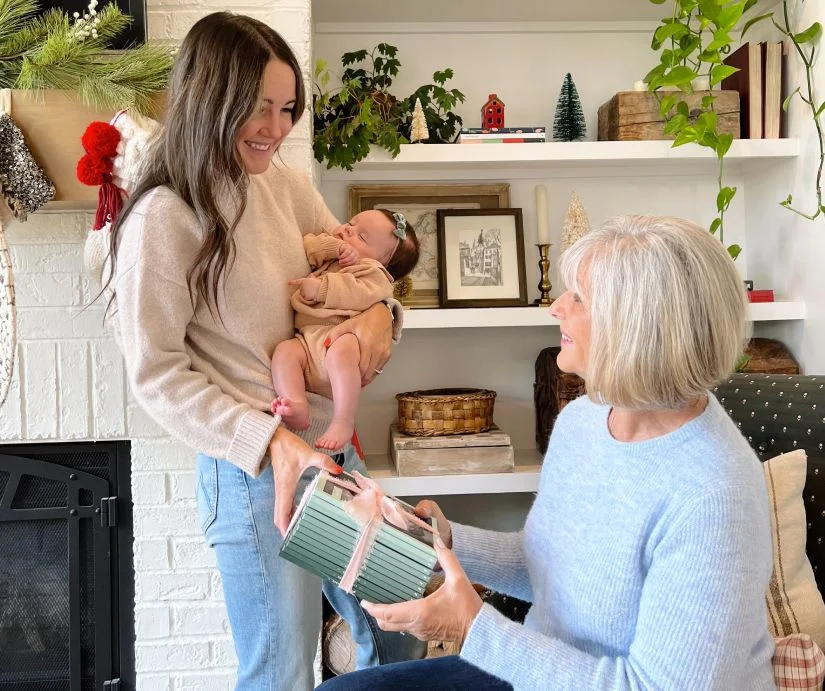 Seasonal Pregnancy Announcement Ideas
Fall
Celebrate fall with a charming fall pregnancy announcement. Capture your bump amidst colorful leaves, and add a heartfelt note to your Monthbook. Use the rest of your Monthbooks to capture your pregnancy journey!
Thanksgiving
Gather your loved ones for Thanksgiving and unveil your pregnancy announcement using a heartfelt speech and a personalized holiday book as a keepsake. If you're looking for more clever ideas to announce during Thanksgiving, try these ideas specific to turkey day.
Easter
Host an Easter egg hunt with a twist! Fill eggs with ultrasound photos, or "baby" versions of items (baby carrots work for both your announcement and the holiday!) and let your parents discover the upcoming arrival.
Holiday
Get festive with a Christmas pregnancy announcement. Create a holiday photo book filled with holiday cheer, memories and captions from the past few years and reveal your pregnancy joy on the last page. Santa will have more presents to deliver!
Mother's Day
Turn Mother's Day into a joyous celebration by presenting your mom with a baby book that reveals your upcoming role as a parent—and her upgrade to grandma!
How To Tell Certain Family Members
How To Tell a Sibling
Involve a sibling by capturing their excitement in a Chatbooks baby book. However you decide to tell them, their reactions will be a heartwarming addition to your pregnancy announcement photo book.
How to Tell Your Husband Or Wife
Document your spouse's genuine surprise as they discover the pregnancy announcement in your Classic Photo Book documenting your story together—a memory you'll love forever. We love this example!
How to Tell the Grandparents
Create a Classic Photo Book filled with riddles your readers must solve. Have your grandparents piece together the puzzle and reveal the exciting news. Bonus points if you film their reaction!
How to Tell Your Other Child
Design a Monthly Minis collection that gradually reveals your pregnancy announcement through subtle hints and growing excitement. Include pictures of your soon-to-be older sibling kissing your belly, reading books to your bump and more. Your little one will be so excited to flip through pictures every month as they await their new sibling's arrival. These books double as a keepsake for your baby once they are born – they can look back on the story of their arrival!
Announcing your pregnancy is one of the most exciting times in your life! By sharing the news with photos and photo books, you can remember this special time forever and even look back on it with your little one (you can even add select pictures into their baby book!). Here's to you capturing the love, excitement, and anticipation of your growing family.