25 Best Thanksgiving Pregnancy Announcements That'll Make Your Family Cry
If you want to see some tears of joy, these are the best ways to surprise your family with the good news!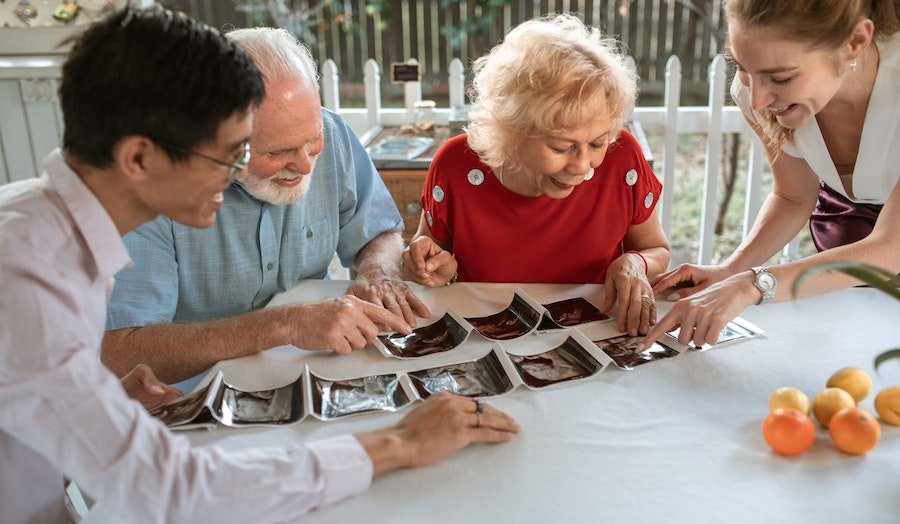 The holidays are all about family, but Thanksgiving is the BIG one. If you've got exciting and special news to share on the big day, and you're looking for a creative Thanksgiving pregnancy announcement ideas to announce that yours is expanding, we got you! These fall-themed pregnancy announcements are simple and super fun to plan with your partner. Since this will be a holiday to remember, you might want to put your phone on a timer to take tons of photos of your friends and family's reactions. (Oh, and use these pregnancy and milestone printables to keep track of every first!)
And after all that time spent on both the holiday and your big announcement, it's no wonder your camera roll is filled with cute shots of your family jumping for joy. Don't let those pics get lost in your phone, print them in a holiday-inspired photo book, or hang them on your wall with Canvas Wall Tiles. You'll want to catch those tears of joy and hugs in photos and videos you can hold onto forever — and to show your baby in a few years — so don't forget to print your pics in a Monthbook so you can chronicle baby's life from pregnancy through birth.
Say "I'm pregnant!" with your Thanksgiving dinner place settings. Draw baby chicks onto eggs with each dinner guest's name and place them around the table. Then add some tiny feathers and any other customizations you think will hint at your surprise. See how long it takes for your family to put the pieces together!
that announces you're expecting and includes your due date for your family to assemble and decode on Thanksgiving. Be sure to add seasonal images like pumpkins and leaves so it's not too easy for them to put together!
Before your guests arrive, create your own decorative wreath that can lay flat on the table (this way, you can also take a photo if you'd like to post your announcement online, as well). Place any garlands, autumn leaves, mini gourds and pumpkins or even little blocks that spell out baby. Add an ultrasound photo to the middle (or at the bottom of the wreath so you can add text, like the baby's due date, before posting online). See how long it takes for your family to discover!
If your family says a blessing before digging into dinner, this is a great way to slip in your pregnancy announcement! If you or your partner (or someone else you trust) opts to lead the blessing, list a bunch of things you're grateful for and then add a line about blessing your family as it continues to grow, especially the family member joining in March (or whichever month baby is due).
that can be given as a gift (and even hung on the wall) with your big announcement. If you can, order an embroidery of your ultrasound picture!
Visit a store like Build-a-Bear, or find a company that makes stuffed animals that play sounds, and if you have it, add the sound of baby's heartbeat from your ultrasound. Have the bear on the table as part of the decor (bonus points if they're in a Thanksgiving outfit) and ask one of your guests to squeeze the bear for a surprise. See how long it takes for them to figure out what the bear is telling them! And even better, you have your child's first stuffed animal.
Once you know how many guests will be at your table, print the same number of storks and Thanksgiving turkey images. Tape or glue the turkeys onto the sack the stork holds in its mouth, then write your baby's due date on the turkey. Hide the images under everyone's plates and wait to see if someone discovers it! If they haven't figured it out before dinner, tell everyone there's a surprise under their plates and film their reactions.
You can't go wrong with a t-shirt that spells it out for everyone. Choose cute Thanksgiving wordplay like "Pumpkin pie for two, please!" that'll catch everyone's eye when they walk through the door.
Use little boxes or gift bags, whichever you have on hand, and add a little note that mentions a special gift that's on the way. Include a cute little cut out of a turkey or piece of pie with a pacifier — and don't forget to add the due date!
If you have a chalkboard or letterboard you can display, this is a super easy way to tell people (and celebrate). Write something clever like, "eating for two" and if you have an ultrasound photo, place or hang it next to the display so guests can get their first glimpse of baby.
Under the guise of playing a fun game, hand out Thanksgiving-themed scratch-offs that tease a prize. Have all your guests start the scratch-off at the same time only to discover a "We're Pregnant!" announcement under the last shape they scratch.
Whether your beverage of choice is wine, beer, or seltzer, customize the labels for the drinks at the table ("Look what we brewed!") and set them on the dinner table for your guests to discover.
Before Thanksgiving dinner this year, have everyone at the table write down what they're thankful for, then fold it in half. Write down your pregnancy announcement on a card, then place all the notes in a bowl and each person at the table can pull one out by random and read it to the table. You'll surprise everyone when your card is read!
Place a bunch of buns on a tray in the oven, along with a picture of your ultrasound (when the oven is no longer hot). Then, when your guests are in the kitchen, ask one of them to pull the tray out and film everyone's reactions as they each figure it out.
If you already have a child, dress them in a shirt that says "big brother," "big sister" or even something like "big turkey, little turkey on the way" and snap a picture of your family's reactions.
Take a picture of you, your partner and any kids you may already have wearing shirts with funny sayings like, "The turkey ain't the only thing in the oven," "I put the turkey in the oven" and "I'm the original turkey!"
Digital Editable Announcement
After you've shared with your close friends and family (and you're ready to share with the rest of the world), purchase a digital, editable Thanksgiving pregnancy announcement. This way, you don't need to worry about capturing the perfect photo to announce your little one.
Combine shopping for your baby and finding a cute announcement in one purchase: a onesie! Find a cute Thanksgiving-themed onesie ("We're extra grateful this year") and find an excuse to gift it to someone at the dinner table (like mom for helping you prepare this year's feast). You'll get tears of joy and your first piece of clothing for baby!
Before you bake (or buy!) your Thanksgiving pie, put your announcement on the bottom of the pie dish. (The easiest way to do this may be to create your own paper announcement, add it to the bottom of the dish, then place a store-bought dessert on top.) Your big news will be revealed slice by slice!
Is it really Thanksgiving if someone doesn't stand from the table and declare they have a food baby? Turn that holiday saying on its head and show up wearing a shirt that says, "It's not a food baby" — or wait until someone says the words, then reveal your shirt!
Do you have a beloved dog or cat? Wrap a bandana around their neck so every time guests arrive and your furry baby greets them, they can read the news for themselves!
Make copies of your ultrasound — because you know everyone will want their own to hang on the fridge — and hide them underneath each of the chairs at the table. Before you start dinner, thank everyone for coming and tell them you've hidden a surprise under each of their chairs to thank them for coming. Don't forget to film their reactions!
If you don't want to beat around the bush, lay a card announcing your pregnancy on top of each place setting! If you want to make them work for it, give them a card with a crossword or word search and see if they can figure it out.
On top of your Thanksgiving dessert, add frosting with words announcing you're pregnant and the baby's due date — just be sure to keep the top hidden until it's time to serve! Watch everyone's faces light up as they read the news.
Add a not-so-subtle decal to your pumpkins so your friends and family can see your announcement right as they walk through the door. They'll be jumping up and down before they hit the kitchen!