24 Totally Unique Photo Book Ideas For Mom
Put all those pictures to good use by creating a unique gift for mom as a Chatbooks photo book that will give her all the feels.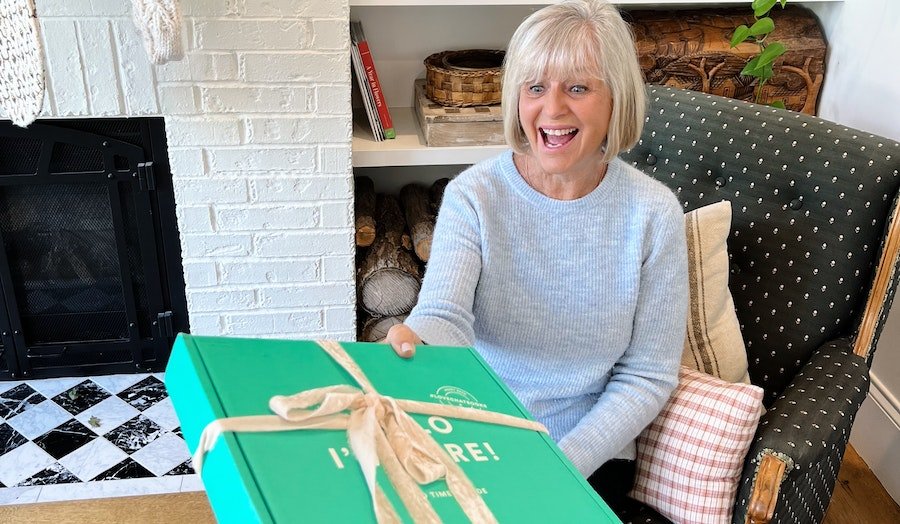 In need of a personalized, sentimental present to celebrate mom this Mother's Day? A sweet, customizable photo book is the perfect way to show mom just how much you treasure time spent together. Compiling all her favorite memories into one place — especially photos of her grandkids — is the way to go. Print a walk down memory lane for this Mother's Day — and if the photo book is a big hit, start sending her some copies of your own Monthly Minis for just $7 USD extra. Here are 24 totally unique photo book ideas that mom is bound to love...
Use your sibling as a contributor
Get your siblings in on the fun with a collaborative photo book. Start a shared album of photos and pick and choose the best pictures that you think will make mom smile the most.
Get your other parent in on the fun
If you want to surprise mom with a birthday book or you're hoping to give an anniversary gift for your parents, ask your other parent to help you by collecting or taking pictures to make the gift even more personal.
Create a favorite things photo book
Whether her favorite things are "raindrops on roses" or "whiskers on kittens," make a book full of all the little moments that bring mom joy. You can organize your book into chapters with title pages or just have all of the photos live together for a sweet surprise every time she turns the page.
Make a personalized cookbook
If the mother figure in your life is an excellent cook, be sure to create a cookbook full of her homemade recipes. To make it more personal, scan all of her handwritten recipes (even the ones that have been passed down to her from grandma) and upload them to the book as pictures, along with snapshots of mom cooking with her family and her finished products.
You likely have so many pictures to share with mom that one photo book isn't enough. Not to worry! Get mom started on a photo book series with Chatbooks where you can link your Instagram account and get a new book for every 60 images you post.
If your mom is also a grandma, a photo book highlighting each of the grandchildren is a great gift that she can display on her coffee table or bookshelf.
Especially for those with large families, this gift is perfect for documenting the busy school year. Set up this photo book like an IRL yearbook and include superlative text pages like "most likely to become famous" and have the family vote on who gets what title.
Collect notes from the heart
This one involves all the special people in mom's life — we're talkin' siblings, children, grandchildren, friends and beyond. Ask everyone to write a heartfelt note to mom, and then scan them onto your computer or snap pics of them and save the pictures to your camera roll. Upload each handwritten note with a picture of its author for a super special volume.
For the mom who loves an adventure, gather some old photos from her past travels and ask her to share her stories as she flips through the pages.
Highlight your family pet
Sometimes mom's favorite child is the family pet and, let's face it, sometimes they are your favorite sibling. Collect all of the cutest photos of your pet and turn them into a book for mom.
Design a time capsule book
If your family gets their group photo professionally taken every year, create a book dedicated solely to family portraits. Watch mom laugh at some of her old hairstyles as she flips through fam pictures of the past.
Make a family vacation scrapbook
Did your family plan a once-in-a-lifetime cruise or European vacation? You probably have plenty of photos from that trip, and a scrapbook of those pics would be a great gift for mom.
Opt for a holiday-themed book
No one does the holidays quite like mom. Maybe she decks the halls for Christmas, or perhaps her Fourth of July game is super on-point. If you have pictures of mom's holiday decor, create a photo book for her so she can show off her creative talent all year long.
Showcase her design skills
If your mom has a flare for interior decorating, she'll definitely love a coffee table book full of her favorite spaces. Find some beautiful photos from websites like Pexels — where you can collect photos for free of art and architecture — for a glamorous volume. Include some of her beautiful home decor Instagram pictures and she'll feel like a magazine cover star!
Write out the reasons why you love mom
Create a book full of the reasons why your mother is so special to you. Pictures of her laughing, candid moments where she was taking care of others, or even just her beautiful smile can all make an appearance in this book.
Try a photo-a-day challenge
This one might take a little planning, but take a picture every day for a year so that you can create a photo book for mom. You can snap portraits of mom over the year along and capture family events big and small. Fill in extra pages with pics that remind you of mama.
You may have attained your next-level sense of humor from dear old mom, and it's time you show her just how funny she is. Find all her goofy photos and print them for a gift that will make her laugh every time she cracks the spine of her book.
Put together a nature book
Perhaps your mother is a horticulturist and her garden is the most beautiful one on the block. A book full of her favorite plants would make a great coffee table book that she can display all year round.
Showcase landscape images
Does mom love long drives and pictures of sunsets? If so, find her favorite vistas from mountain tops and beaches and snap some photos just for her.
Did you get your sense of style from mom? If so, find pictures of mom in her best outfits and create a lookbook so she can remember all of her most fashionable moments through the years.
Re-do their wedding album
If your parents have been married for a while, odds are they have some classic old wedding photos complete with puffy white sleeves and retro hair. There's also a good chance their wedding album is falling apart. You don't want to lose those precious pictures! Ask around for some of their old wedding photos and recreate their old wedding album as a special gift to mom.
Remember a loved one or a departed pet
Now this one will really make mom cry. If your mother has recently lost a loved one, create a photo book with beautiful photos of all of her best memories with that person.
If you have a mom who's also a dancer, singer or has another incredible talent, find some old pictures of her in her glory days for a book.
For the mom who holds many events and meets lots of new people, create a photo book that can double as a guest book. Use photos with light backgrounds so people can write in the book about their experiences at her events.