10 Dog Photography Tips For The Cutest Puppy Pics Paws-ible
Calling all pup-arazzi!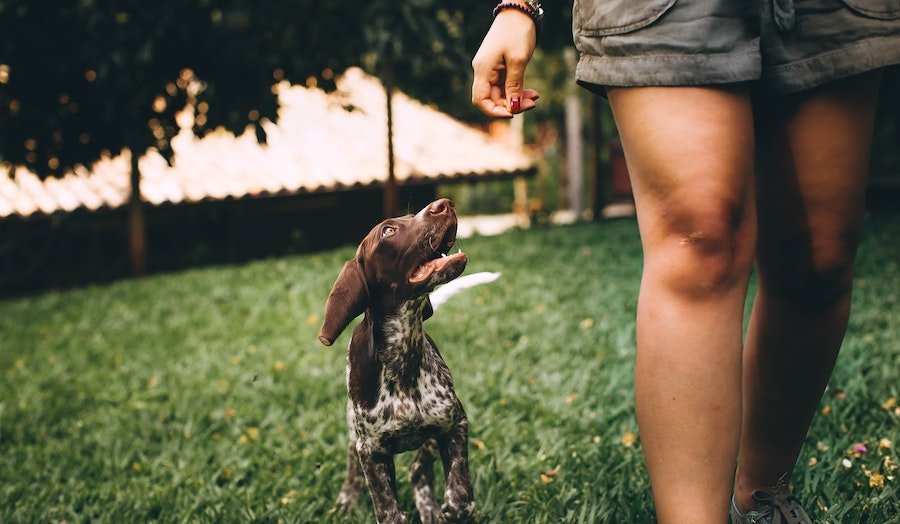 If you're *mutts* about your paws-itively paw-fect pooch (say that 5 times fast!), then take some killer portraits of your furry friend and print them! But when it comes to taking dog photos, a man's best friend can quickly become his worst enemy. It's no easy feat to get your furry friend to strike a pose. That's why we've come up with 10 of the best dog photography tips to make your pup-loving life easier. These pet photography tips are perfect for using your phone or a professional camera to capture your fur baby's personality! Your pictures will turn out so perfect, you'll want to print them and hang them up ASAP. Is there anything cuter than a pooch gallery wall? If you have an Instagram account for your dog (complete with epic pet captions), create a Photo Book Series especially for your pup.
Create depth by lowering the aperture
Want to make your pupper pop in photos? Use a wide aperture (f/2.8 or lower) to create some depth so that your dog becomes the highlight of the shot. This will create that blurred background and make your little one's face the center of the focus. If you're shooting with your camera phone, just opt for "portrait" mode and this feature will be automatically applied to your images.
Capture the many faces they make
Your pup has a ton of personality, and you'll want to capture every adorable expression possible. Be patient and take a memory card with lots of space so you can snap away until you get that perfect shot. If you're using your phone to take photos, make sure you have enough storage available before you start shooting. Need to quickly free up space? Consider using a duplicate photo removing app like Remo. And if you're hoping to get various facial expressions from your pooch, bring some props that elicit different reactions. Do they make a super eager face when you squeak a certain toy? Do they make a more mellow expression when you say a particular word? Take some of the cues you use with them on an everyday basis and see how those affect their expressions in your pictures.
Take motion and action shots
Use continuous shooting on your camera so you can capture your rambunctious and sweet pet. Dogs aren't likely to pose a lot for the camera, so get them out in their element, playing and running around, and turn up the shutter speed!
Consider golden hour for your golden retriever or a cloudy day for your collie. Natural light is your best tool as a photographer, and it will make your pup shine in photos. If you're indoors and shooting during the day, eliminate as much overhead light as possible and find those natural bursts of light coming through the windows. If you're outdoors, make sure to avoid shadows and shoot just after sunrise or before sunset for pretty, sepia-colored shots.
If you have a curious pup who has a mind of their own, you will definitely want to bring some treats to your photo shoot. Don't worry about getting some of those treats or your hand in the shot because it will create some adorable personality pics. Set up your camera or phone on a tripod and try tossing treats to your pet with most of your body just out of the frame. One of these photos is bound to become your next Chatbook cover!
Shooting from different angles is a great way to find the perfect shot. Try to take a few on your dog's eye level. This will make your pooch feel more calm and comfortable and you'll fall in love with those puppy dog eyes all over again.
Is your pup struggling to sit still or look into the camera during your pet photo shoot? Then get in the frame! Showcase the connection you have with your dog by taking some funny shots with the two of you interacting. Do something that they love (like chasing a ball, being carried in your arms or having their ears scratched) to get them to smile in your photos.
Shoot in comfortable environments
Your dog will feel a lot more at-ease if they are in a familiar place, which will result in pictures that capture who your dog is. Their favorite park, a special spot in your home or their stomping grounds in your yard are all great options for your pet photo shoot location.
Dogs show a lot of emotion through their eyes. Create some pictures where you zero-in on their peepers and you'll be pleasantly surprised with how beautiful they turn out! These photos will be especially fun if your pup has cute or quirky ears that also make it into the shot.
Get creative with your background
Choose a photo background that creates more context for your pet portraits. Want an outdoorsy feel for your active pooch? Shoot outside. Hoping for a cozy vibe that complements your dog's fluffy coat? Take photos inside on a bed or couch with a fuzzy throw blanket in view. Need a modern, minimalist picture to use as your photo book cover? Find a colorful wall in your home and snap away with your dog in front of it. There are so many different options for making your pet photo shoot feel creative. Your dog will be sure to give you a lot of cute expressions if they sense you're having fun, so don't forget to bring the party!