Here's How You Can Save Your Favorite Cards and Letters from Your Loved Ones
Don't feel bad about finally tossing your sister's holiday card — you can keep her message forever in a photo book.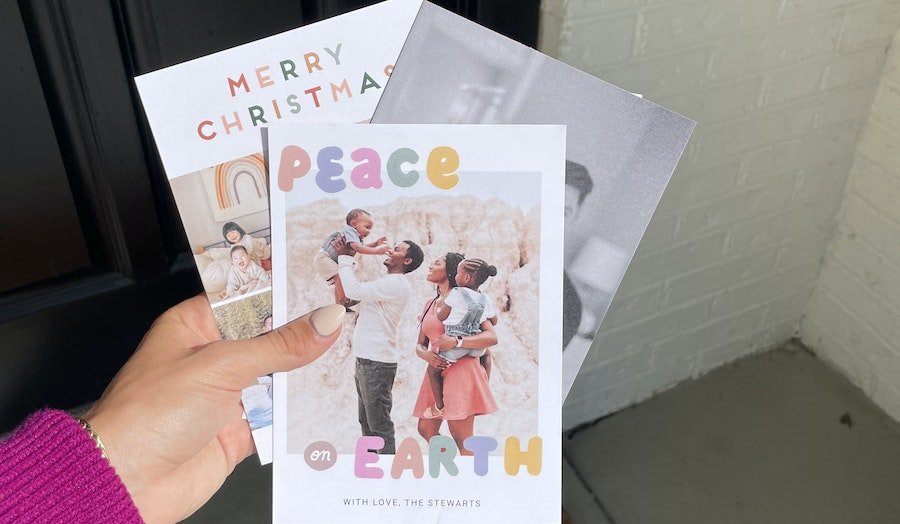 Let's be honest: As kids, we didn't worry about saving birthday cards from relatives (and we definitely didn't love sitting down to write thank you letters). Now, as adults, we understand the meaning behind the card — the time, attention and personal touch that goes into writing and mailing every handwritten note. It can be hard to throw Hanukkah cards from Nana away (and even trickier to figure out how long it should sit on the mantle). Instead of feeling guilty about throwing away sentimental cards, save the space and the memory by snapping a picture and printing it in your next Chatbook. Here's how to turn your letters and cards into digitized copies you can add to your photo books. You'll love these creative ways to save your birthday, wedding and anniversary cards!
Step 1: Take a photo of your card
Make sure you lay the card flat on a well-lit, solid-colored surface. Snap a photo on your phone, or use an app like Google Photoscan to make sure you're capturing the pictures in the highest resolution possible.
Step 2: Upload to the Chatbooks app
Open the Chatbooks app and pick a photo book for your pictures. For a new project, you'll be prompted to add photos. Choose where you'd like to upload your pictures from, like your phone's camera roll, then pick the ones you'd like to add to your book. If you're adding the photos to an existing project, just tap the blue + button in the bottom right corner of your existing project.
Step 3: Print your photo book
Once you've added every photo you'd like to your project (don't forget to title your book!), follow the steps to print your photo book — and enjoy free shipping!
If you're not sure which cards to save, there's no hard and fast rule! Add letters from friends and family like grandparents, parents, your significant other, kids, your favorite aunt, or even an old friend reminiscing about your high school days. Remember: You can turn any sentimental items into photos that look great in your Chatbooks.
You can save Christmas cards and old film negatives, screenshots of funny texts from your mom, the mountains of artwork your kids bring home from school and memories from grandma (like all the recipes and black-and-white family photos she's sent you).