21 Family Christmas Traditions to Cherish Every Year
Starting these traditions is easier than getting everyone to smile for your Christmas card!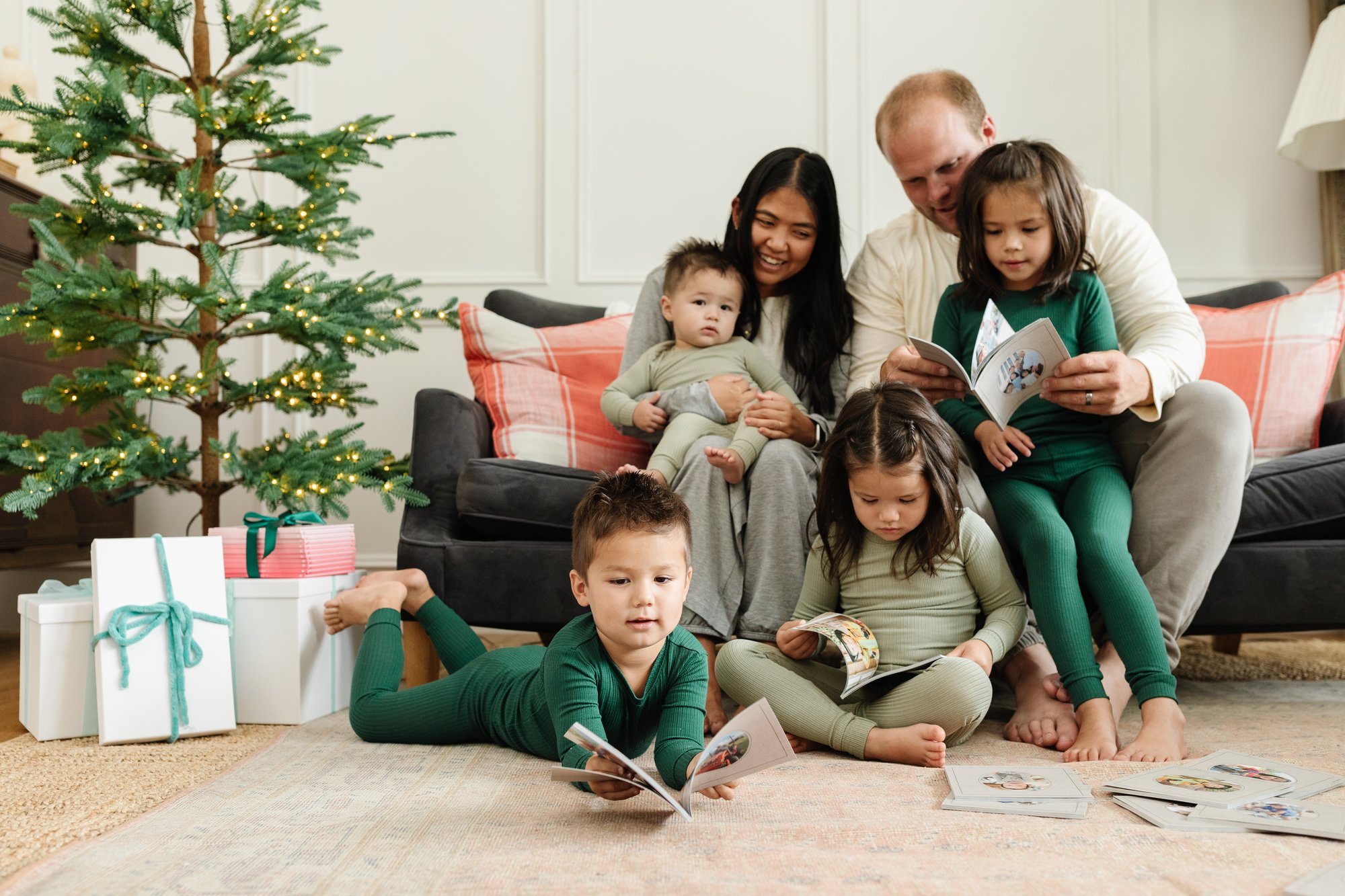 From stockings hung by the chimney with care to sipping hot cocoa to warm your rosy cheeks after playing out in the snow, every family has their own tried and true holiday traditions. Maybe you've decided to carry on the Christmas traditions from your own childhood, or perhaps you're interested in experimenting with some new ideas and approaches to the season.
Of course, your go-to Christmas tree tradition (who puts the star on top of the tree?) and your Christmas dinner traditions (has everyone saved room for grandma's famous cranberry sauce?) are obvious give-ins. But what about trying out some new ideas and seeing how they stick before incorporating them into your family Christmas? Whether there are Christmas traditions from around the world that call to you or old-school holiday tidings that have long been forgotten, there are always fresh ways to make the season feel merry and bright.
One new holiday tradition to cherish every year: Sitting down by the fireplace (or space heater) to flip through your family photo album. Not sure how to start? Add your family's annual holiday photos (that capture your Xmas traditions, of course) to your Yearbook, monthly subscription or holiday photo book and print duplicates for everyone, so the magic of the holiday season can be documented and revisited each winter.
If your family hits the farm every year to pick out a tree to decorate (nothing wrong with that artificial tree that takes the whole team to lug it out of storage, either!), this is a great opportunity to shoot pics of your little ones as they experience the magic of the Christmas tree farm. Snap shots of them looking up at the towering trees, or running down rows packed with picturesque pine needles.
Decorating Family Christmas Traditions
It's beginning to look a lot like Christmas… especially now that it's time to put up those ornaments your kids made in class, plus any family heirlooms (or even the sparkly ornaments that caught your eye at Target). Capture the moments your kids work together to create a beautiful tree (with the ornaments not going any higher up on the tree then they can reach), and the moment they finish the tree by placing the coveted star on top.
Can you celebrate the holidays without powdered sugar? Whether you're baking for your family, or making cookies for Santa (and a treat for the reindeer), your kitchen will be filled with gingerbread cookies and gumdrop buttons, plus Yule logs and gingerbread houses, galore! Ask your kids to whip up their own unique Christmas cookies, and snap photos and add their "special recipe" to your family cookbook. We take our Christmas food traditions seriously!
The hardest part of Elf on the Shelf? Remembering to move the little trickster every evening. Followed closely behind is how hard it is to come up with new and exciting hiding spots each night. Each morning when your kids finally spot the troublemaker, snap a photo of the Elf and your kids' reactions (especially after all that hard work!). Even better: Create an Elf on the Shelf encyclopedia for yourself, so you have quick ideas for years to come (using your years of genius ideas!). Try these genius Elf on the Shelf ideas using your Chatbooks.
Nothing beats a Christmas movie marathon! Host a cozy movie night with your family, complete with comfy PJs and festive snacks. Break out your favorite films, a mix of classics like Elf and Home Alone or The Polar Express and A Christmas Story. Light that Christmas yule log in the fireplace and get cozy!
While your kids concentrate on writing letters to Saint Nick, snap photos of them as they're deep in thought, or going wild with the red and green crayons and stickers. Help them put their letter in an envelope and address it to the North Pole, and those cheesy thumbs up as they drop their letter to the big guy in the mailbox.
Create your own advent calendar, tailored to your family and creating new holiday traditions! Each day counting down until Christmas, try something new, like DIYing your own ornaments or building a snowman, and take photos of all the fun. Use captions and text pages to number each day of your family's advent adventure (when you go to print your photos), and get creative with your family's annual christian advent calendar!
Get in the Spirit of Christmas
Christmastime isn't just about presents and holiday lights, it's about gratitude and giving to others. The holidays are a perfect opportunity to teach your kiddos about volunteerism. Choose gifts for the less fortunate or volunteer at a local food pantry with your family. There are plenty of local options to choose from, and celebrating the true spirit of Christmas will become one of your family's new favorite holiday traditions.
You see 'em every year: Holiday jammies. You don't need to pose for a Christmas card as an excuse to get your family into matching pajama-wear (and if your kids don't want to match, go for an ugly sweater contest instead!). Wear your jammies on Christmas morning and be sure to snap photos, both posed and candid, of everyone in their holiday wear. Add it as the cover of your Classic Photo Book, or include it in your family Yearbook. 83% of parents report that when their children look at photos of their family, it strengthens their child's connection to the family, according to our Printed Photo Impact Report with HP.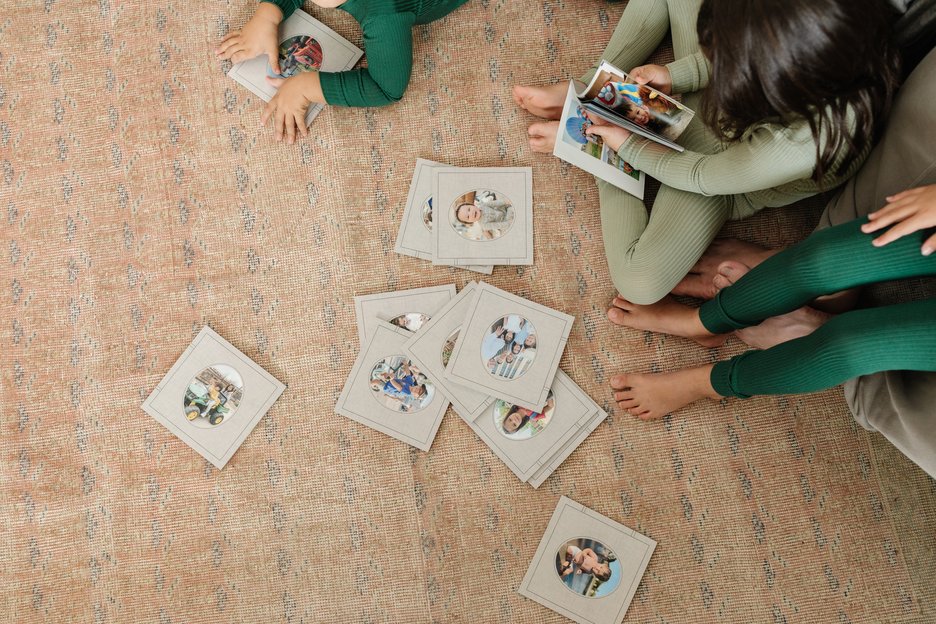 Lights, Camera, Christmas!
As your neighborhood becomes merry and bright, find time to get outside with your kids, either on a long walk or by hopping in the car. Drive around town to find holiday light displays decorating peoples' lawns, or look up a local light show to dazzle your kiddos. Ask your kids for help taking pictures of their favorites and work together to add the ones they love to your photo book. While Christmas customs around the world may vary, who doesn't love a good light show?
Spend an evening creating DIY ornaments with your family! Instead of making ornaments for yourself, have each family member decorate an ornament for another family member (like an ornament secret Santa!). Each year your family can make new ones (and hopefully their glue and sticker skills will increase as they grow!), and bonus: Each year your kids will grow a few inches and therefore, be able to add more ornaments toward the top of the tree! And the kookier the ornaments, the more you can lean into different Christmas tree ideas.
Many local train stations host their own Polar Express pop-up experiences, and while amenities may vary, come with visits from Santa and his elves, plus plenty of hot cocoa during a scenic trip around town. Snap pics of your little ones as they live out one of their favorite Christmas stories in real-time. This is one of those family traditions for holidays that they'll remember!
Skating Around the Christmas Tree
There are so many Christmas traditions around the world, and this one is iconic. While there probably won't be a Christmas tree in the middle of any ice skating rink, gliding along the ice is a surefire way to get in the rockin' Christmas spirit. If it's not too cold where you live, hitting the ice rink and bundling up for a few trips around the rink is a great way to conjure that snowy, magical feel for your family. Plus, take lots of funny photos when your kids cling to the walls and let go of your spouse's hand for the first time!
It's Beginning to Look a Lot Like… a Scavenger Hunt
After your kids check to see if Santa ate his cookies (and the reindeer liked their carrots), why not search for some of their Christmas presents? (You can always opt to hide a few, or have them search for their stockings instead!). Take photos of their excitement as they bustle around the house, helping each other discover their presents before meeting back under the Christmas tree.
Is it really the end of the year if you haven't taken your annual family photo yet? Whether there's snow on the ground or not, a wintry portrait of your beautiful family is much needed, especially since your kids just won't stop growing! And after you print those family photos, look back at each annual family pic with your kids! Parents report their children experience increased self-esteem and stronger sense of identity from looking at printed photos, according to our Printed Photo Report with HP.
Instead of building with their LEGOs, your little ones may be more inclined to build houses made of gumdrops, icing and gingerbread. Give everyone the necessary edible materials to create their own gingerbread house, tell your kids to pick a theme and get creative! Take pics as they get frosting smeared on their noses as they lean in to arrange candies around the roof of their house, and of course the photos of that first bite!
In the vein of an advent reading calendar, pick a holiday book to read each night with your kiddos. After reading a few stories, work together to create your own Christmas story! Have your kids make their own illustrations, then snap photos and add text via captions or text pages in a Chatbook. Each year, your kids can reread their annual stories, plus create new ones!
Whether it's your child's performance in The Nutcracker or a family night out seeing a theater production of A Christmas Story, a holiday-themed performance or show is a wonderful annual tradition. Snap pics of your family all dressed up in front of the production's poster, or posing with playbills.
Collaborate Writing a Letter
After your kids have written to Kris Kringle at the North Pole, sit down as a family and craft a letter (you don't have to send it out, and you can even address it to your future selves a year from now!) reflecting on the year and your family's highlights. Now, this is one of those Xmas traditions around the world that's worth trying out. Don't forget to snap a photo of it and include it in your holiday album or Yearbook.
A Tradition of Capturing Traditions
While your family celebrates so many sentimental traditions every holiday season, be sure to make a "tradition" of capturing them all. Snap photos of your kids setting out cookies and milk for Santa, or your kids opening up one ("I said just one!") present on Christmas Eve. Sitting down together and looking through traditions of years past is also a great way to feel connected and reminisce together.
With the hustle and bustle of Christmas, it's naturally a busy time — and sometimes not the easiest time to reflect. New Year's Eve is all about celebrating the year you had, and looking forward to the year ahead. Even if your kiddos can't stay up until midnight (and we've got tips on how to celebrate NYE with your little ones), they'll love flipping through all their special moments — even if they can't remember them! Start a Yearbook for the new year together, and add one thing each person in your family wants to do or accomplish in the year ahead with captions or text pages.
With so many Christmas traditions to choose from — especially with picky toddlers and pre-teens! — you'll be able to maximize your family's traditions and create cherished memories. What's important is creating holiday traditions to cherish every year with your family — food, activities and annual jokes that become a part of your family's holidays and traditions for generations to come. Don't be afraid to take those candids of your kids stuffing their mouths with gingerbread and printing it, you'll be happy you did!