16 Creative Collage Ideas for Styling Photo Books and Canvas Wall Tiles
With these collages, add more photos into every photo book!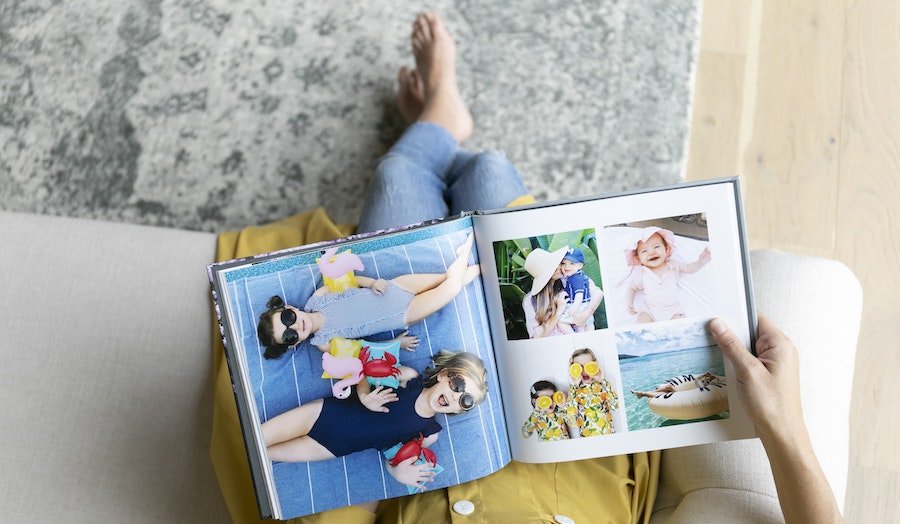 If you're having trouble deciding which of your kids' cute (and terrifying) selfies will make it into your photo book, you don't have to worry — you can design your own collage pages using the Chatbooks app (that way, you and your partner can save every embarrassing side eye or expression in one place). Even better? You can create collages with up to six photos in the Chatbooks app (and here's a step-by-step guide on how to create collage pages and covers). Here are some creative collage ideas for your photo book pages, plus the best ways to arrange a collage using your Canvas Wall Tiles.
Collage ideas to try in your photo books
Add a black and white filter to a collage of special moments, like pictures from your wedding day

If your family has a beloved dog or cat, design a collage that shows your furry friend as they mature from a baby to a fully-grown member of the family

Design a collage that showcases each of your family members (try a shape that displays parents in the center and kids in a surrounding pattern)

Take a landscape shot, then some detailed, close-up shots (like a landscape photo of the Grand Canyon, then close-up photos of the rocks beneath your feet or the view when you peek over a cliff's edge)

Add text over the images in your collage to add sentiment (like locations and dates over vacation photos or lines from your vows over wedding collages)

On your next

trip

, take photos of details that inspire you (from colorful doors and markets to canals and funny signs) to arrange in a collage that'll help you remember the little things

Don't know what to do with all those cute selfies your kids take on your phone? Turn them into a collage that'll help you remember all those gap-toothed smiles

An important part of every vacation is the food you eat, so turn all those plated pics into a collage that'll have you drooling over the memories

If you're doing any DIY or construction, make a collage of photos showing your space before, during and after your project is complete

Other before and afters include your kids' birthday parties and holidays. Show off your clean, organized living room (with all the presents sitting neatly under the Christmas tree), then include pictures of your kids ripping open their presents, and all the wrapping paper, ribbon, and toys that fill the room by the end of the day

Invite

contributors

to add their own photos, like of your kids' birthday parties, and create a collage of your baby's first birthday cake smash with pics from every vantage point

If you have some funny

screenshots

you want to save (but don't want to dedicate a whole page to them), turn the photos into a collage that'll keep you laughing at your mom's use of acronyms
Collages to make using Canvas Wall Tiles
Using your Canvas Wall Tiles, arrange your tiles in the shape of a heart, which is perfect for family photos
If you're looking for a way to show off your kids' annual school pictures, try arranging your Canvas Wall Tiles into a collage that shows off how fast your babies are growing!
Collages are a great way to display your love story. Include photos of special moments like your engagement, wedding, first home, and the first time you and your partner held your kids
Since Chatbooks' Canvas Wall Tiles can be reused up to 50 times, arrange them on the wall in the shape of a number to celebrate a special event or milestone (like arranging all the tiles with photos of Dad into the number 40 for his birthday!)