40 Hilarious Christmas Puns That are Perfect for Your Holiday Cards
"A round of Santa-plause, please!"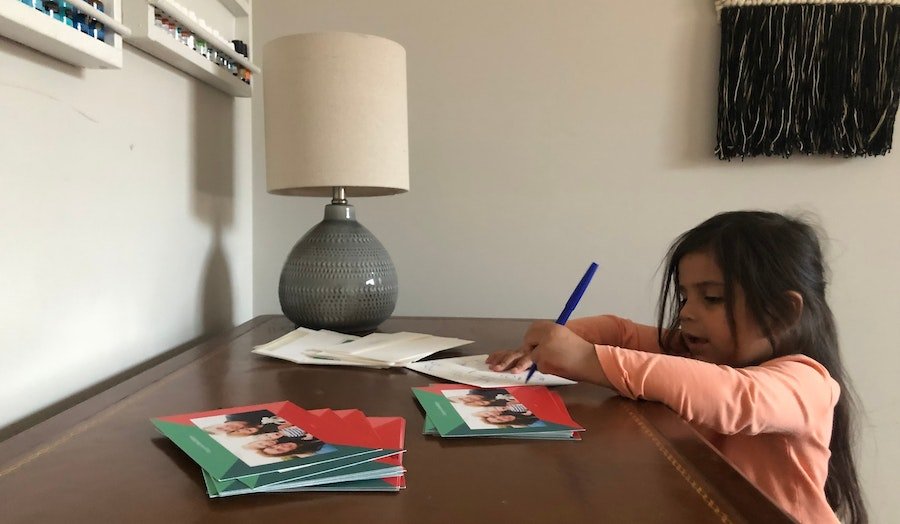 It's snow joke — there's so much to do when it comes to the holidays. Between snapping the perfect holiday card pic to snagging all the best presents for your friends and family, your list is as long as Santa's naughty or nice list! These Christmas one-liners (perfect for holiday cards, Instagram and photo book captions!), funny elf puns and jolly nutcracker jokes are sure to make you crack a smile. Spread the cheer, down every chimney, to friends and family by adding a joke or two to your holiday cards this year.
And after all that time spent on finding the right holiday cards and presents, and time spent at parties and around the table with friends and family, it's no wonder your camera roll is filled with sweet shots of you and your family (especially after it took you 10 minutes to get the perfect shot). Don't let those pics get lost in your phone, print them in a holiday-themed photo book (print them in a high-quality Layflat photo book and add blank text pages to create a personalized gift), or hang them on your wall with Canvas Wall Tiles. And if you love saving your favorite memories from every month, print 30 pictures each month with a Monthbooks subscription.
"Have your elf a merry little Christmas."
"Believe in your elf."
"Santa Claus is an elf-made man."
"Can we take an elfie?"
"I hope this gives you high elf-esteem."
"If you're lucky this Christmas, Santa Claus will grace you with his presents."
"You sleigh me."
"Shake it like a pole-oriod picture."
"Make it rein."
"The holidays make me feel extra Santa-mental."
"A round of Santa-plause, please."
"In 2022, the best gift will be hand Santa-tizer."
"It's snow joke."
"Up to snow good."
"There's snow one else I'd rather be with."
"Snow on and snow forth."
"It takes one to snow one."
"You're the best person I snow."
"I'm feelin' pine."
"It's lit."
"Time to spruce things up."
"This will be a tree-mendous time."
"You light up my life."
"I'm having fun fir sure."
"Merry Fish-mas."
"Hope this holiday is purr-fect."
"Here comes Santa Claws, here comes Santa Claws."
"Fleas Navidad!"
"Happy Howlidays."
"Someone's barking up the wrong Christmas tree."
"Have a beary merry Christmas."
"Dachshund through the snow."