36 Best Graduation Bible Verses
These Bible verses are perfect for adding to caps, writing in cards, and encouraging your graduates in their future endeavors!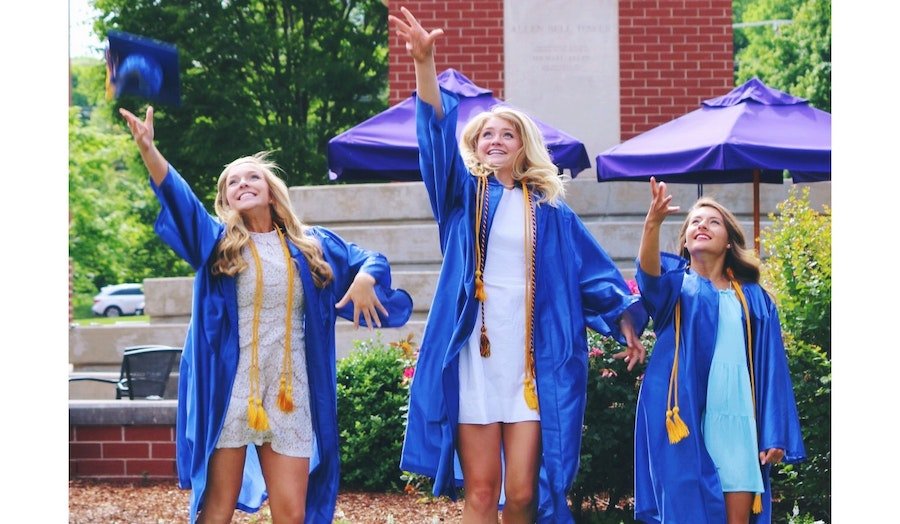 Watching your senior toss their cap in the air—and celebrating all the late nights you helped with their math homework (why does it feel like they keep changing math?)—is cause for celebration. If your soon-to-be graduate is looking for the perfect Bible verse to add to their cap, or you want to include the perfect inspirational verse about success and the future for them, these are the best Bible verses for your senior's cap, cards, and presents. They also make great text page additions to your Chatbooks graduation photo books.
And between decorating graduation caps and making plans for the summer, don't forget to snap pictures of your memories and print them in a photo book you'll be able to look at for years to come. If you want to make a Classic Photo Book dedicated to your graduation celebration—and leave room in your Monthbooks for other exciting photos—that's your call! No matter which photo book you print your memories in, your family will just be glad to have them in their hands.
Rejoice.
The lord stood by me and gave me strength. — 2 Tim 4:17
They will soar on wings like eagles. — Isaiah
Whatever you do, work at it with all your heart. — Colossians 3:23
You are my God. My future is in your hands. — Psalms 34:14
Do not conform to the pattern of this world. — Romans 12:2
Trust in the LORD with all your heart. — Proverbs 3:5
When you go through deep waters, I will be with you. — Isaiah 43:2
Perhaps this is the moment for which you have been created. — Esther 4:14
Verses for Cards and Presents
Be strong and courageous. Do not be afraid or terrified because of them, for the LORD your God goes with you; he will never leave you nor forsake you. — Deuteronomy 31:6
For God has not given us a spirit of fear, but of power and of love and of a sound mind. — 2 Timothy 1:7
Let your light shine before others. — Matthew 5:16
Do nothing from selfish ambition or conceit, but in humility count others more significant than yourselves. Let each of you look not only to his own interests, but also to the interests of others. — Philippians 2:3-4
Be truly glad. There is wonderful joy ahead. — 1 Peter 1:6
Do your best to present yourself to God as one approved, a worker who has no need to be ashamed, rightly handing the word of truth. — 2 Timothy 2:15
Do everything in love. — 1 Corinthians 16:14
Don't let anyone think less of you because you are young. Be an example to all believers in what you say, in the way you live, in your love, your faith and your purity. — 1 Timothy 4:12
Blessed is the man who perseveres under trial, because when he has stood the test, he will receive the crown of life that God has promised to those who love him. — James 1:12
Peace I leave with you. My peace I give to you; not as the world gives, give I to you. Don't let your heart be troubled, neither let it be fearful. — John 14:27
Verses Focusing on Success
May he give you the desire of your heart and make all your plans succeed. — Psalm 20:4
Commit to the LORD whatever you do, and your plans will succeed. — Proverbs 16:3
Delight yourself in the Lord, and he will give you the desires of your heart. — Psalm 37:4
Be strong and courageous. Do not be afraid or discouraged. For the Lord your God is with you wherever you go. — Joshua 1:9
For with God nothing shall be impossible. — Luke 1:37
But you must really believe it will happen and have no doubt in your heart. You can pray for anything, and if you believe that you've received it, it will be yours. — Mark 11:23-24
Good planning and hard work lead to prosperity. — Proverbs 21:5
Whatever you do, work at it with all your heart, as working for the Lord, not for men. — Colossians 3:23
Know also that wisdom is like honey for you: If you find it, there is a future hope for you, and your hope will not be cut off. — Proverbs 24:14
Verses Focusing on the Future
God has a great plan for you. — Jeremiah 29:11
God has something great in your future. — Isaiah 43:19
Listen to the advice and accept instruction, that you may gain wisdom in the future. Many are the plans in the mind of a man, but it is the purpose of the Lord that will stand. — Proverbs 19:20-21
The Lord will guide you always. — Isaiah 58:11
God has more in store for you than you can even imagine. — Ephesians 3:20
She is clothed with strength and dignity and laughs without fear of the future. — Proverbs 31:25
And I am sure of this, that he who began a good work in you will bring it to completion at the day of Jesus Christ. — Philippians 1:6
Thy word is a lamp unto my feet, and a light unto my path. – Psalm 119:105