10 Totally Cute Baby Halloween Photoshoot Ideas
Be the mummy (or daddy) of the year with these eerie-sistible Halloween photo ideas for babies.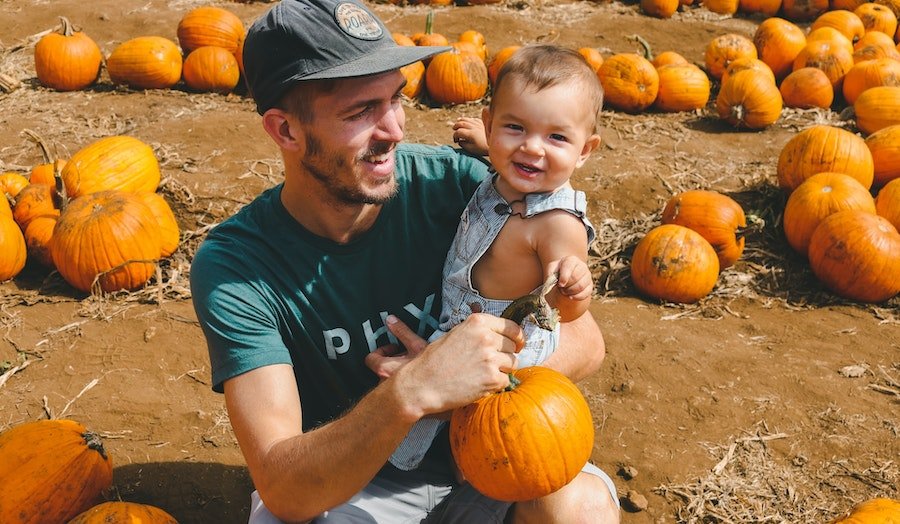 It's spooky season, which means costumes, hay rides and everything pumpkin spice! If you're a new parent, you may be tempted to break out your camera for a fall photoshoot with your newborn. (Hop tip: Also a great time to shoot that holiday card.) Ditch the swaddle and get ready to celebrate Halloween with costumes, autumn leaves, apple cider donuts and of course, pumpkins! Get ready because these Halloween baby photoshoot ideas are so adorable, there's no way you won't be printing these fall pics to display.
And after all that time spent on Halloween costumes and decor, it's no wonder your camera roll is filled with cute shots of your baby in-costume (and pictures of those pumpkins you spent hours carving). Don't let those pics get lost in your phone, print them in a Halloween-inspired photo book, or hang them on your wall with Canvas Wall Tiles. And if you love saving your favorite memories from every month, print 30 pictures each month with a Monthbooks subscription.
Pumpkin Patch Photoshoot
If your little one is big enough to sit up on their own, take them to a pumpkin patch and snap some adorable photos among the pumpkins. The bright orange hues and fall colors are sure to make for a great shot.

Hay Bale Photoshoot
A classic fall picture involves hay bales and corn stalks, so be sure to incorporate these props into your Halloween photoshoot. Wondering where you can get your hands on these items? Hay bales and corn are available at most garden centers after September 1.
Candy Corn Photoshoot
Wanna know what's sweeter than candy corn? Your precious baby in a candy corn colored outfit surrounded by sweets. Opt for a yellow shirt, orange pants and white socks or shoes for the cutest photo op you ever did see.
Leaves Photoshoot
Fall leaves are the perfect prop for your family photoshoot. Place your newborn's bassinet on a pretty pile of leaves in the yard and snuggle your little inside with a textured blanket for some crazy cute fall photos. Not happy with the quality of your fallen yard leaves? Buy a few bags of artificial fall leaves and reuse them for your annual fall photos.
Pumpkin Photoshoot
Use those gourds to your advantage by putting your baby inside a big pumpkin, playing with a jack-o-lantern or simply surrounded by a bunch of tiny pumpkins.

Kitten Baby Photoshoot
Keep it spooky and sweet with a black cat inspired photoshoot. Find a hat or headband adorned with cat ears and dress your little one in a black outfit for a purr-fect shot.
Baby Halloween Costume Photoshoot
If you're already planning a family costume, take some time to snap adorable photos of your baby in their costume while playing with their siblings or eating a tasty Halloween treat! If you don't want to worry about nailing the perfect shot on actual Halloween night, have a dress rehearsal day where everyone gets to try on their costumes together to see how they fit and use that time to snap more staged photos.
Halloween Hats Photoshoot
Halloween is the perfect time to pull out those Pinterest-worthy fall outfits you've been waiting to wear all year long. For a more chill photoshoot, dress your baby in a snuggly beanie or cap for a cute, casual picture.
Flannel Photoshoot
Take your fall plaid obsession to the next level with matching flannel shirts for you and your baby. This twinning, mommy-and-me look is bound to create some awesome photo ops.
Corn Maze Photoshoot
A fun and trendy photo idea is to take your kids to a local pumpkin patch and take some photos in the corn maze. As an added bonus, the kids will be entertained for hours as they play!