21 Creative Birth Announcement Wording Ideas You'll Have to Try
"The snuggle is real."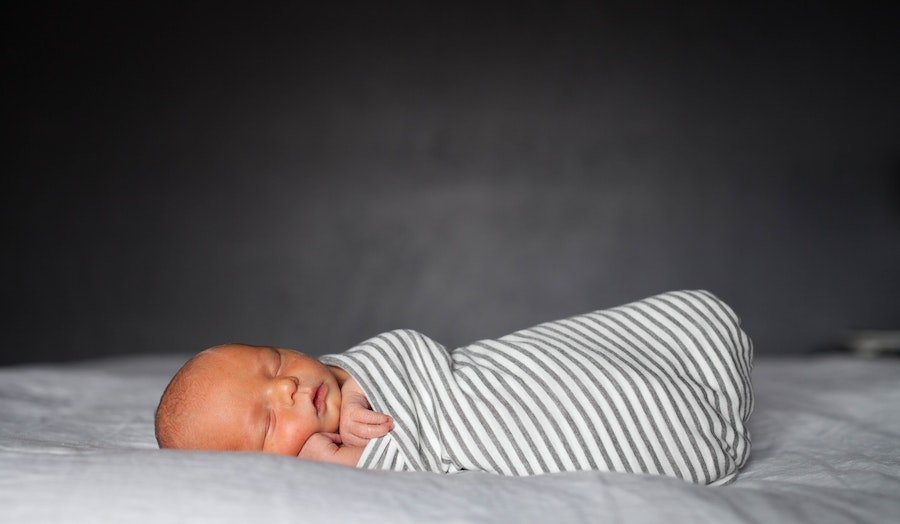 Congrats, new mama! You just got the bun out of the oven and now you get to enjoy your much deserved push present. But before you do all that, you need to tell the whole world about the aforementioned bun's arrival with a birth announcement! Your sweet little one is about to be all over your loved ones' fridges. Isn't it amazing that yawning and making pooping faces is enough to make you famous? Hollywood should take note.
Now, finding the right words to express such an exciting time in your lives can be the hardest part. That's where we come in. If you're stumped on what to include in a birth announcement or are searching for funny birth announcement wording ideas, we've got you covered.
What to Include in the Announcement
Ultimately, it's up to you to decide what you want to include in your birth announcement. As a general rule, they usually feature an adorable newborn photo with essential birth announcement information, including:
Baby's full name
Birthdate
Weight
Length (in inches)
Time the baby was born
Parent or parents' names
A few other options for information you can include:
Birth location
Grandparents' names
Who delivered the baby: doctor, doula, midwife, etc.
A baby website with information and photos of the baby
Traditional Birth Announcement Wording
Looking for tried and true birth announcement ideas? Opt for one of these classic approaches to letting loved ones know that your newborn has finally arrived.
Option 1
"Jeremy Bradley Fortin
April 24, 2020, 7 lbs., 9 oz., 20 in.
Welcomed with love, Dave, Mary, and Katie Fortin"
Option 2
"Jenny and James Patton are happy to announce the arrival of Alexandra Joy
October 10, 2019
7 pounds, 6 ounces • 19 inches"
Option 3
"Jeni and Jared Thomas joyfully announce
the birth of their daughter
born on January 6, 2019 at 6:59 AM
6 pounds, 8 ounces ; 19 inches
Ella Marie"
Option 4
"Please join us in welcoming Jamie Jones to our family.
8 lbs., 10 oz., 21 inches
Brown Hair, Blue Eyes"
Option 5
"Mr. and Mrs. Kennedy proudly introduce their daughter
Kyra Rae
The family is doing great and couldn't be happier."
Religious Birth Announcement Wording
If you're religious and would like your birth announcement to speak to your faith, then consider a beautiful religious baby announcement.
Option 1
"Our Gift from God
Bruce Dan Nistler
born November 19, 2019 at 7:10 a.m.
8 pounds 4 ounces 19 inches
Proud Parents Kelly and Mandy Nistler"
Option 2
"Behold, children are a gift of the Lord… Psalm 127:3
Angela Margaret Chi
June 15, 2019, 8 lbs., 10 oz., 19 in.
Love, Cristine and Ben Chi"
Option 3
"We thank the Lord for the blessings He bestows
Ten little fingers and ten little toes
Jeremiah Williams
February 5, 2018
6 pounds, 8 ounces
20 inches
Proud parents
Jenny & Jared Williams"
Option 4
"We've been embraced by God's grace!
Help us welcome with love
Holly Bradshaw
6 pounds, 10 ounces
20 inches"
Funny Birth Announcement Wording
Keep your birth announcement light with a funny message that'll make loved ones chuckle.
Option 1
"Free at Last
After 9 long months, we welcome
Harper Lee Anderson
September 18th at 8:04 PM
9 pounds, 2 ounces
20 inches long
Proud Parole Officers Brad and Kevin Anderson"
Option 2
"The snuggle is real.
Meet the cuddliest member of our family
Theodore Paul Anderson
October 20th, 2018 at 9:02 AM
8 pounds, 3 ounces"
Option 3
"It's a jungle out there!
We welcome a new addition
to our little zoo
Elli June
January 5, 2019
8 pounds, 10 ounces
Proud parents
Tiffany & Kelly Thompson"
Baby Girl Birth Announcement Wording
Daughters are just the best, right? Share the news of your baby girl with these creative birth announcement ideas.
Option 1
"Twinkle, twinkle, little star.
Do you know how loved you are?
Introducing our baby girl
Lyla Rose
6 pounds, 4 ounces
19 inches"
Option 2
"Check out our cute new chick
Jamie Lee
She peeped into the world on
January 5th, 2019 at 5:05 PM"
Option 3
"Welcoming our Sweet Little Girl into the World
Kristen Jane
She joined our family March 8th, 2019 at 4:02 PM"
Baby Boy Birth Announcement Wording
Celebrate your son with a sweet message bound to get your fam and friends excited.
Option 1
"King of the McClanahan House
Louis Greg McClanahan
6 lbs and 6 oz
19 in
Birthday: August 12
Frank and Shelby"
Option 2
"How wonderful life is now he's in the world.
Announcing the arrival of our son
Conner James Brosnan
10 pounds, 2 ounces
20 inches"
Option 3
"Our World is now complete!
We have a new son we'd like you all to meet
Jackson Morris
August 10, 2019
8 pounds, 4 ounces
20 inches
The Farmer Family
Deanna, Ryan, Hayden & Toby"
Twins Birth Announcement Wording
Double the fun! Share the news of your new babies in style.
Option 1
"Twice the love, twice the joy.
Kristen and Dan Jones
Proudly introduce their twins
Cason and Dallin Jones"
Option 2
"Two by Two our Family Grew!
Jordan Michael
8 lbs., 1 oz.
18 inches
Jared Moses
7 lbs., 11 oz.
20 inches
January 3, 2019
Beth & Robert Grant"
Option 3
"Double Trouble and Double the Snuggle
Jason and Jane Holland
Came into the world May 8th, 2020
At 4:08 and 4:12 PM"