Here's When To Send Out Your Christmas Cards
Win the snail mail game with this helpful guide for sending out holiday cards.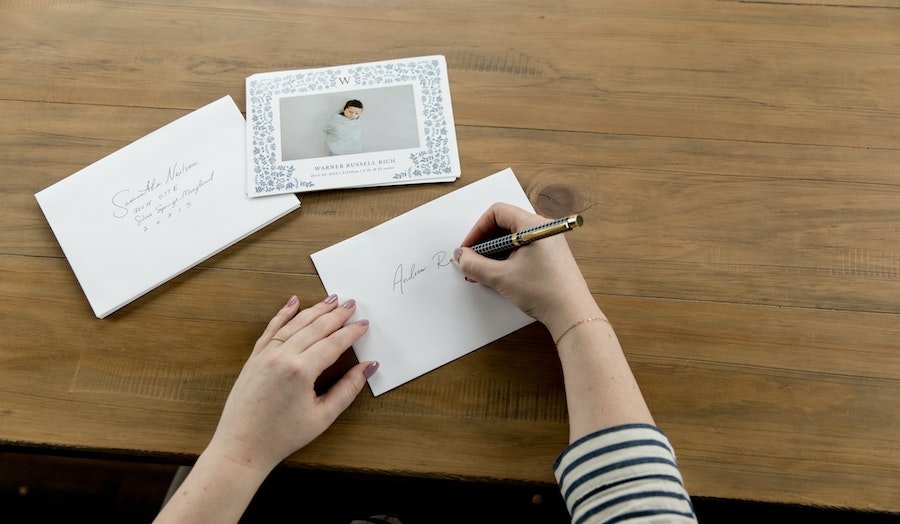 Once you see your neighbors disassembling their 12 foot Halloween skeletons and breaking out their red- and green-themed inflatables, you know it's game time. The weather is getting colder and soon your mailbox will be filled with holiday cards. And to make sure you have all your bases covered when it comes to Christmas cards etiquette, we've compiled a list of every who, what, where, when and why of holiday cards that you might need.
And after all that time spent on finding the right holiday cards and presents, and time spent at parties and around the table with friends and family, it's no wonder your camera roll is filled with sweet shots of you and your family (especially after it took you 10 minutes to get the perfect shot). Don't let those pics get lost in your phone, print them in a holiday-themed photo book (print them in a high-quality Layflat photo book and add blank text pages to create a personalized gift), or hang them on your wall with Canvas Wall Tiles. And if you love saving your favorite memories from every month, print 30 pictures each month with a Monthbooks subscription.
When Do I Order My Christmas Cards?
Place your holiday card order roughly 1-3 weeks before Thanksgiving. With the holidays resulting in slightly longer mailing processes, aim for closer to 3 weeks if you want to play it super safe. The bonus of ordering them well before Thanksgiving is that you get to embrace the holiday season a little bit earlier, and you can customize your cards without having to rush to get them out the door.
When Do I Send Out My Christmas Cards?
Put your Christmas cards in the mail during the first full week of December. This ensures that your cards will arrive in time for Christmas even if there is a bit of a postal delay. If it sounds a little ambitious to send out your holiday cards shortly after the madness that is Thanksgiving, have no fear because Chatbooks holiday cards are here! Our custom photo cards include free return addressing along with free back designs and printing. Also, with cards starting at $0.80 each, you don't need to take away from your Christmas gift budget to send out notes to your loved ones.
Who Should I Send Christmas Cards To?
Knowing who to send your holiday cards can be a little tricky. Send them to too small a group and it doesn't feel as rewarding. Send them to too large a group and it can become a time suck. To nail your Christmas card etiquette, send your holiday notes to the following groups...
At the top of any list should be immediate family! Your sister will delight in seeing your family holiday card. What better way for Grandma to brag about her grandkids than by putting your card on her fridge for all to see.
You grew up with your cousins, dodging cheek smooshies from that weird great aunt. Send a holiday card to them! If you aren't in super close touch with them, the holidays is a nice way to keep tradition and check in.
As busy adults/parents, making time for friends can be difficult. Make sure to include your besties in your holiday card mailing list so that they know you love them.
Your child may spend more time at their BFF's house than your own! And what better way to say 'thank you for loving my child, too" than by sending a holiday card. Hopefully the family will return the gesture. Your child will love seeing their friends' family displayed on your card wall.
Ever borrow a tool or a cup of flour from someone on your street? A good neighbor can be a lifesaver! Send a holiday card to say thank you for keeping an eye out and being someone you can depend on. It's a great way to help strengthen the community bond, too.
If the past few years have taught us anything it's that teachers are true heroes. Make sure to add Miss K. to your holiday mail list — go the extra mile and throw in a gift card. And here are some more teacher appreciation gifts should you need them!
Let's face it: remote working is a reality nowadays. Zoom calls can be a bit impersonal, so be sure to add your favorite co-workers to your mailing list so they don't forget how much you appreciate them.
What a great way to make a good impression, amiright?! Plus, your boss/supervisor will appreciate the thoughtfulness if you end up including some of your professional achievements on your card.
It's always fun to reminisce about the good ole days. Sending a holiday card to a childhood friend is the perfect way to keep those memories alive.
Many who serve and protect our country are away from loved ones during the holiday season. Consider looking into different organizations that can help you connect with military personnel who could use a holiday boost.