12 Creative Anniversary Photo Book Ideas
Looking for a fun way to spice up your anniversary this year? A photo book is the way to go.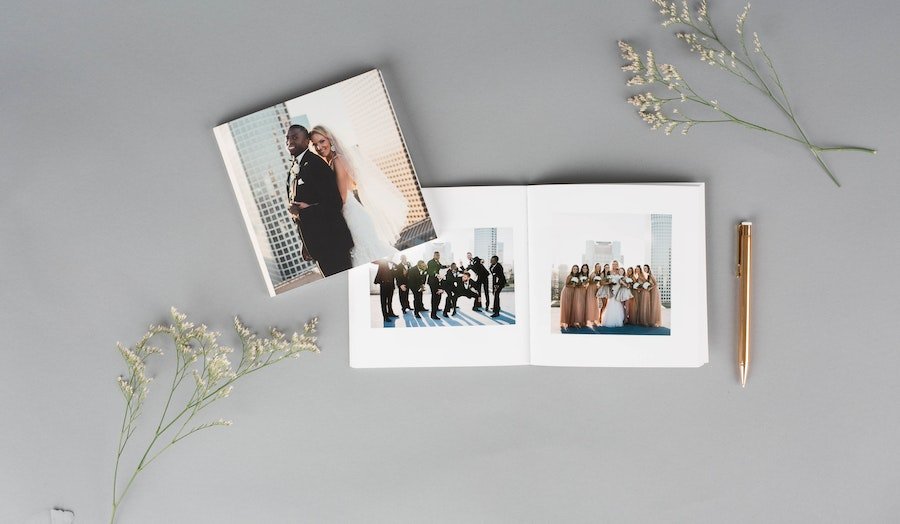 Our Top 10 Moments
The birth of your first child, your first trip outside of the country, and your first move together will absolutely make this list. What a fun way to reflect on how far you've come while also looking forward to all of the fun moments and memories you have ahead of you.
Our Favorite Places
Where do you most often vacation? Where do you dream of vacationing? Favorite apartment you lived in? This is the perfect place to capture all of those things. Keep track of your favorite places in one book.
Then and Now
Share your best moments of 2005 and how they compare to the biggest moments of 2020. Whether you were high school sweethearts or you didn't meet until you were 35, you will treasure this keepsake.
A Year in Review
Sometimes reflecting on 13 years of marriage can feel like a daunting task. Instead, what has happened in the last 365 days that has helped you grow closer, appreciate one another more, and give you hope for what is to come? This "year in review" photo book is perfect for that coffee table centerpiece.
What I Like About You
Twenty years of marriage calls for a list of 20 things you love about your significant other. Use text pages to write out what you love most about their work ethic, how they help around the house or their creative tactics for making you laugh even when you're sad. This will serve as a constant reminder of all the good you are fostering within your relationship and how much good there is to come.
What Makes Me Happy
This book may be a little more time intensive, but it's so darn cute. Create a private IG account where you keep track of all of the great things that your spouse does for you and all of the things you appreciate about them. Maybe you look for something every day or every month that really sticks out as a reason for why you love each other. This will be such a fun book to reflect on.
Oh the Places We've Lived
Seven moves in the last 10 years calls for some serious reflection. The places you have called home are a huge part of your story together. Print those pics!
Thanks for Sticking with Me
Perhaps a more sentimental and personal approach to a photo book is reflecting on all that you have helped one another with over the years. Perhaps it was a tough pregnancy, illness, or job loss where your partner really showed up for you. What about those moments made you grateful that you had each other? Share your thoughts throughout the pages.
Books of LOLs
What better way to soak in all of the good times than with a photo book highlighting all of the photos you have of the two of you laughing together. Looking at those photos will make you smile that big over and over again.
How We Met
Create a photo book detailing the story of how you met and how your relationship has grown. It's a super fun way to keep your love alive.
The Important Moments
Creating a photo book of all of your memories over the years wouldn't be the same without adding photos of your wedding invitation, Christmas cards, baby announcements, etc. Scan little bits and pieces of your life and let them live on forever in a beautiful Chatbook.
Photo Prints
Want your memories to be on display 24/7? Opt for photo prints! Print a photo from every year of your marriage and tape it on your fridge for the whole fam to see.