Creative Anniversary Gifts By Year So You Can Celebrate in Style
Give them a gift you'd want to keep for yourself.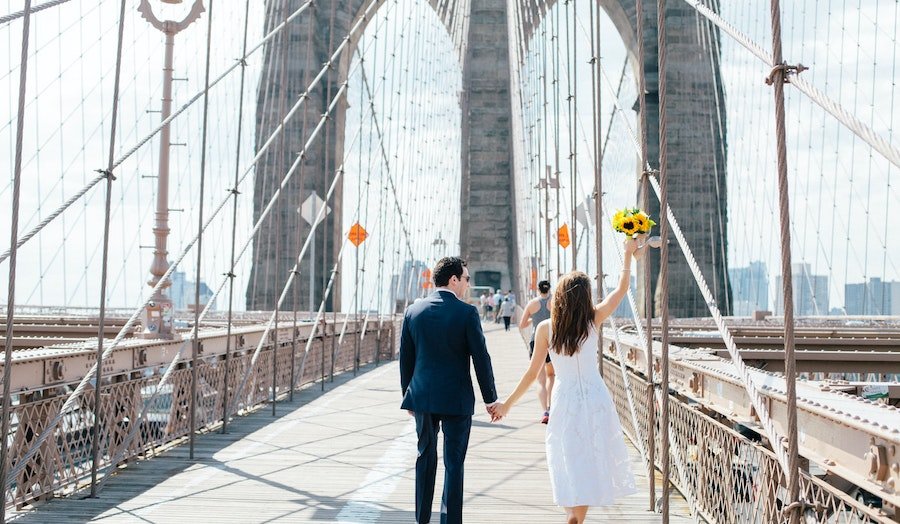 Anniversaries around my house are a big deal — maybe even a bigger deal now that we've made it through a global pandemic together. Whether you've been married 5 months or 50 years, working through a loving relationship is an accomplishment worth celebrating. Finding the perfect anniversary gift can be a lot of pressure, which is where Chatbooks come in! We're here to help you find the gift that will not only make your sweetheart swoon, but will leave you feeling like a million bucks. Whether you want to stick with tradition or choose a modern gift, let us help you start thinking through anniversary gifts by year.
1st Year
Traditional: Paper
Modern: Clocks
Paper represents that you are just starting your lives together. It's symbolic of being easy to destroy because it hasn't proved itself over time yet. Any guesses as to what our paper product suggestion is? You guessed it, a Chatbook. Whether it's a series book you start to document your adventures, a standard book about your first year together, or even a series of monthly minis from your first 12 months… all are sure to be a hit!
2nd Year
Traditional: Cotton
Modern: China
Cotton represents starting to be stitched together in unity and becoming strong but also flexible (which is totally the key to marriage, amiright?!). Get matching t-shirts or a blanket for your bed — anything that brings you closer and reminds you of how far you've come in the last 2 years. Want a more modern gift? Start a beautiful china collection together that you can whip out for holidays and special occasions.
3rd Year
Traditional: Leather
Modern: Crystal or Glass
Leather represents being a safe haven of shelter and security for one another throughout your marriage. Celebrate year 3 with a new leather wallet or leather-strapped watch. If you're not worried about glass shattering the next time your kid throws a ball inside the house, opt for a crystal vase.
4th Year
Traditional: Fruit or Flowers
Modern: Appliances
Fruit or flowers symbolize how your relationship is continuing to blossom as you grow together into year 4. And, while everyone loves fruit, a new fridge or blender would most definitely do a body good.
5th Year
Traditional: Wood
Modern: Silverware
Wood anniversary gifts symbolize strength. This is the first big mile marker in your marriage — what an incredible thing to celebrate! Maybe you make a fire together or make a wooden sign with your last name and est. 2015.
6th Year
Traditional: Candy
Modern: Wood
Candy is a reminder to hang onto the sweet parts of your marriage as you are heading out of the honeymoon phase. A king size Reese's bar coming right up!
7th Year
Traditional: Wool or Copper
Modern: Desk Sets
Both wool and copper represent warmth and stability. What better way to celebrate 7 years than with a gorgeous wool sweater or a copper accent piece for your home?
8th Year
Traditional: Pottery or Bronze
Modern: Linen or Lace
Iron is strong, copper is stronger, and bronze is strongest. Show how much your relationship has grown and developed with a bronze candlestick or piece of jewelry.
9th Year
Traditional: Pottery or Willow
Modern: Leather
Pottery is symbolic of molding the relationship into something more firm than it has been in the past. You can make this anniversary a fun date night and head over to a pottery shop to craft your own handmade pottery items to display in your home together.
10th Year
Traditional: Tin or Aluminum
Modern: Diamond Jewelry
Tin doesn't rust and aluminum is flexible, representing flexibility in your marriage — which is critical for any successful relationship. After having spent a decade together, what better way to celebrate than with your vows printed out and placed into an aluminum frame.
11th Year
Traditional: Steel
Modern: Fashion Jewelry
Steel represents immense strength and durability. As your marriage reflects all that you have overcome together. Show off your strength with a personalized stainless steel mug!
12th Year
Traditional: Silk or Linen
Modern: Pearls
Silk and linen are symbolic of your ability to handle life's storms together. Gifts for year 12 are as simple as silk or linen bedding, clothing, or bags! Not mad about this one.
13th Year
Traditional: Lace
Modern: Textiles or Fur
Lace stands for elegance, beauty, and being strongly knit together. This could look like a lacy dress, a table runner, or even framed lace — like a piece of your wedding dress or your grandmother's doily.
14th Year
Traditional: Ivory
Modern: Gold Jewelry
Keeping it traditional? Try ivory (either in material or in color) for a gift that's perfect for year 14. You can also keep things exciting with some gold jewelry. Who doesn't want a cute, gold name plate necklace as a gift?
15th Year
Traditional: Crystal
Modern: Watches
Crystal represents clarity and, after 15 years, it's crystal clear to you when your significant other is getting hangry. Consider gifting one another a crystal vase for your dining room table. Not into glassware? Get cool matching watches.
20th Year
Traditional: China
Modern: Platinum
Marriage, like china, is fragile — but it can last if you take proper care of it (just like you rocked the last 20 years together). This is a huge deal! Buying one another a china set that reflects your favorite place you've been together, an obstacle you both obercame, or just something to match your dining room will be the perfect way to celebrate the big 2-0!
25th Year
Traditional: Silver
Modern: Silver
Just like how 25 is halfway to 50, silver is halfway to gold (at least it is in my book!). Finding silver gifts isn't as challenging as finding bronze gifts (trust me) so consider yourself lucky! Jewelry is generally traditional for metals and this year would be a great year to get a new, silver wedding band.
30th Year
Traditional: Pearls
Modern: Diamond
A pearl may be small, but the fact that you made it 30 years with your lover is NOT. Celebrate with pearl earrings or maybe even a pearl-embedded pocket knife. If pearls aren't you thing, get ready to drip in sustainably-sourced diamonds.
40th Year
Traditional: Ruby
Modern: Ruby
Rubies are often thought of stones of love, vitality, and energy — and after 4 decades together, you have definitely been doing something right to keep up your love alive. Any type of jewelry incorporating rubies will remind you of how strong and vibrant your love is for one another, even after all these years.
50th Year
Traditional: Gold
Modern: Gold
Gold represents optimism, wealth, and strength. Fifty years of life together is a HUGE deal. There were thousands of small moments that allowed this momentous occasion to become a reality. You have been shaped and changed by one another and are shining because of the decisions you've made to stick with it. Celebrate 50 wonderful years with gold jewelry or home decor items.