75 Cute Valentine's Day Quotes That'll Make You Fall In Love
Can't find the words? Use these sweet Valentine's Day quotes to uplevel your card (or photo book) this year.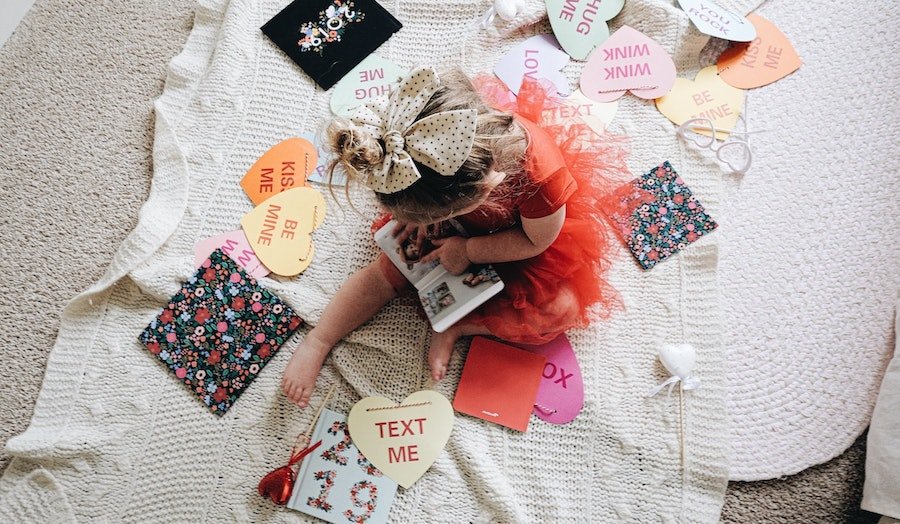 There's a lot of pressure to put the pen to paper and spill your heart onto a super cute Hallmark card every time Valentine's Day rolls around. Sometimes we need help forming the words to express how we feel, so if you can't find the perfect movie quote or song lyric that speaks from your heart, we've got you covered. And, if you're still looking for the perfect V-Day present (in addition to the classic box of chocolates and flowers), a Chatbooks photo book is an easy, personalized gift for your valentine. After you've picked your photos, don't forget to add text pages with your favorite quotes! From romantic to funny, we found the best quotes about love for writing a sentimental, beautiful Valentine's Day card…
And there's a way to display every sentimental photo — with a photo books to hold ALL the pictures from your relationship! Print your favorite photos in a Layflat or Classic Photo Book (also great options for any engagement or wedding photos!), and add your inside jokes as captions or text pages, so that whenever you look through your couple photos, it's all right there.
Romantic Valentine's Day Quotes
"You know you're in love when you can't fall asleep because the reality is finally better than your dreams." —Dr. Seuss
"To love at all is to be vulnerable." —C.S. Lewis
"Love is friendship that has caught on fire." —Ann Landers
"All that you are is all that I'll ever need." —Ed Sheeran
"A kiss is a lovely trick designed by nature to stop speech when words become superfluous." —Ingrid Bergman
"Love is like the wind. You can't see it, but you can feel it." —A Walk to Remember
"I fell in love the way you fall asleep: slowly, and then all at once." —John Green, The Fault in Our Stars
"Love looks not with the eyes, but with the mind, and therefore is winged Cupid painted blind." —William Shakespeare
"When love is not madness it is not love." —Pedro Calderon de la Barca
"You are the answer to every prayer I've offered." —Nicholas Sparks
"This fire that we call Loving is too strong for human minds. But just right for human souls." —Aberjhani
"All my life, my heart has yearned for a thing I cannot name." —Andre Breton
"There is never a time or place for true love. It happens accidentally, in a heartbeat, in a single flashing, throbbing moment." —Sarah Dessen
"You never lose by loving. You always lose by holding back." —Barbara De Angelis
"Love is composed of a single soul inhabiting two bodies." —Aristotle
"A successful marriage requires falling in love many times, always with the same person." —Mignon McLaughlin
"Being married is like having somebody permanently in your corner. It feels limitless, not limited." —Gloria Steinem
"For the two of us, home isn't a place. It is a person, and we are finally home." —Stephanie Perkins
"Love doesn't just sit there, like a stone, it has to be made, like bread; remade all the time, made new." —Ursula K. Le Guin
"I love you without knowing how, or when, or from where." —Pablo Neruda
"Love is an irresistible desire to be irresistibly desired." —Robert Frost
"Doubt thou the stars are fire, Doubt that the sun doth move. Doubt the truth to be a liar, But never doubt I love." —William Shakespeare
"If you live to be a hundred, I want to live to be a hundred minus one day, so I never have to live without you." —A.A. Milne
Sweet Valentine's Day Quotes
"Love is a condition in which the happiness of another person is essential to your own." —Robert Heinlein
"I love that rush, when he folds me into his arms and I can let out a sigh of relief, knowing I'm safe there. Always. —Michelle Poelking
"We love because he first loved us." —1 John 4:19
"The real lover is a man who can thrill you by kissing your forehead or smiling into your eyes or just staring into space." —Marilyn Monroe
"True love stories never have endings." —Richard Bach
"Every heart sings a song, incomplete, until another heart whispers back." —Plato
"You can't blame gravity for falling in love." —Albert Einstein
"Where there is great love, there are always wishes." —Willa Cather
"Anyone can be passionate but it takes real lovers to be silly." —Rose Franken
"If I had a flower for every time I thought of you, I could walk through my garden forever." —Alfred Tennyson
"If you work through the tough times, the respect and love that you feel deepens." —President Barack Obama
"There's no bad consequence to loving fully, with all your heart. You always gain by giving love." —Reese Witherspoon
"If you have only one smile in you, give it to the people you love." —Maya Angelou
"Love isn't something you find. Love is something that finds you." —Loretta Young
"I love you because the entire universe conspired to help me find you." —Paulo Coelho
"Loving is not just looking at each other, it's looking in the same direction." —Antoine de Saint-Exupéry
"I love you not only for what you are but, for what I am when I'm with you." —Roy Croft
"Love is our true destiny. We do not find the meaning of life by ourselves- alone we find it with another." —Thomas Merton
"There is no charm equal to tenderness of heart." —Jane Austen
"If you remember me, then I don't care if everyone else forgets." —Haruki Murakami
"I don't go by the rule book....I lead from the heart, not the head." —Princess Diana
"You are my heart, my life, my one and only thought." —Sir Arthur Conan Doyle
"Romance is thinking about your significant other, when you are supposed to be thinking about something else." —Nicholas Sparks
"Being deeply loved by someone gives you strength, while loving someone deeply gives you courage." —Lao Tzu
"Each time you love, love as deeply as if it were forever." —Audre Lorde
Funny Valentine's Day Quotes
"I'm yours, no refunds." —Anonymous
"If I could rearrange the alphabet, I'd put U and I together." —Anonymous
"Do you have a Band-Aid? Because I skinned my knee when I fell for you." —Anonymous
"Love is being stupid together." —Paul Valery
"If you were on paper, you'd be what they call fine print." —Anonymous
"There is no one I'd rather lie in bed and look at my phone next to." —Anonymous
"Love is a game that two can play and both win." —Eva Gabor
"I love being married. It's so great to find one special person you want to annoy for the rest of your life." —Rita Rudner
"Words cannot expresso how much you mean to me." —Anonymous
"On a scale of one to ten, I'd give you a nine — and I'm the one you need." —Anonymous
"You're the peanut butter to my jelly." —Anonymous
"All you need is love. But a little chocolate now and then doesn't hurt." —Charles M. Schulz
"I think you are suffering from a lack of Vitamin ME." —Anonymous
"If you were a transformer you'd be Optimus Fine." —Anonymous
Valentine's Day Quotes for Friends
"Walking with a friend in the dark is better than walking alone in the light." —Helen Keller
"A friend is someone who knows all about you, and still loves you." —Elbert Hubbard
"The only way to have a friend is to be one." —Ralph Waldo Emerson
"You've got a friend in me." —Randy Newman
"A true friend knows your weaknesses but shows you your strengths; feels your fears but fortifies your faith; sees your anxieties but frees your spirit; recognizes your disabilities but emphasizes your possibilities." —William Arthur Ward
"There is no love without the light of friendship." —Anonymous
"My best friend is the one who brings out the best in me." —Henry Ford
"One of the most beautiful qualities of true friendship is to understand and to be understood." —Lucius Annaeus Seneca
"If there ever comes a day where we can't be together, keep me in your heart. I'll stay there forever." —Winnie The Pooh
"True love isn't always romantic. Your friendship is a steady love and light that has guided me through the dark." —Anonymous
"A friendship that like love is warm; A love like friendship, steady." —Thomas Moore
"The greatest gift of life is friendship, and I have received it." —Hubert H. Humphrey
"No distance will ever be too great to conquer our friendship. Thank you for all the adventures, laughter and warmth in my heart." —Anonymous