21 Super Unique Birthday Gifts They'll Love
Get ready to celebrate with these one-of-a-kind gifts!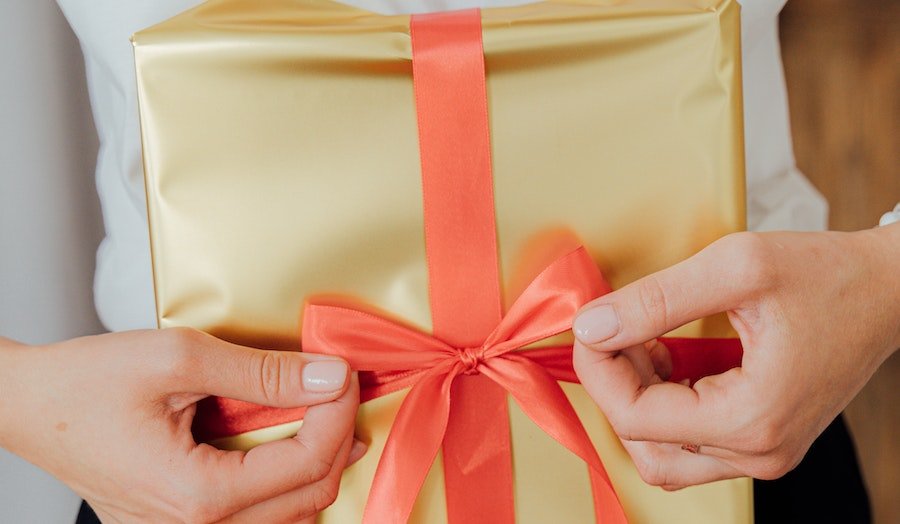 Gift cards and lotion sets are fine and all, but there's just something about an out-of-the-box, creative birthday gift that really makes the receiver feel all the feels. You know you've gotten a unique gift for them when they shed a few happy tears, take a pic of your present and post it on Instagram with a heart emoji. But the thing is, thoughtful birthday presents require a decent bit of… well… thought! So we did some thinking on your behalf so that you can serve up some seriously cool birthday gifts for your girlfriend, boyfriend, best friend, mom, dad, grandpa, grandma… basically the whole entire squad. Here are 30+ of the best and most unique birthday gifts for everyone on your list.
Personalized photos, and especially photo books that keep popping up in the mail, truly are the gift that keeps on giving. You really can't go wrong here.
2. "Open When" Letters
Handwritten notes are the stuff of cheesy but addictive movies starring Leonardo DiCaprio in his 20's. There's just something so *Jane Austen* about opening up a note and seeing someone's cursive or, in most people's cases, squiggly chicken scratch. Write a series of sweet notes with weekly "open when" dates so that you can make them feel good all month long.
3. A Movie Night Basket
With most theaters closed at the moment, creating a movie night basket with the basics is sure to be a hit. Throw in a prime video gift card, blanket, popcorn, slippers, candy and more for a cute movie night.
4. Laundry/Dishwasher Pack
A little boring, but honestly sometimes practical gifts hit home more than we anticipate. A basket with laundry soap, dish soap, dish towels, bleach, and some dryer sheets will make any clean freak's heart melt.
5. Favorite Homemade Treat
Rice crispy treats, brownies, and chocolate cake, oh my! Who doesn't want their favorite treat on their birthday?
6. Spa in a Jar
You may not be able to afford a full spa day, but a jar full of nail polish, face masks, nail files, moisturizer, and a face towel is the perfect way to pamper any of your friends or family members!
7. DIY Bath Salts
Bath salts are the perfect addition to any sort of pampering. A homemade version will totally take your gift giving up a notch, and you get to choose the scent!
8. Coupon Book
I think every little kid made a coupon book for mom or dad with the intent to do the dishes without asking or to give a 10 minute shoulder rub. Adjust this to whoever you are giving it to — maybe it's a coupon for a girl's night or for outdoor lunch at your favorite cafe.
Everyone wants more pictures of their family hanging up in their home and wall tiles are the simplest way to do that. Starting at just $15 a tile, simply go into the Chatbooks app, add the photos you want, crop them, and print. With the ability to be hung and rehung over and over again, this is sure to be a win.
10. Plan a Date
Everyone needs a night out, so consider thinking through every step of the evening and having a gift card for each element of the date night. Pull together all the things that you know make date night a success.
11. Accessorize
Everyone has those annoying accessories that they need but never seem to be able to find (enter bobby pins and hair ties). Creating a basket full of accessories that everyone needs will absolutely be a hit. You may also want to check out the Chatbooks app and take a peek at our photo book accessories — they are such great, simple gifts.
12. House Plants
Give them the gift of life with… a plant baby! House plants, whether they are real or faux, are always fun to receive.
Printed photos are perfect for hanging up on the fridge, adding to a photo book, using as bookmarks, or having on your coffee table for guests to thumb through. Lucky for you, Chatbooks has got you covered.
14. Magazine Subscription
I don't know anyone who wouldn't want a subscription of Magnolia Journal. There is something so exciting about getting a print magazine in the mailbox, amiright? Sign your bestie up for a subscription and let that gift keep giving.
15. Face Masks
And I'm not talking about the skincare kind. Everyone needs them and they are sure to be put to good use. Whether you sew them or order a few of your favorite masks, this will be a practical gift. Opt for a wacky, weird pattern to up the fun factor.
16. Hand-Painted Wall Art
Homemade gifts are always a winner, but personalizing a favorite quote or painting something with personal meaning will absolutely be a lifelong treasure.
17. Personalized Jewelry
Customize a string of alphabetical beads to create a sentimental date, spell out initials or form a favorite quote.
18. Support Local
Get them a gift card to a local boutique or a new burger joint that just opened up. What better way to celebrate such a fun day while also helping boost the local economy. A win-win!
19. Online Classes
Do they love photography? Or maybe they've always wanted to try woodworking? Whatever the skillset, there's a class for it! Find one online so that they can do it from home.
20. Recipe Book
Has your bestie been complaining about feeling like she makes the same meals over and over? Do you want to turn over a new leaf and work on some eating habits with your spouse? This is a really fun way to help each other make changes and also show that you have been paying attention to their needs. You can also do this with books about clutter, cleaning, self help, etc.
21. Family Yearbook
Looking for a gift that tugs at the heartstrings? Make a family yearbook that showcases the wins and funny moments that were the highlights for your family over the course of a year.