How to Plan the Surprise Proposal of Your Partner's Dreams
Goin' to the chapel... but first, will you marry me?!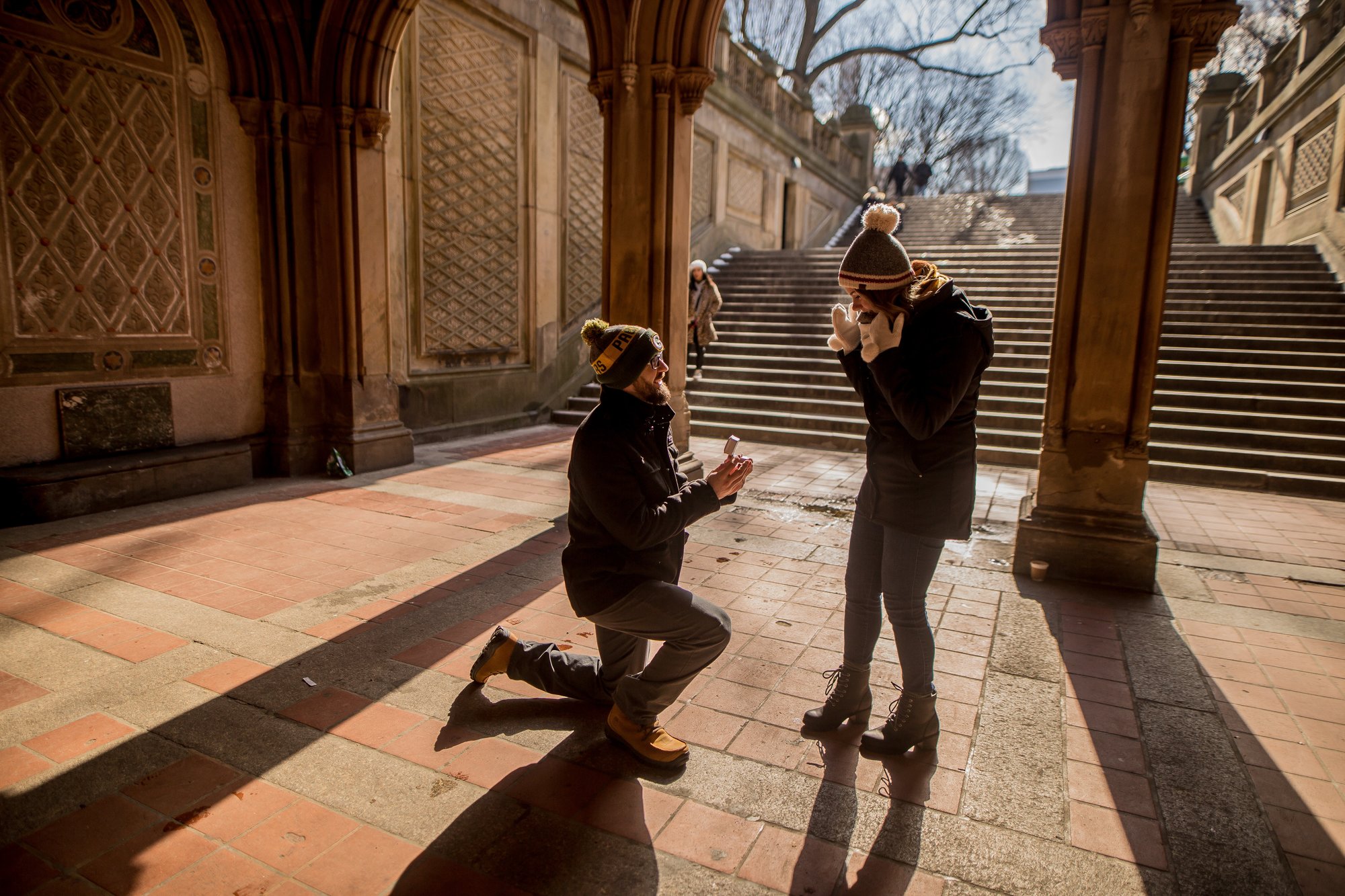 Before you walk down the aisle, there's one little question you'll have to ask your future fiancé… will you marry me? If you're wondering how to plan a memorable surprise proposal, we've gathered the best wedding proposal ideas to create the most romantic atmosphere for you and your partner. Cute proposal ideas aren't hard to come by, but the best ways to propose are always the ways that fit you and your partner best — even if that means getting down on one knee in front of Cinderella's castle.
After all the planning and organizing for your surprise engagement, you're going to want to print and display photos from your surprise marriage proposal throughout your home. Add your engagement pictures to a Classic Photo Book with a marriage-themed Designer Cover, and document the excitement every day through your big day with monthly photo books. And when you get those beautiful (and expensive!) wedding photos back, they deserve to be printed in the highest quality photo book possible, a Premium Layflat. Hot tip: Print duplicates of your wedding album for your parents and grandparents as holiday presents! Read on for the best proposal ideas as you plan to marry the love of your life!
Location, Location, Location
Did we mention location is important? Choose a spot that has meaning to you and your partner, from the spot you first met, or had your first date, or choose a beautiful spot you know will become special to you both. You can't go wrong with a destination engagement, either! From a picnic blanket by the river to a beautiful Parisian rooftop, you can create meaning in any space. Ask siblings, friends or family members (if they can keep a secret!), if your significant other has shared any details that may help you pick a spot.
If you can trust friends and family to not spill the beans, your partner's closest confidants are a great resource! When it comes to surprise proposals, you'll need all the help you can get! Share your current plans for proposing and organize help, from decorating your location to distracting your future fiancé, you can make it happen with a little help from your friends.
Your wedding may be the most expensive pictures you take in your life, but your engagement is worth capturing, too. You found a cute way to propose and you'll want to look back on the photos (since the adrenaline of the day may make the memory feel like a blur). Our best advice: Get a photographer or videographer to capture when you pop the big question. Professional, friend or family member, they just need to hide and point their lens.
If your partner is the candlelight, picnic blanket, fairy lights type, that's the type of atmosphere you should go for. They could also be a rose-petals-by-the-waterfront type of person, or a message hidden between the pages of a cozy book type of person. Consider what decorations and additions would really put your proposal over the top, like a romantic letter or framed photos of your time as a couple. If you need more surprise proposal decoration ideas, as long as your proposal feels special and tailored to you and your partner, there's no need to stress!
When it comes to surprises, timing is incredibly important. The date you choose could be as simple as a Saturday, but it can also be an anniversary (first date, the day you started dating, etc.). Timing will also be crucial when it comes to having your future fiancé in the right place at the right time, including any decor or gestures that need to be set up ahead of time. (And photographers are hidden beforehand!).
You don't have to have a grand speech that lasts ten minutes to impress your significant other (or to get them to say "YES!"), but you may want to practice a few sentences so you know exactly what you want to say, especially in the heat of the moment. You can speak from the heart, mentioning how much your partner means to you, how you've both grown, and your excitement for the future — or whatever feels right! Your future fiancé will be gushing over your proposal.
Be sure to discuss with your photographer or videographer (professional, friend or family), the exact shots you'd like to snap during your surprise proposal. You'll want to capture the look on your partner's face, the moment you throw your arms around each other, your fiancé spotting the camera and so much more!
Once it's time for the big day, double check your location, decor and any other arrangements have been set up or are in place. If you're getting help from family or friends (or hiring any vendors), confirm all your details to ensure a smooth proposal. Remember, this is the person you're going to spend the rest of your life with and that's incredible! You just have to pop the question before you can get to the celebration.
After your proposal, you may want to have a get-together (intimate or large) with friends and family to celebrate your upcoming nuptials. Ask everyone to take candids of the happy couple, plus the party itself to look back at later. You'll love seeing everyone's smiles, hugs and laughter captured in photos from one of the greatest nights of your life.
Being a newly engaged couple is an exciting time, and now that you're planning a wedding (together, no surprises!), there's going to be so many more events celebrating your nuptials that you'll want to snap and save. Print and display the moment you became fiancés in a Classic Photo Book — or Premium Layflat photo book for super high quality shots — and print duplicates for your parents and grandparents to gush over.
From your engagement and bridal showers to bachelor/bachelorette parties and the wedding day itself (don't forget your honeymoon!), you'll have tons of once-in-a-lifetime pics you'll want to turn into keepsakes. Pro tip: Print them in a marriage-themed Designer Cover. Get those pictures off your phone and into your hands (so you can look at them when your anniversary comes around, or when the feeling strikes!). And after the big day, appreciate every day with your new spouse by documenting your everyday and fave memories (from your first holidays and first home to trips to the beach and impromptu stops at the ice cream parlor) in a monthly photo book.
Now that these cool proposal ideas have pointed you in the right direction, you can plan a memorable surprise proposal that'll have your partner yelling "YES!" before you can finish asking the big question. Good proposal ideas shouldn't be hard to create, they just need to fit you and your partner's style. From romantic wedding proposal ideas to ways to save every special moment between the happy couple, we're happy to celebrate your love story!