10 Boo-tiful Halloween Photo Books That'll Get You Into The Spooky Spirit
From costumes to pumpkins and desserts to parties, Halloween is chock-full of candy and memories!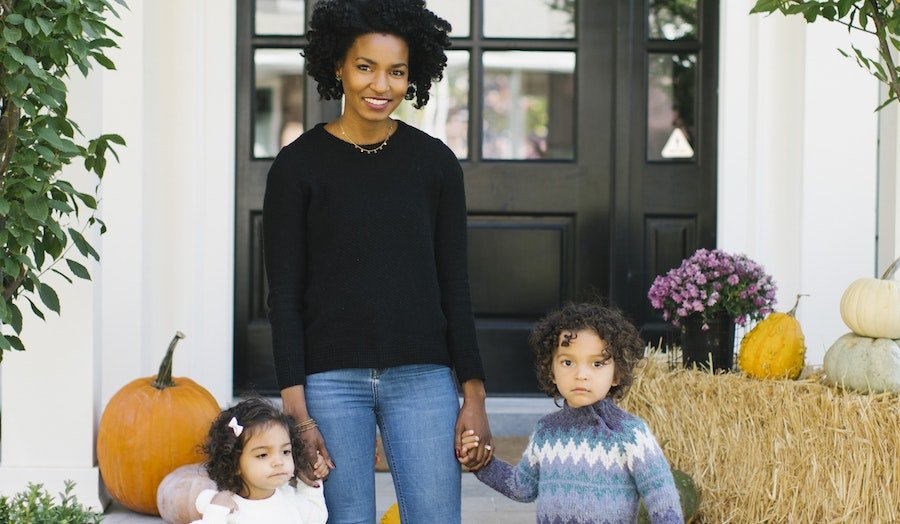 Cobwebs on front doors and black hats on kittens, black cauldron pots and spooky witches, trick-or-treat bags and costumes with wings, these are a few of my favorite things! Halloween is all about the scary movies (or just rewatching Halloweentown over and over again), sweets and spooky tours through haunted houses — odds are, your camera becomes a photo graveyard after you've finished trick-or-treating. This ghoulish holiday is one of the few excuses your family has each year to go all out, which is why snapping a Halloween photo album is the perfect way to preserve your family's favorite memories — especially if it's your baby's first time dressing up, or you've spent hours creating DIY costumes for your kids. If you're looking for ideas on how to make the most of your Halloween photos, we've got you covered.
And after all that time spent on Halloween costumes and decor, it's no wonder your camera roll is filled with cute shots of your family in-costume (and pictures of those pumpkins you spent hours carving). Don't let those pics get lost in your phone, print them in a Halloween-inspired photo book, or hang them on your wall with Canvas Wall Tiles. And if you love saving your favorite memories from every month, print 30 pictures each month with a Monthbooks subscription.
This simple photo book will entertain your family for years to come. Collect old pictures of your kids throughout the years as they have posed in their adorable Halloween costumes. Then, create a book for each child as a tribute to their ensembles and let them walk down memory lane!
Home holiday decor photo book
If you love to decorate your home for each holiday, odds are you've collected some seriously awesome photos of your space over the years. Create a Chatbooks photo book of all things home decor to bring out when you want to show off all of your Pinterest-worthy ideas.
Halloween food tribute photo book
Tasty treats and autumnal dinners are a staple when it comes to the spooky season (sweater weather can't come fast enough!). Snap a few photos of the kids baking with grandma or gathering in the kitchen along with photos of your delicious-looking meals. Create a photo book for your family to remember together.
Jack-o-lantern photo book
Carving pumpkins is the best part of the Halloween season, so show off some of your best artwork by creating a photo album dedicated to your jack-o-lanterns from years past.
Trick-or-treating photo book
The excitement in your little ones' faces as they embark on a trick-or-treating adventure through your community is hard to beat. Take plenty of pictures of the witches and superheroes in their amazing costumes as they run throughout the neighborhood with their sights set on some goodies.
If your family likes to dress up in a themed costume each year, create a photo book that goes along with the theme. For example, if you all dressed up as superheroes, set up a photo shoot where you all get into character and create a comic book photo book.
Your annual Halloween party is always the talk of the town, so make sure to create a photo book of all your photos over the years so guests can see changing hairstyles, costumes and overall fun!
Let's face it: You've dressed up as a witch at one point or another. Did your iconic DIY costume have a spellbook? I didn't think so. Screenshot photos of your favorite witches in history (along with selfies of you in your costume, of course) and print them into a photo book. Harry Potter fans everywhere will love this idea for a photo album!
Fall festivity photo book
Pumpkin patches, corn mazes and haunted houses… oh my! Halloween in your local community is always a great time to celebrate with friends and family by attending all the local festivities, either in person or via Zoom. Take some cute pictures and create a fall photo album.
This Halloween, opt for a craft night with your family by painting pumpkins or framing leaves. Turn candid photos of your craft night and finished products into a photo book.