20 Easter Egg Fillers That Aren't Junk
How much money is appropriate to give a 10-year-old in a sea of pale pink straw?!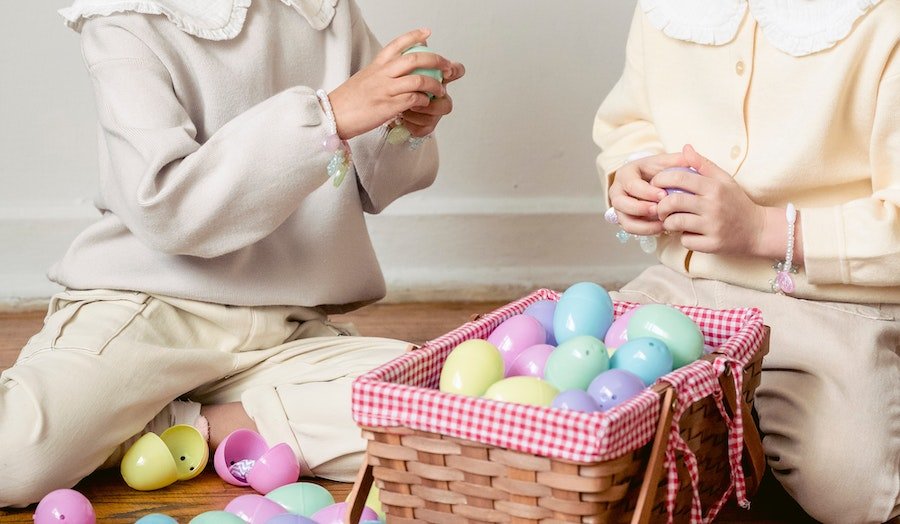 Spring is great for many reasons: Cadbury eggs are on the shelf, pastels are in season, Easter and not to mention... warmer weather! With warmer weather and Easter comes egg hunts, photo shoots and Easter egg baskets — and if you've got tons of plastic Easter eggs to fill and no idea how to fill them, we've got you covered. I mean, how much money is appropriate to give a 10-year-old in a sea of pale pink straw? That's why we made a list of the top Easter egg fillers that aren't junk. We think it will be an egg-cellent resource for parents with kids both old and young (see what we did there?)...
From everyday moments to family parties, your to-do list — and your camera roll — may seem to never end. After all that planning, and after all those celebrations (and let's not forget Easter itself), you're going to have a lot of photos you'll want to display. Print your favorite photos in a super high-quality photo book, like a Layflat (and send your in-laws a copy in a Classic Photo Book), and display the best ones on Canvas Wall Tiles.
Dedicate one egg in your kid's basket to be a "get to know you" egg. Write out a few cute interview questions on slips of paper and stuff them inside the egg. When your child opens the plastic shell, they get to answer the questions and then ask members of the family for their answers. It's a nice, free way to make the eggs not just about gifts.
If you're like us, you are part of the Cadbury Easter Mini Eggs cult. We're pretty sure those things are the key to restoring peace on earth. Fill a few eggs with some chocolate and you will secure the spot for parent of the year.
Fruit snacks are great because the size and package is perfect for a little egg. Plus, they come in all kinds of flavors and are cost-efficient.
If you're a parent worried about the choking hazard of small toys or candies, stickers are the perfect fillers for your Easter eggs. You can cut individual stickers to fill your egg or roll up a sheet. Either way, you will be sure to get those precious baby smiles from this treat.
You can find packs of mini bubbles on Amazon or at Target — they come in colorful bottles perfect for a plastic egg.
Stash cute and colorful clip-on bows or bowties into your eggs that your little ones can wear for a special occasion.
Little race cars are the perfect filler for your kids' Easter eggs because it'll keep them entertained for hours. These cars come in many colors and sizes and you can purchase a multi-pack like these from Amazon for only $12.99!
Update your paci stash and surprise your little one all in one go. To bring some color to your Easter basket, get some pastel colored pacifiers.
We get it. You like to party, and we want to party right along with you. Nothing will bring more excitement to that young face than a surprise egg full of confetti. This tip is a great one because you can make the confetti yourself and maybe include your older children in this activity. Grab some craft paper, a pair of scissors and channel your inner Pinterest-parent.
There isn't a kid out there who doesn't love to play with Play-Doh, which is why this is a must on your list. This is a great filler for your eggs because it will make the eggs heavy, which will get your children excited about the contents. It will also be a great activity to entertain your kids. If you aren't a fan of Play-Doh, you can try something like silly putty or slime.
Even though they're the very worst toy for you to step on, Legos are a great item for your plastic eggs this Easter. With the Lego movies being a huge hit and the wide variety of themes to choose from, everyone will love to discover this toy inside their egg. You can even purchase a mini pack of Legos like this.
For creative kids, finger puppets are a great little treat for a plastic egg. To make things even easier for parents, you can buy a set of puppets, like this one from Amazon, and then hide different animals in each egg.
As long as you aren't worried about a choking hazard, bouncy balls are a fun addition to the Easter basket. Plus, these toys can turn into fun games that the whole family can play.
There are a lot of options for kid-safe lip balm that you can find, which makes this a great filler for Easter eggs. We love the classic Burt's Bees freshly picked pack.
Children are curious and creative, and that is why crayons are a great addition to the plastic eggs. These mini crayons are great to fit in the small eggs, and be sure to throw in a coloring book to the Easter basket.
Just like the crayons, chalk is a great gift for a creative kid.
A simple yet great prize to put inside plastic Easter eggs is jewelry. Anything from colorful beaded necklaces to silly bands to slap bracelets will be sure to make your little ones happy.
Yo-yo's, whistles, sticky hands and plastic sunglasses are just a few mini options sure to brighten their day.