Creating Thankful Traditions: Making Thanksgiving Unforgettable for Kids
Create cherished memories while also preserving them for generations to come.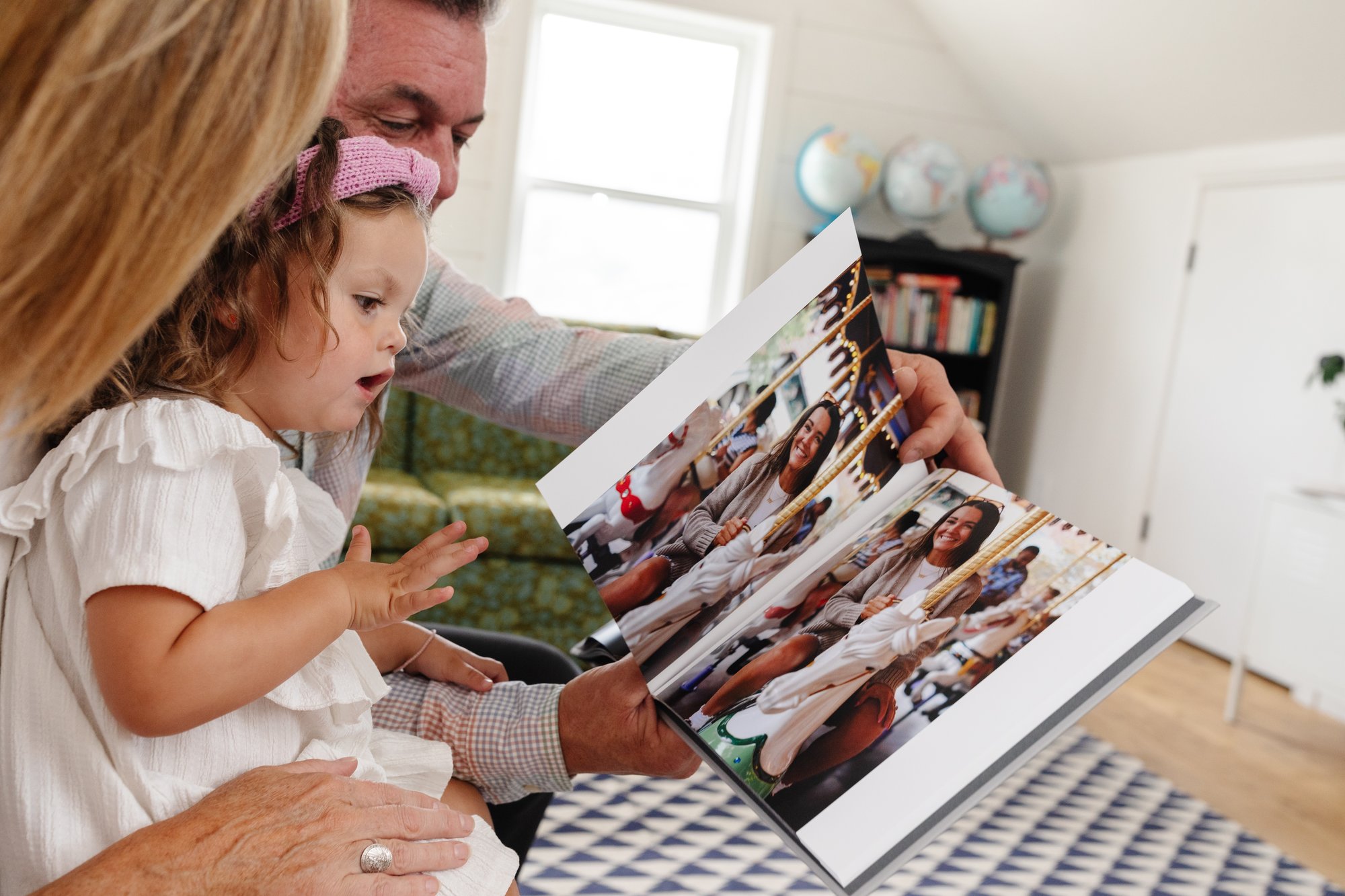 We all have traditions — and we're not talking about wearing the same unwashed jersey to make sure your team makes it to the playoffs. We're talking about the sentimental ways we celebrate holidays, birthdays and other special occasions. When it comes to creating Thanksgiving traditions and making memories for kids, it's always a great idea to find new ways to celebrate and reminisce with your family.
Creating thankful traditions for your kids on Thanksgiving is a great way to remind your family what they're grateful for — other than grandma's secret stuffing recipe. Thanksgiving is the perfect time to reflect and feel gratitude, and flipping through your family's monthly photo books, travel adventures and Yearbooks is a great way to aid in bringing back the nostalgic memories of laughter and love. So if you're looking for new ways of creating Thanksgiving traditions and making memories for kids that you can tailor to fit your family, we've rounded up a few ideas you'll love.
Turkey themed arts and crafts are a classic for a reason — they're fun Thanksgiving traditions! Kids love to draw the outline of their hand and turn it into a two-dimensional gobbler. Use construction paper to add feathers detailing what your family is grateful for, then snap photos and include them in your Thanksgiving-themed Chatbook. Save the memories and save the limited space your counter has, all while starting new family Thanksgiving traditions.
Scavenger hunts aren't exclusive to Easter eggs — they can make for a fun family Thanksgiving game! Hide whatever you'd like indoors or outdoors and send your kids off to search. Hide items like feathers, and let your kids know what they're looking for. While they put on their detective hats and zoom around, snap pictures of them searching and definitely capture the moment they triumphantly pull their first find out from under that pile of laundry that's been sitting on their floor since Labor Day! And while American Thanksgiving traditions may lean toward football, this one may work better for your family.
Everyone's got their mind on dinner when it comes to Thanksgiving rituals, which is why an annual Thanksgiving breakfast with your kiddos is the perfect tradition to start! (And when they're old enough, they can do the heavy lifting!). If you're looking for non-traditional Thanksgiving traditions, try making pancake art and create shapes like wishbones, leaves and even a turkey. Snap pictures of your amateur pancake art to save in your Thanksgiving Chatbook. If you throw an event with friends, pancakes are also a great friendsgiving tradition to start.
Thanksgiving is arguably the biggest holiday when it comes to food. Whether or not you're using recipes passed down from generations, it's the perfect opportunity to focus on the connection between food and family, and which meals your family is most thankful for. Take the opportunity to ask each member of your family what their favorite recipes are (for breakfast, lunch, dinner and dessert), and start creating a family recipe book together. You can easily snap pics of handwritten recipes, or type them out as captions or on text pages, and add photos of them to your personalized family cookbook. And you're already on your way to new Thanksgiving traditions!
Hand and fingerprint art have stood the test of time — while also super popular with young kids for holiday arts and crafts, it's also an opportunity to track how much your kids grow with each year that passes. Whether or not you choose to make holiday-themed arts and crafts with their hands and fingers, take a picture. Even if it's just a replica of their handprint pressed into construction paper, save that picture in your photo book and do the same next year. It's incredible how much your little ones will grow between every Thanksgiving, and this way you can save the memories (and save the fridge space!).
The holidays are prime time for movie nights (or entire marathon days). Grab a bowl of popcorn, pumpkin pie, or even another round of stuffing, and cuddle into the couch with your family for favorites like It's the Great Pumpkin, Charlie Brown. And nobody will blame you if you rewatch the Harry Potter movies or start watching Hallmark movies a little early. You can't go wrong with a movie marathon when it comes to creating fun family traditions for Thanksgiving.
Head to your local farm, even if pumpkins are out of season, for an autumnal experience. You can do this before Thanksgiving, as well, and have your kids pick out pumpkins, flowers or other items they'd like to add to your doorstep, decorate the table with, or even add to your table's cornucopia. Snap photos of them running around the farm or farmer's market as they choose their favorites.
Speaking of Thanksgiving traditions to start, you can begin your traditions in the lead up to Thanksgiving, or celebrate them on the day of. Throughout November, create a tree of gratitude with your little ones where they can add leaves and acorns (cut the shapes out of paper) with handwritten notes sharing what they're thankful for. This practice will get them in the mindset for Thanksgiving, and teach them to think about what they appreciate beyond the holiday itself. Snap pictures so you can look back at what your kids wrote for years to come! (Including when your son wrote that he's thankful for his favorite pair of swim goggles.)
Take in the crisp air, vibrant leaves and flannel clothing — Thanksgiving is the perfect day to snap your family photo. Odds are, your family is spending a bit more time getting dressed for the occasion, which makes Thanksgiving the perfect opportunity to snap that photo you've been thinking about for months. Your family grows and changes every year, which is why this family photo is worthy of gracing the cover of your Chatbook!
The Great Family Bake Off
When you think about Thanksgiving, does a certain dessert come to mind? That's right… pie! Fetch the step stools and extra aprons, it's time to get your little ones in the kitchen. Challenge your family to a pie bake off, either as individuals or in teams, and get baking! Snap pics throughout the challenge, especially when your daughter gets flour in her hair and jam all over her elbows. Your kids will come to love their annual pie faceoff!
Ahead of the holiday, take some time to research local charities or volunteer organizations that have opportunities for your family to help. As you teach your children about gratitude, it's also a great time to teach them about community and acts of service and kindness. You can even spend some time on Thanksgiving researching volunteer opportunities together, that way you can spend time in your community beyond Thanksgiving, since help can always be given year-round.
…Get up and make it happen! Before turkey day, find a local turkey trot or family fun run for your family, immediate or extended, to participate in. Snap shots of your runners as they start, plus as they cross the finish line. It's not about winning, but running, giggling and competing together! Remind your kids that they'll need to work up an appetite before digging into a mouth-watering Thanksgiving spread.
Speaking of unique Thanksgiving traditions, it's natural to feel thankful and want to express your gratitude around the holidays. After flipping through your family photo books, take that natural feeling of gratitude and use it as an opportunity to create a gratitude jar with your family to share your thanks! Parents, grandparents and children can all spend some time thinking about what they appreciate and adding it to the jar to be read at the Thanksgiving table. Follow these steps to create a Gratitude Jar and cultivate thankfulness with your loved ones.
Thanksgiving is a natural time to reflect and feel gratitude, and flipping through your family's monthly photo books, baby albums and Yearbooks is a beautiful way to bring your family together — other than Aunt Sylvia's famous green bean casserole, of course. Creating thankful traditions with your kids is important, and thanks to these ideas, you should be able to find the right ideas to start Thanksgiving memories with your family. Happy holidays!