Scrapbooks Versus Chatbooks: What's The Difference?
No glitter, glue, or weird scissors required!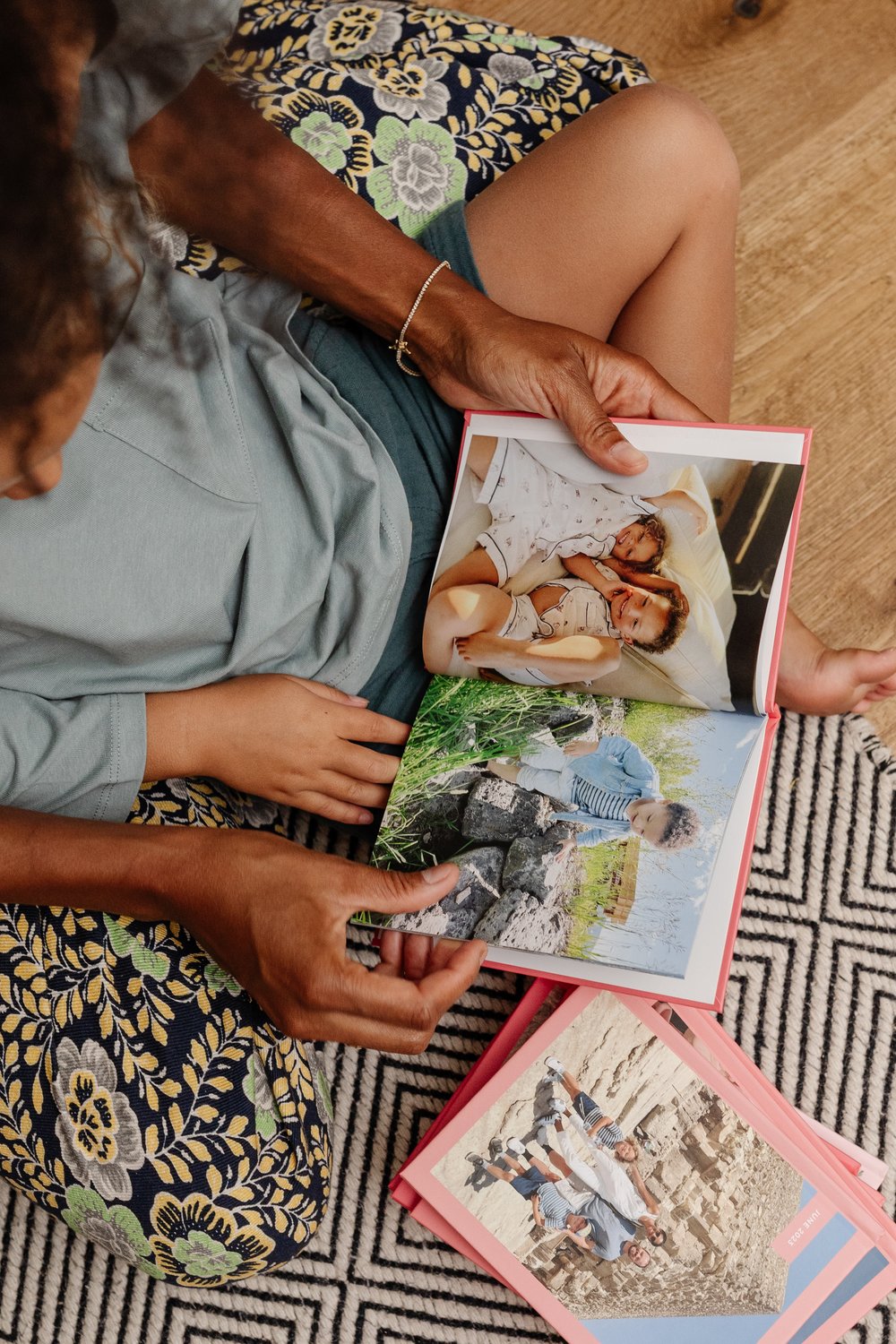 Remember running to the craft store in a panic in search of those wiggly-edge scissors, the perfect patterned paper, and those cute little speech bubble stickers? Let's not forget when you'd hold on to every single piece of memorabilia, like train tickets and restaurant menus, in the hopes of one day sticking it all in your scrapbook.
Raise your hand if you still have shoeboxes filled with all of those "one day I'll make a scrapbook album with all these mementos" stacked up in a closet somewhere in your home. Who has the time?! You might be wondering what's the difference between scrapbooks vs. photobooks, and the difference is one is so much easier than the other!
Thankfully, it's 2023 and technology is (mostly) on our side, but especially so when it comes to scrapbooking, aka Chatbooking. Now, you can just snap a pic of everything you want to remember right on your phone, whether it's a sunset or a macaroni masterpiece made by your 3-year-old. But what are you supposed to do with all of those memories stuck in your camera roll? Well, that's where Chatbooking becomes your hero. You can create a modern-day scrapbook filled with captions, collages, and your favorite things, right from the photo source of your choice, in only a few minutes.
Get ready to finally do something with that dusty stack of memorabilia shoved in the depths of your closet! Your memory-keeping just got so much easier with digital scrapbook tools like Chatbooks.
Chatbooks is both a website and an app where you can turn your memories into photo books. And there's a variety of different photo book options you can choose from. For instance, if you want to go big while printing your wedding album, you can print it all in a deluxe coffee table photo book and include everything akin to what you'd include in your scrapbook, except maybe those funky scissor patterns.
If you want to remember a vacation, a family reunion, celebrate a birthday, or make a book just because, there's a photo book option for that too. And the best book for those keen on staying on top of their family's memories? Meet monthly photo books, which allow you to create a new photo book each month in less than 10 minutes…scrapbooking could never!
Photo Book Making Is the New Scrapbooking
Yes, doing some arts and crafts is good for the soul, but a busy soul like yourself ain't got time for that! Plus, you don't want to mess around with memories that you hold near and dear to your heart. So, why not preserve them with the help of technology and turn all of your scrapbook ideas into photo books everyone in your family will love flipping through! Pros: It's easy and only takes a few minutes, not hours. Cons: You'll love doing this so much you'll find yourself "scrapbooking" everything.
Ready to Make the Switch?
This life hack will have you holding on to memories while also saving time, so it seems like a no-brainer (spoiler alert: it is a no-brainer!). Just picture the look on your family's faces when they see that photo book order delivered to your doorstep and the excitement of ripping the box open and flipping through the pages. Instead of fighting over the remote, now your little ones will fight over who gets to see their fave pics first!
While you can get the same feelings and reactions with scrapbooking, think of how darn easy it is to just press a few buttons and have your memories delivered to you! No glue, glitter spills, or hours spent trying to perfect everything, just pure memory-reliving bliss. Start your photo book-making journey today, you'll be so glad you did.