Creative Photo Book Series Ideas That'll Make You Say "That's Genius"
Make your life more interesting by creating photo book series that will help you reminisce on memories for years to come.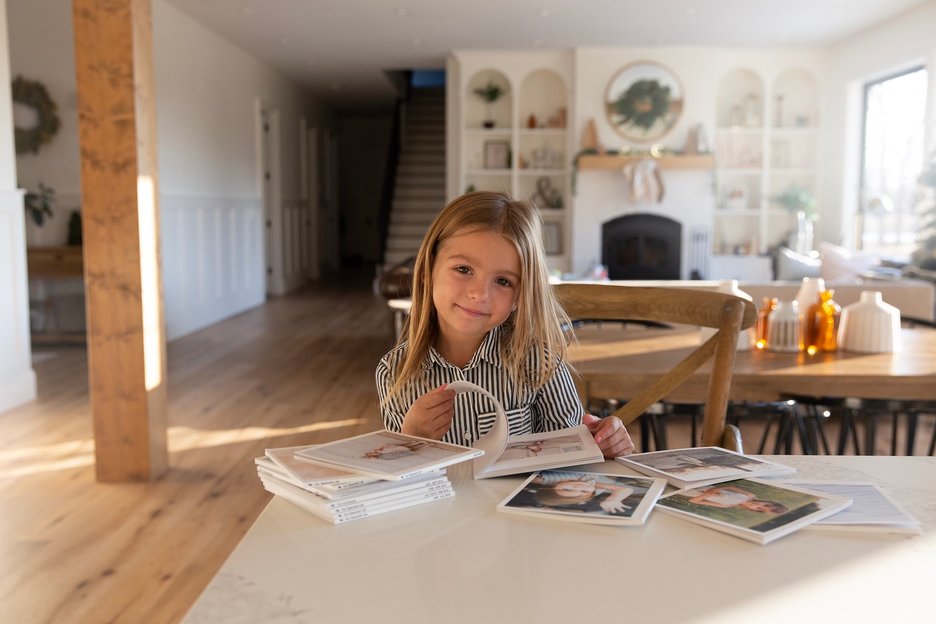 Having an active Chatbooks Photo Book Series subscription allows you to receive the gift of Chatbooks over and over again (even if you are gifting it to yourself!). And luckily for you, there are so many ways to save your memories that don't have to be through your public Instagram account. Spice up your normal series subscription, or start a new one with these 10 unique series book ideas that allow you to become more creative with the memories you share and print. The more printed memories, the merrier!
Make a series from a private Instagram page so you can feature personalized notes
One concern that people often have with their series photo books is feeling like they want their books to be personal, but they don't want their instagram accounts to have that information on them. One solution is to create a private Instagram account (without any followers) where you can post about all the highs and lows of your family without the fear of sharing information that you would rather keep to yourself. This allows your Chatbooks to become visual journals of your daily life.
Use the collaborator feature so you and someone else can make a book for a loved one
Allowing others to contribute to an in-process book makes the experience that much more fun. Creating a book for your mom for her birthday alongside your siblings not only brings you and your siblings together, but it also personalizes the book so that mom feels closer to all of you. Once you use this feature, you'll never go back.
Create a series book for each kid
Fun fact: 62% of parents say that children who see printed pictures of themselves have an increased sense of self-esteem. Give that same gift to your kids and create photo books for each child. This allows you to celebrate their highs and lows individually and gives them an opportunity to reflect on their own lives over and over again.
Send a copy of your book to a loved one
Can you imagine the smile on grandma's face every time she sees that Chatbooks green package in her mailbox? Simply select "gift an additional subscription" underneath your series settings to input an extra address. I don't think grandma would want anything else for any other holiday or birthday and it's only an additional $10 a book.
Start a private Instagram page of your favorite things
1Whether you love cooking, home decor, or fashion, create a private instagram account where you can post all of your inspiration. Collect screenshots or personal photos that you can post on your private IG account. Use the caption as a space to write out the recipe, describe why you love that modern-rustic look, or explain how you would wear a certain outfit. This book becomes your own mini magazine!
Make themed series books based on your camera roll
When you create a photo book using your camera roll, you have the option to let Chatbooks collect what we think are the best photos or you can select them on your own. If you choose to select them on your own, you can create a theme for your series book. Whether it's a vacation theme, photos that always include the color yellow, or photos that both you and your significant other are always in, you can give the book a fun cohesive theme.
Use the "favorite photos" feature to group pics together
You can create a series book using your favorited photos on your phone, which eliminates the step of having to choose which photos you want printed after the fact. This is also a great option for anyone who doesn't have an Instagram account. Decide what type of photos you want to have favorited so that your book reflects what you want it to. Maybe it's just photos of your kids, just photos of your pets, or even of your projects around the house. Whatever you want this book to be, simply go through your camera roll and favorite whichever photos you want to have printed.
Create a private Instagram account just for your family's successes
Creating a "trophy book" for all of your family's success stories will give you so many fun memories to look back on. It would be a highlight reel of all the incredible things your family has done and will continue to do. Include your first half marathon, your son's preschool graduation, your daughter winning a swim competition, and your significant other getting a promotion. Giving yourself space to celebrate all of your family's victories will allow you to relive them over and over again.
Capture how your family changes every single day
One of the most genius elements of monthly minis is that you are allotted 30 pages a month, which is the perfect amount to take a photo every day. How fun would it be to look back on a year's worth of monthly minis and every photo is a picture of your kids each day? It's like getting to watch them grow up again (every parent's dream, am I right?).
Make a love story series book
Whether it's a personal Instagram account or all of your favorited photos, collect all of the photos that you have with your significant other from your first date until now. Continue this tradition to watch your love story grow and develop. This will be such a fun reflection and with a series book, it's the gift that keeps on giving. You will be able to watch your love story from high school sweethearts all the way to your photos from your date night last weekend. It's the perfect way to cherish your relationship, and your kids will have a blast laughing at your hair styles and fashion choices from your dating years.