How to Write Romantic Wedding Vows That'll Bring All the Tears
Make sure you have tissues nearby!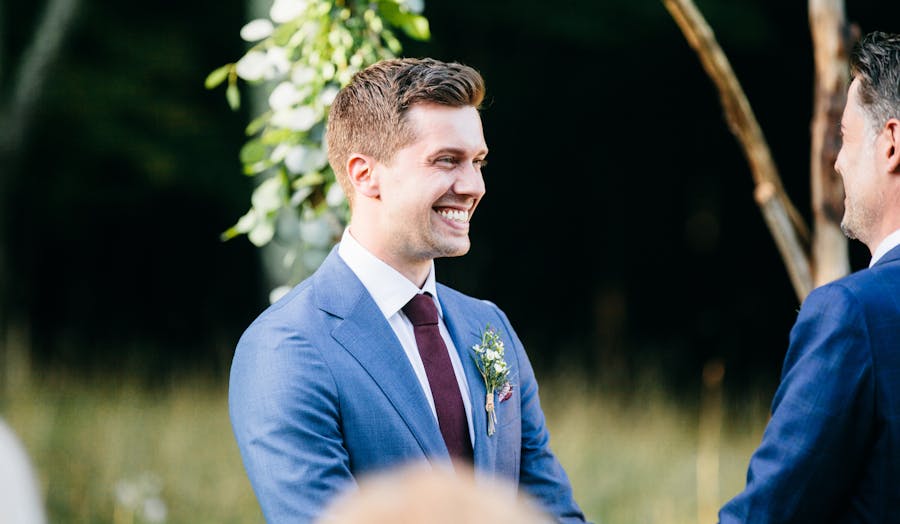 on July 21, 2021
You've spent so much time planning, organizing and fantasizing about your big day, from hiring a photographer for your engagement photos to picking out your guest book — and figuring out your seating chart was no easy task. Before you head down the aisle, there's a few items to remember, like something old, something new, something borrowed, something blue — and your wedding vows. If you and your partner are choosing to exchange promises, here's how to write intimate, romantic vows.
Start with a story
Depending on how long you want your vows to last (typically 45 seconds to two minutes per person), a great way to personalize your vows is to begin with a meaningful moment. Maybe it's describing what you were thinking the first time you met your soon-to-be spouse, or the moment you knew they were the one. Talking about where your relationship started and where it's headed will make for super emotional, beautiful vows.
Let them know how special they are
Is your partner your best friend, whole world, favorite musician, or the very best chef? Let them know that you see and appreciate them, acknowledge all the things they're good at and the parts of their personality that make them special to you. This is a great time to express all the things you love about your partner!
Go for a laugh
Sneak an inside joke into your vows — or a line about a funny or embarrassing story most of your guests know about. (Ex: I promise to never get mad when you forget your keys, especially when you lock yourself out of the house right before you propose!)
Use a quote
You can always add a quote from your favorite song, show or movie — something that means something to you both. And if you're struggling to find the words, we've already compiled a list of famous romantic quotes and Bible verses to help you out.
Let them know they can lean on you
Be sure to mention that even when the waters get rough, you'll be there for them. Your commitment to one another will be the foundation of your marriage, and this is a great time to add that despite all the wonderful things that are ahead, you'll be your spouse's rock through sickness and in health.
Make promises
When thinking about the future, it's full of promise — and vows traditionally include promises from one partner to the other. Think of promises that will mean a great deal to your spouse, and mention specific things, like a trip they've always wanted to go on, or something they've been afraid of (ex: I promise to always kill the spiders, or I promise we'll make that trip to Japan to see your grandmother's home). Be sure to end your vows looking toward the future!
Even though you won't hear each other's vows until the big day, make sure you're on the same page about the length of your vows (you don't want one person to recite for 30 seconds and another for three minutes) and anything you may or may not want to include (for example, you might not want your fiancé to tell a super embarrassing inside joke you share). And if you're not confident in your writing, you can't go wrong with memories and telling your partner how they made you feel in the moment.