50+ of the Best Graduation Quotes and Sayings of 2023
"If opportunity doesn't knock, build a door."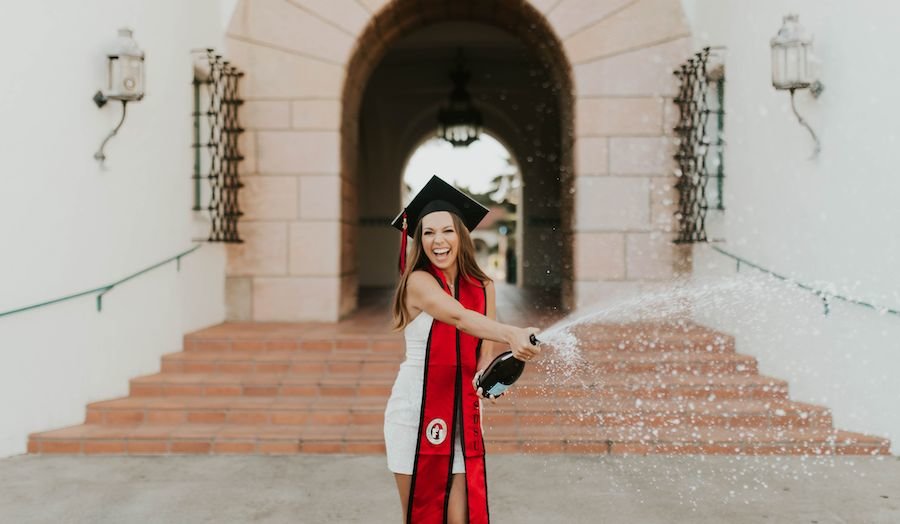 Every day of being a parent is a series of tiny victories worth celebrating along the way: not getting spaghetti on your white shirts, remembering to preheat the oven before you put the cookies in… you get the picture. But you know what's not tiny? When your kid graduates from school! With everything going on in the world, our celebrations near and far mean more than ever. Celebrate using some sweet graduation quotes perfect for your proud mama Instagram post or photo book text page! From inspirational graduation quotes to funny ones, we've got you covered with tons of ideas for the perfect school saying (along with photo books and wall tiles to write them on!). Make sure your grad knows how BIG of a victory this is and how excited you are for their future. There is so much good ahead!
And between decorating graduation caps and making plans for the summer, don't forget to snap pictures of your memories and print them in a photo book you'll be able to look at for years to come. If you want to make a Classic Photo Book dedicated to your graduation celebration—and leave room in your Monthbooks for other exciting photos—that's your call! No matter which photo book you print your memories in, your family will just be glad to have them in their hands.
Inspirational Quotes
"If you're willing to stand for what you believe in . . . you won't need advice from me, because you will be able to handle whatever comes." —Whoopi Goldberg
"The horizon leans forward, offering you space to place new steps of change." —Maya Angelou
"All of our dreams can come true if we have the courage to pursue them." —Walt Disney
"The best way to predict the future is to create it." —Abraham Lincoln
"Life affords no greater responsibility, no greater privilege, than the raising of the next generation." —C. Everett Koop
"Can't wait to see where life will take you next. Wherever it is, our prayers go with you!" —Unknown
"Always remember: There's no limit to what you can do if you keep believing in yourself." —Unknown
"The future belongs to those who believe in the beauty of their dreams." —Eleanor Roosevelt
"Never bend your head. Always hold it high. Look the world right in the eye." —Helen Keller
"If opportunity doesn't knock, build a door." —Milton Berle
'We don't stop going to school when we graduate." —Carol Burnett
"The roots of education are bitter, but the fruit is sweet." —Aristotle
"Nothing can stop you now. You have a ticket to your dreams come true. Congrats." —Unknown
"The difference between school and life? In school, you're taught a lesson and then given a test. In life, you're given a test that teaches you a lesson." —Unknown
Quotes About Life
"We do not need magic to change the world, we can carry all the power we need inside ourselves already." —JK Rowling
"May you always dare to do great things with your life." —Unknown
"Follow your arrow, wherever it points." —Kacey Musgraves
"Nothing is going to be handed to you. You have to make things happen." —Florence Griffith-Joyner
"Keep on growing. Keep adding to the goodness and beauty in the world. Keep developing those unique dreams and talents that make you who you are!" —Unknown
"Success is the ability to go from one failure to another with no loss of enthusiasm." —Winston Churchill
"Make the most of yourself, for that is all there is of you." —Ralph Waldo Emerson
"There are far better things ahead than any we leave behind" —C.S. Lewis
"Take pride in how far you have come and have faith in how far you can go." —Unknown
"If you have the courage to begin, you have the courage to succeed." —Unknown
Quotes for Daughters
"You educate a man; you educate a man. You educate a woman; you educate a generation." —Brigham Young
"Dear sweet daughter! You are beautiful as always. But today you are a knowledgeable and beautiful woman. May God be always with you! Best wishes for your future!" —Unknown
"A woman with a voice is, by definition, a strong woman." —Melinda Gates
"My daughter, I wish you the strength to face challenges with confidence, along with the wisdom to choose your battles carefully. I wish you adventure on your journey and may you always stop to help someone along." —Unknown
"The best protection any woman can have is courage." —Elizabeth Cady Stanton
"She leaves a Little Sparkle Wherever she Goes" —Unknown
"Little girls with dreams become women with vision" —Unknown
"You turned an itty-bitty bundle of joy into a kind, smart and courageous woman. We are so proud of you today and always. Congrats!"—Unknown
"Here's to the door to new opportunities that have just opened for you, our daughter. Enjoy your graduation, we are so proud of you." —Unknown
Quotes for Sons
"You don't raise heroes, you raise sons. And if you treat them like sons, they'll turn out to be heroes, even if it's just in your own eyes." —Walter M. Schirra, Sr.
"Men are what their mothers made them." —Ralph Waldo Emerson
"A man is a success if he gets up in the morning and goes to bed at night and in between does what he wants to do." —Bob Dylan
"The direction in which education starts a man will determine his future." —Plato
"Just remember that the process of learning never ends. Happy Graduation, son." —Unknown
"Don't let the limited beliefs of other people take on your life. You proved everyone wrong by completing your graduation with flying colors from a reputed college, dear son and made us proud." —Unknown
"You made it my son, congratulations on your graduation, but could not have been possible without the help of Google." —Unknown
Funny Quotes
"Follow your passion. Stay true to yourself. Never follow someone else's path, unless you're in the woods and you're lost and you see a path. By all means, you should follow that." —Ellen DeGeneres
"Your families are extremely proud of you. You can't imagine the sense of relief they are experiencing. This would be a most opportune time to ask for money." —Gary Bolding
"You can fail at what you don't want, so you might as well take a chance on doing what you love." —Jim Carrey
"We are all in the gutter, but some of us are looking at the stars."—Oscar Wilde
"Life has no remote, get up and change it yourself." —Unknown
"The unfortunate, yet truly exciting thing about your life, is that there is no core curriculum. The entire place is an elective." —Jon Stewart
"If you think you are too small to be effective, you have never been in bed with a mosquito." —Bette Reese
"The only thing that ever sat its way to success was a hen." —Sarah Brown
"The road to success is dotted with many tempting parking spaces." —Will Rogers
"All that stands between a graduate and the top of the ladder is the ladder." —Unknown
"Now that you've graduated, just remember: Bosses don't usually accept notes from your mother." —Melanie White