11 Fall Photography Ideas That'll Take Your Family Photos To The Next Level
You won't be-leaf these incredible photo ideas!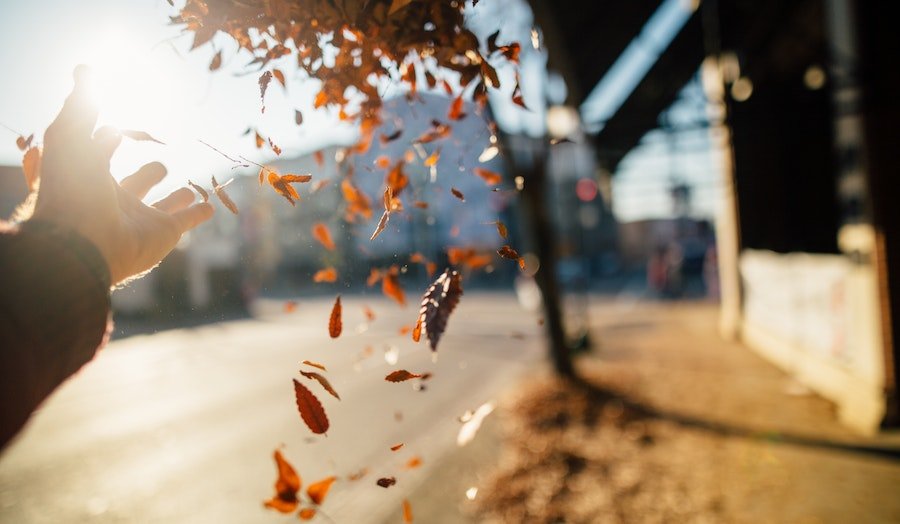 Did someone say sweater weather? Get your favorite scarf, pumpkin spice latte and boots — this time of year means falling leavings and autumn photoshoots! Don't stress: elevate your fall photos with unique and creative fall photography ideas for taking amazing photos you'll post all over Instagram (and hang up in your home). Autumn is known for its subdued light and colorful backgrounds, which will totally level up your fall photoshoot. Follow these instructions for Thanksgiving family photos that will make all your friends jealous!
Location, location, location
Fall photoshoots are always so nostalgic and beautiful, and there is nothing quite like a colorful backdrop that captures the season's incredible foliage. When planning for your photoshoot, make sure to choose the right location. Find the best trees and brightest colors when choosing a spot.
Photography equipment
If you've been eyeing a new camera, now is the time to buy it! Invest in a DSLR or other professional camera for your photoshoot. Fall is a great time to experiment with lighting, f-stops and lenses for stepping up your game. It's also great training for all the pictures you'll take during the holidays. Keep your eye out for some great fall sales and finally hit "add to cart."
Fall landscape
Not all foliage is created equal when it comes to snapping fall family portraits. For your fall photoshoot, the height of your landscape matters if you want a large, colorful backdrop that takes up a considerable part of your frame. Shoot in front of a hill or mountain full of trees so you can get more epic foliage to feature as your backdrop. Photographing in front of a hill instead of a flat treeline means you get to see a lot of leaves in your pictures rather than a whole bunch of tree trunks.
Time of day
Before your photoshoot, go online and check the local times for the sunset and golden hours in your area. Many photographers recommend a fall photoshoot to be on an overcast day to really brighten the colors of the fall leaves. Less direct sunlight also means less squinting in your pictures.
Weather
This one seems like a no-brainer, but weather in the fall can be tricky! Always check your local weather to make sure the daylight, cloud cover and temperature are factored into your photoshoot. Good weather can also make the difference in shooting photos with happy children. If you're shooting with a professional photographer, be sure to discuss rain check dates upfront.
Fall photoshoot outfits
Fall photoshoots are always so beautiful because of the natural colors that the landscape provides, but also because fall clothing can easily pop against those shades of red and orange. Not sure what to wear for your fall photoshoot? Opt for light colors that contrast well with the fall leaves or muted warm fall colors. Stay away from black (which can read too somber) or any bright colors that can compete with the foliage.
Backlighting
With the changing leaves, autumn is a great time for backlighting in photos. The translucent colors will shine through and take your photos to the next level. Don't be afraid to break a few rules when it comes to fall photography.
Choose your details
Is throwing leaves into the air for a fun action shot not your thing? There are many ways to incorporate details into your photoshoot that are more your style. Find details in the things you wear, the poses you take or the landscapes you choose to really personalize this photoshoot.
Prepping kids
You've had enough long car rides with your children to know that snack planning is a necessity. The same applies for taking pictures with children. Prepare for long hours with some snack packs and toys to help kids stay happy and engaged.
Editing
If you're a novice photographer, consider learning a few editing skills to amp up your photos or ask a professional to edit your pictures. You can also learn some incredible photo editing hacks on your phone here.
Close ups
Portrait photos are a great addition to your photoshoot and close ups of all the details can really add some originality. Be sure to shoot far away to get all the fall hues and also zoom in to capture candid moments and little smiles that might be missed in a larger shot.