42 Dad and Daughter Quotes That'll Make You Smile
Commemorate that special father-daughter relationship with one of these special quotes for an Instagram caption or a heartfelt note.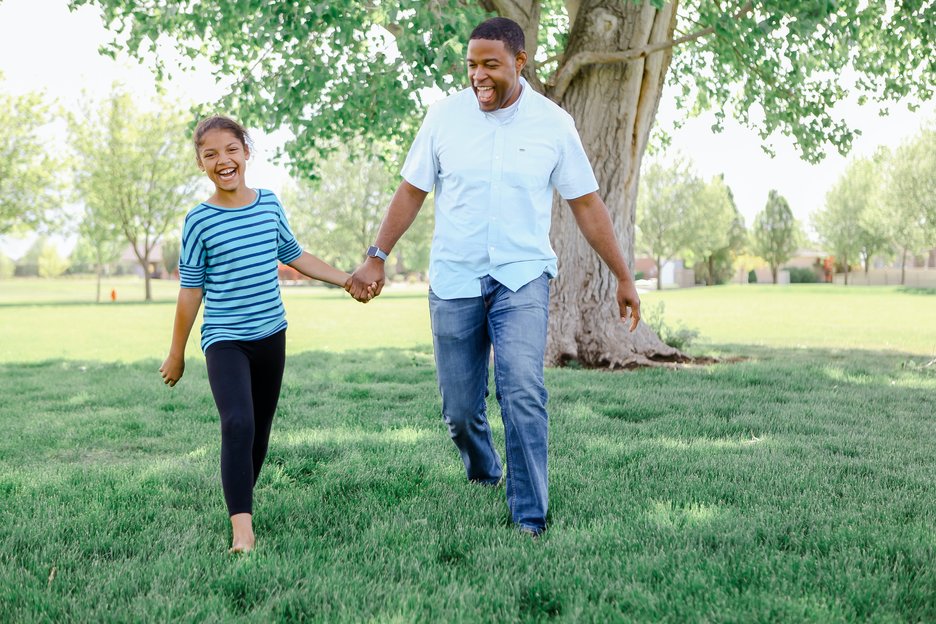 What's Father's Day without a card that hits dad right in the heart? Finding the right thing to say in your Father's Day card — something personal and not too cheesy — can be a tall order, especially when it's for the master of the dad jokes. To help you out, we found 40+ of the best father-daughter quotes that are sure to make your card a hit. Plus, we also pulled together some pretty neat Father's Day coupons to slip into his card and photo books — plus some other last-minute gift ideas. Whether you're looking for sweet, funny or inspiring father-daughter sayings (or even Bible verses), we've got you covered. Also, keep these quotes in mind the next time you make a photo book for dad — you can use cute quotes as captions or text pages to break up your memories!
"If you ever want to torture my dad, tie him up and right in front of him, refold a map incorrectly." —Cathy Ladman
"A daughter is a treasure and a cause of sleeplessness." —Ben Sirach
"A little girl giggles when she is denied an ice-cream by her mother. She knows daddy will get her some later." —Unknown
"It doesn't matter how manly you are, when your little girl wants to have a fairy tea party, you have to join!" —Unknown
"My fingers may be small, but I've got my daddy wrapped around them" —Unknown
"My daughter got me a 'World's Best Dad' mug. So we know she's sarcastic."—Bob Odenkirk
"Remember: What dad really wants is a nap. Really." —Dave Barry
"Raising kids may be a thankless job with ridiculous hours, but at least the pay sucks." —Jim Gaffigan
"Men should always change diapers. It's a very rewarding experience. It's mentally cleansing. It's like washing dishes, but imagine if the dishes were your kids, so you really love the dishes." —Chris Martin
"My sisters and I can still recite Dad's grilling rules: Rule No. 1: Dad is in charge. Rule No. 2: Repeat Rule No. 1." —Conner Schultz
"I gave my father $100 and said, 'Buy yourself something that will make your life easier.' So he went out and bought a present for my mother." —Rita Rudner
"One of the greatest things about daughters is how they adored you when they were little; how they rushed into your arms with electric delight and demanded that you watch everything they do and listen to everything they say." —Michael Josephson
"It is admirable for a man to take his son fishing, but there is a special place in heaven for the father who takes his daughter shopping." —John Sinor
"Many a man wishes he were strong enough to tear a telephone book in half — especially if he has a teenage daughter." —Guy Lombardo
"When fathers struggle with being authentic, they leave muddy footprints on little girls' hearts." —Tina Samples
"Dad. He can play like a kid, give advice like a friend, and protect like a bodyguard." —Unknown
"When I come home, my daughter will run to the door and give me a big hug, and everything that's happened that day just melts away." —Hugh Jackman
"There's a girl who stole my heart and she calls me daddy." —Unknown
"The love between father and daughter knows no distance." —Unknown
"To a father growing old, nothing is dearer than a daughter." —Euripides
"Daddy, no matter how big these hands grow, I'll always be your little girl." —Unknown
"Dad. A son's first hero. A daughter's first love." —Unknown
"Being a daddy's girl is like having permanent armor for the rest of your life." —Marinela Reka
"No one in this world can love a girl more than her father." —Michael Ratnadeepak
"A good father will leave his imprint on his daughter for the rest of her life." —Dr. James Dobson
"You fathers will understand. You have a little girl. She looks up to you. You're her oracle. You're her hero." —Stanley T. Banks
"There's something like a line of gold thread running through a man's words when he talks to his daughter, and gradually over the years it gets to be long enough for you to pick up in your hands and weave into a cloth that feels like love itself." —John Gregory Brown
"Daddy, thanks for being my hero, chauffeur, financial support, listener, life mentor, friend, guardian and simply being there every time I need a hug." —Agatha Stephanie Lin
"Certain is it that there is no kind of affection so purely angelic as of a father to a daughter." —Joseph Addison
"The happiest moment of my life was probably when my daughter was born." -David Duchovny
"It was my father who taught me to value myself." —Dawn French
"Fathers, be your daughter's first love and she'll never settle for anything less." —Unknown
"A daughter needs a dad to be the standard against which she will judge all men." —Unknown
"In the darkest days, when I feel inadequate, unloved and unworthy, I remember whose daughter I am and I straighten my crown." –—Unknown
"Behind every great daughter is a truly amazing dad." —Unknown
"Dads hold our hands for a little while and hold our hearts forever." —Unknown
"When I'm at my best, I am my father's daughter." —Unknown
"The greatest thing a father can do for his daughter is to love her mother." —Elaine S. Dalton
"My father didn't tell me how to live. He lived, and let me watch him do it. —Clarence Budington Kelland
"To her the name of father was another name for love." —Fanny Fern
"I love my father as the stars—he's a bright shining example and a happy twinkling in my heart." —Terri Guillemets
"A father is always making his baby into a little woman. And when she is a woman he turns her back again."—Enid Bagnold