50 Best Christmas Quotes to Get You Into the Holiday Spirit
"Nothing says holidays like a cheese log."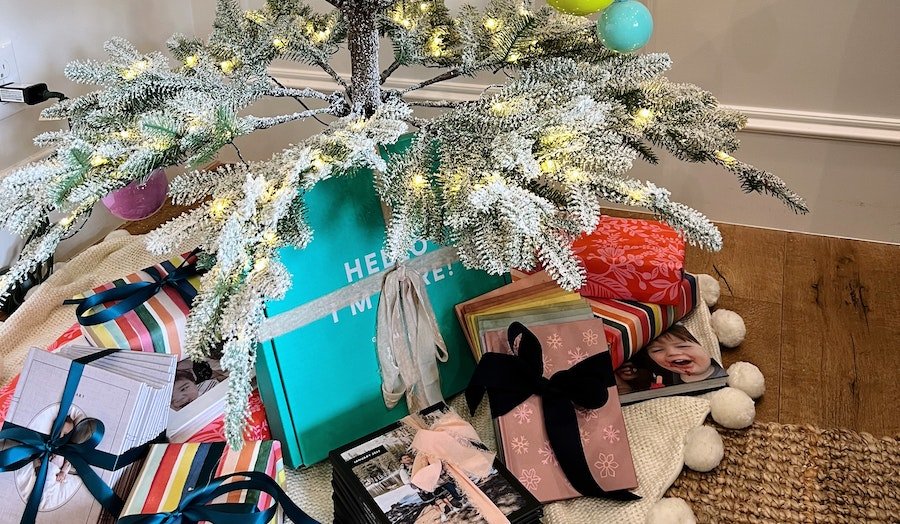 There's something magical about wintertime — which is probably why so many of our favorite movies are set during the coldest time of the year. As a kid, snow days were the greatest gift (no school = no problem). As an adult, snow days can be equally as amazing thanks to the romantic cold weather and holiday vibes that are perfect for a cute selfie. Bundle up because these winter quotes are so cool, you'll want to add them to every Instagram post and the text page of your Chatbooks.
And after all that time spent on finding the right holiday cards and presents, and time spent at parties and around the table with friends and family, it's no wonder your camera roll is filled with sweet shots of you and your family (especially after it took you 10 minutes to get the perfect shot). Don't let those pics get lost in your phone, print them in a holiday-themed photo book (print them in a high-quality Layflat photo book and add blank text pages to create a personalized gift), or hang them on your wall with Canvas Wall Tiles. And if you love saving your favorite memories from every month, print 30 pictures each month with a Monthbooks subscription.
"There are three stages of man: he believes in Santa Claus; he does not believe in Santa Claus; he is Santa Claus." ―Bob Phillips
"What do you call people who are afraid of Santa Claus? Claustrophobic." ―Anonymous
"Nothing says holidays like a cheese log." —Ellen DeGeneres.
"Three phrases that sum up Christmas are: Peace on Earth, Goodwill to Men, and Batteries not Included." ―Unknown
"I stopped believing in Santa Claus when I was six. Mother took me to see him in a department store and he asked for my autograph." Shirley Temple
"Christmas is a baby shower that went totally overboard." —Andy Borowitz
"What I don't like about office Christmas parties is looking for a job the next day." —Phyllis Diller
"The best way to spread Christmas cheer is singing loud for all to hear." ―Buddy the Elf
"Anyone who believes that men are the equal of women has never seen a man trying to wrap a Christmas present." ―Unknown
"Mail your packages early so the post office can lose them in time for Christmas." —Johnny Carson
Religious Christmas Quotes
"Once in our world, a stable had something in it that was bigger than our whole world." —C.S. Lewis
"How many observe Christ's birthday! How few, His precepts!" —Benjamin Franklin
"In a dream I heard a voice saying 'fear not, come rejoice. It's the end of the beginning, praise the newborn King.'" —Robbie Robertson
"If Christmas is just a nice legend, in a sense you are on your own. But if Christmas is true, then you can be saved by grace." —Timothy Keller
"The good news of great joy changed the course of every silent night to come." —Alicia Bruxvoort
"The brightest Christmas ever was lit by a single star and swaddled in the most drab colors, but offered mankind the greatest gift of all…true and lasting love." ―Toni Sorenson
"We consider Christmas as the encounter, the great encounter, the historical encounter, the decisive encounter, between God and mankind." ―Pope Paul VI
"Christmas celebrates the awesome and amazing fact that God is grander, wiser and more mysterious than we could have ever imagined." Dan Schaeffer
"For to us a child is born, to us a son is given..." ―Isaiah 9:6-7
"For it is good to be children sometimes, and never better than at Christmas, when its mighty Founder was a child himself." ―Charles Dickens
Inspirational Christmas Quotes
"Christmas waves a magic wand over this world, and behold, everything is softer and more beautiful." ―Norman Vincent Peale
"Christmas is most truly Christmas when we celebrate it by giving the light of love to those who need it most." ―Ruth Carter Stapleton
"Christmas is a necessity. There has to be at least one day of the year to remind us that we're here for something else besides ourselves." ―Eric Severeid
"Christmas is not a time nor a season, but a state of mind. To cherish peace and goodwill, to be plenteous in mercy, is to have the real spirit of Christmas." ―Calvin Coolidge
"Seeing is believing, but sometimes the most real things in the world are the things we can't see." ―The Polar Express
"My idea of Christmas, whether old-fashioned or modern, is very simple: loving others. Come to think of it, why do we have to wait for Christmas to do that?" ―Bob Hope
"Gifts of time and love are surely the basic ingredients of a truly merry Christmas." ―Peg Bracken
"Christmas is not as much about opening our presents as opening our hearts." ―Janice Maeditere
"Unless we make Christmas an occasion to share our blessings, all the snow in Alaska won't make it white." ―Bing Crosby
"Christmas is like candy; it slowly melts in your mouth sweetening every taste bud, making you wish it could last forever." ―Richelle E. Goodrich
"What is Christmas? It is the tenderness of the past, courage for the present, and hope for the future." ―Agnes M. Pahro
"What I like about Christmas is that you can make people forget the past with the present." ―Don Marquis
"A good conscience is a continual Christmas." ―Benjamin Franklin
"As for me, I like to take my Christmas a little at a time, all through the year." ―David Grayson
"I will honor Christmas in my heart, and try to keep it all the year." ―Charles Dickens
"A good conscience is a continual Christmas." ―Benjamin Franklin
"May you never be too grown up to search the skies on Christmas Eve." ―Anonymous
"It's not how much we give but how much love we put into giving." ―Mother Teresa
"Christmas is not a story of hope. It is hope." ―Craig D. Lounsbrough
"Let us keep Christmas beautiful without a thought of greed." ―Ann Garnett Schultz
"Christmas is a season not only of rejoicing but of reflection." ―Winston Churchill
"He who has not Christmas in his heart will never find it under a tree." ―Roy L. Smith
"Nothing ever seems too bad, too hard, or too sad when you've got a Christmas tree in the living room." ―Nora Roberts
"Christmas is doing a little something extra for someone." ―Charles M. Schulz
"Mankind is a great, an immense family. This is proved by what we feel in our hearts at Christmas." ―Pope John XXIII
"Never worry about the size of your Christmas tree. In the eyes of children, they are all 30 feet tall." ―Larry Wilde
"The smells of Christmas are the smells of childhood." ―Richard Paul Evans, The Christmas Box
"T'was the night before Christmas, when all through the house, not a creature was stirring, not even a mouse." ―Clement Clarke Moore
"Christmas will always be as long as we stand heart to heart and hand in hand." ―Dr. Seuss
"Christmas doesn't come from a store. Maybe Christmas perhaps means a little bit more." ―Dr. Seuss