The 10 Best 10 Year Wedding Anniversary Gifts Your Spouse Will Treasure
Celebrating 10 years with your sweetheart calls for celebration! These are the best gift ideas to surprise the love of your life.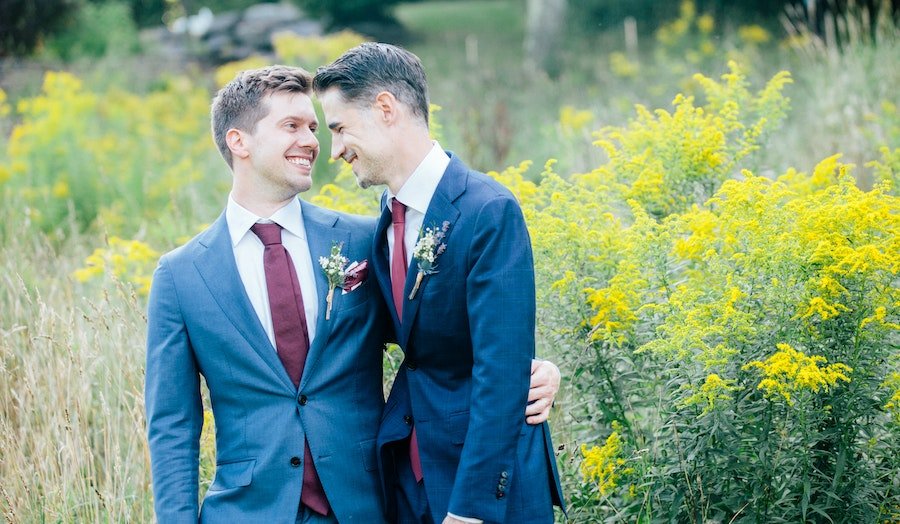 There's a million songs about love for a reason. And while anniversaries do happen every year, each one is a big deal! And if you're coming up on your 10 year wedding anniversary, which is one of your first huge milestones as a married couple, you'll need to find a special gift to celebrate. Anniversary gifts can be a lot of pressure, but they don't have to be! Ten year wedding anniversaries are traditionally celebrated with a tin or aluminum gift (but some modern couples go with diamond jewelry). Here are some super sweet, sentimental anniversary presents to gift the love of your life...
P.S. If you're looking for cute anniversary messages to include in your card for your wife or husband, or quotes to inspire your relationship for years to come, we've got you covered.
1. Jewelry
Diamonds aren't just a girl's best friend — they also make for an amazing anniversary gift. Diamonds are a modern alternative to the classic tin or aluminum present, symbolizing your marriage's rarity and durability. Whether you add gemstones to a pendant, bracelet, or earrings — or even to upgrade your wedding or engagement ring — jewelry is a great way to remind your spouse how much you love and appreciate them. Plus, it's a token they can wear every day!
2. Print everyday memories
An annual Monthbooks subscription will show your partner just how much you value your everyday moments together. Sure, looking back at your wedding album can bring all those butterflies back, but your relationship is built on the commitment you make to each other every day. Each month, you can print 30 photos in a Monthbook so you can treasure the moments that continue to strengthen your relationship (and that way, you have more than one photo book of your memories together — not just your wedding photos).
3. Sound Wave Artwork
This custom artwork is the perfect way to commemorate your song as a couple. Personalize this piece with the song you swayed to during your first dance, or choose whatever song means the most to you as a couple! Bonus: Silver and blue colors are associated with your tenth anniversary, so try to work those into this piece.
4. Premium Layflat Wedding Photo Book
Is your wedding photo album outdated? Is it missing important photos? Or, worse: are you missing a wedding album altogether? Surprise your spouse with a modern, high-quality Premium Layflat photo book that features all those moments from your special day: from the first step down the aisle to the sparkler exit. These pages are five times thicker than Classic Photo Books and use archival ink to resist fading — and to keep your memories intact!
5. Anniversary Clock
Your wedding was one of the most important days of your life — it was the day you officially merged your lives into one! You should have a beautiful piece that reminds you both of your wedding day (and shows your spouse just how important the day still is to you), like this Anniversary Clock. This clock shows the years, months, days and time since your wedding, plus it plays your special song (which autoplays on your anniversary).
6. Honeymoon Highlights
You've built a strong relationship, but sometimes it's nice to remember those moments when you were deliriously in love — and in a place where all your worries and cares were miles away. Pick a few of your favorite photos from your honeymoon and print them on Canvas Wall Tiles, so you can hang them around your home. Pro tip: When writing your anniversary card, let your spouse know why these photos mean so much to you, and why you chose each one.
7. Custom Portrait
Turn your spouse's favorite wedding photo into a dreamy watercolor illustration. You can also add your names and wedding date, and before you gift to your spouse, be sure to put the watercolor in a frame. Pro tip: Go for an emotional, sentimental photo, like your first kiss as spouses or your first dance.
8. Custom Monopoly
You've spent the past 10+ years building a life and a home together — show your spouse just how much you value your life together (and how much you remember!) with this custom Monopoly game. You can tailor the properties, pictures and other components to your life, including all the places you've been in the past 10 years together.
9. Star Map
The night you met your partner might have seemed like the stars aligned. Let them know how you feel with a custom star map that shows the night sky on the night you met, including your coordinates, the location and the date — all in gold foiling. Once you have your map, add a frame to complete your present (and have tissues ready when your partner tears up)!
10. Date Night Dice
The last decade has been filled with plenty of ups and downs and milestones — and date nights! After ten years of date nights, any set of love birds will be interested in finding new and creative ways to keep sparking that passion (plus date night is a great way to do something nice for one another). With these date night dice, you can roll 36 different options for a fun couple's night! Bonus: the dice are tin, aka the traditional metal given for 10 year anniversary presents.