50 St. Patrick's Day Quotes and Irish Blessings for a Day of Good Luck
"Never iron a four-leaf clover because you don't want to press your luck."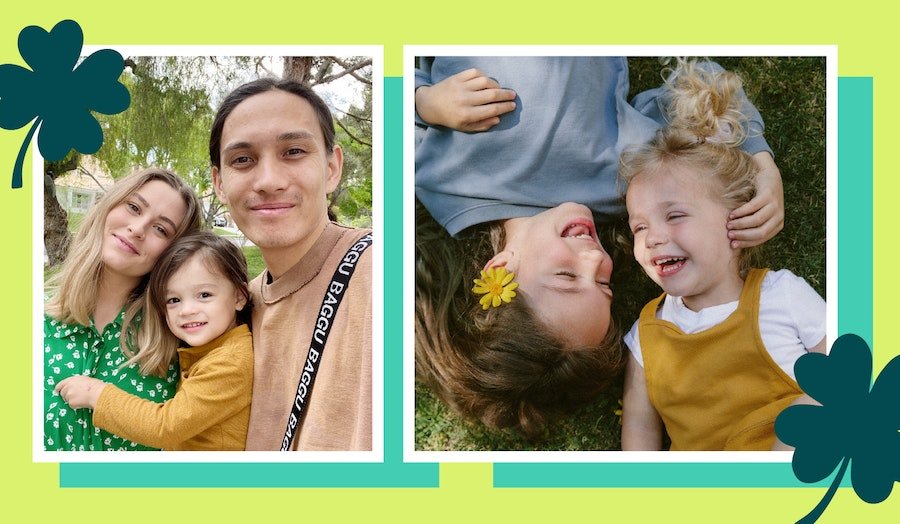 There may be no "leprechaun on the shelf" to entertain your kids with on this holiday (although the hunt for a four-leaf clover should buy you a few minutes of me-time!). There are plenty of ways to celebrate St. Patrick's Day—from gold-coin themed crafts and rainbow school projects to your kids pinching anyone who isn't wearing green (alas, the luck of the Irish won't save you from that). Whether you celebrate the holiday with presents, leprechaun traps (you can build one with Monthly Minis!), by sharing funny memes or with an Irish soda bread, cabbage and corned beef dinner at home, it's always a good idea to have some quotes and sayings about luck ready to go. Read on for 50 of the best St. Patrick's Day quotes, sayings and blessings.
And between your expeditions outdoors for four-leaf clovers and endeavors to catch sneaky leprechauns with clever traps, don't forget to snap pictures of your memories and print them in a photo book you'll be able to look at for years to come. If you want to make a Classic Photo Book dedicated to your St. Patty's Day celebration—and leave room in your March Monthbook for other exciting photos—that's your call! No matter which photo book you print your memories in, your family will just be glad to have them in their hands.
"Be still and know that I am. Be still and know. Be still. Be." —St. Patrick
"The only sure thing about luck is that it will change." —Wilson Mizner
"Don't throw away luck on little stuff. Save it up." —Tim O'Brien
"Every St. Patrick's Day every Irishman goes out to find another Irishman to make a speech to." —Shane Leslie
"The best luck of all is the luck you make for yourself." —Douglas MacArthur
"We may have bad weather in Ireland, but the sun shines in the hearts of the people and that keeps us all warm." —Marianne Williamson
"Never iron a four-leaf clover because you don't want to press your luck." —Anonymous
"For the whole world is Irish on the seventeenth o' March!" —Thomas Augustine Daly
"The list of Irish saints is past counting; but in it all no other figure is so human, friendly, and lovable as St. Patrick." —Stephen Gwynn
"Luck was a mechanism to be devised, and luck and destiny were merely two sides of the same coin." —Idries Shah
"The amount of good luck coming your way depends on your willingness to act." —Barbara Sher
"Whether I drink often or just once in a while; I'm always sure to raise a glass to the dear old Emerald Isle." —Pat Maloney
"Love is never defeated, and I could add, the history of Ireland proves it." —Pope John Paul II
"If you're Irish, it doesn't matter where you go—you'll find family." —Victoria Smurfit
"If you work, if you wait, you will find the place where the four-leaf clovers grow." —Ella Higginson
"I will tell you, my body immediately responds to being in Ireland because every single cell in my body says yes." —Conan O'Brien
"Wishing you a pot o' gold and all the joy your heart can hold." —Anonymous
"I'm of Ireland, and I'll stay in Ireland until I die." —Tom Cruise, Far and Away
"I have noticed that timing and luck sometimes line up in such a way that you can catch a break." —Ellie Kemper
"Even when they have nothing, the Irish emit a kind of happiness, a joy." —Fiona Shaw
"St. Patrick's Day is a day to celebrate our green heritage. The ancestry of Ireland. It is a day to celebrate what it means to be Irish and of Irish descent." —Anthony T. Hicks
"Luck is believing you're lucky." —Tennessee Williams
"I'm Irish! When I feel well I feel better than anyone, when I am in pain I yell at the top of my lungs, and when I am dead I shall be deader than anybody." —Morgan Llywelyn
"That's what the holidays are for—for one person to tell the stories and another to dispute them. Isn't that the Irish way?" —Lara Flynn Boyle
"You can take a man of Ireland, but you can't take out the Irishness of the man." —Tyson Fury
"I try to be grateful for the abundance of the blessings that I have, for the journey that I'm on and to relish each day as a gift." —James McGreevey
"You gotta try your luck at least once a day, because you could be going around lucky all day and not even know it." —Jimmy Dean
"Luck is a matter of preparation meeting opportunity." —Lucius Annaeus Seneca
"Luck is great, but most of life is hard work." —Iain Duncan Smith
"There is no language like the Irish for soothing and quieting." —John Millington Synge
"St. Patrick's Day is an enchanted time—a day to begin transforming winter's dreams into summer's magic." —Adrienne Cook
"Being Irish is very much a part of who I am. I take it everywhere with me." —Colin Farrell
"The heart of an Irishman is nothing but his imagination." —George Bernard Shaw
"Yeah, it's St. Paddy's Day. Everyone's Irish tonight." —Norman Reedus, The Boondock Saints
"Ireland is a land of poets and legends, of dreamers and rebels." —Nora Roberts
"The Irish celebrate St. Patrick's Day in gratitude for the service which he did them in bringing to the Irish their most priceless possession—the gift of faith." —Therese Duffy
St. Patrick's Day Irish Blessings, Greetings and Proverbs
"Top o' the mornin' to ya!"
"May the road rise up to meet you. May the wind be always at your back."
"May the best day of your past be the worst day of your future."
"A good friend is like a four-leaf clover, hard to find and lucky to have."
"May your blessings outnumber the shamrocks that grow. And may trouble avoid you wherever you go."
"A wish that every day for you will be happy from the start and may you always have good luck and a song within your heart."
"For each petal on the shamrock, this brings a wish your way: Good health, good luck, and happiness for today and every day."
"May you have all the happiness and luck that life can hold—and at the end of your rainbows ay you find a pot of gold."
"There are good ships and there are wood ships, the ships that sail the sea. But the best ships are friendships, and may they ever be."
"May the roof above us never fall in. And may the friends fathered below it never fall out."
"May your pockets be heavy and your heart be light, may good luck pursue you each morning and night."
"May the lilt of Irish laughter lighten every load."
"May your troubles be less. And your blessings be more. And nothing but happiness come through your door."
"May the Irish hills caress you. May her lakes and rivers bless you. May the luck of the Irish enfold you. May the blessings of St. Patrick behold you."