23 Fun Quarantine Christmas Ideas for 2020
Seriously, though, home for the holidays has a whole new meaning.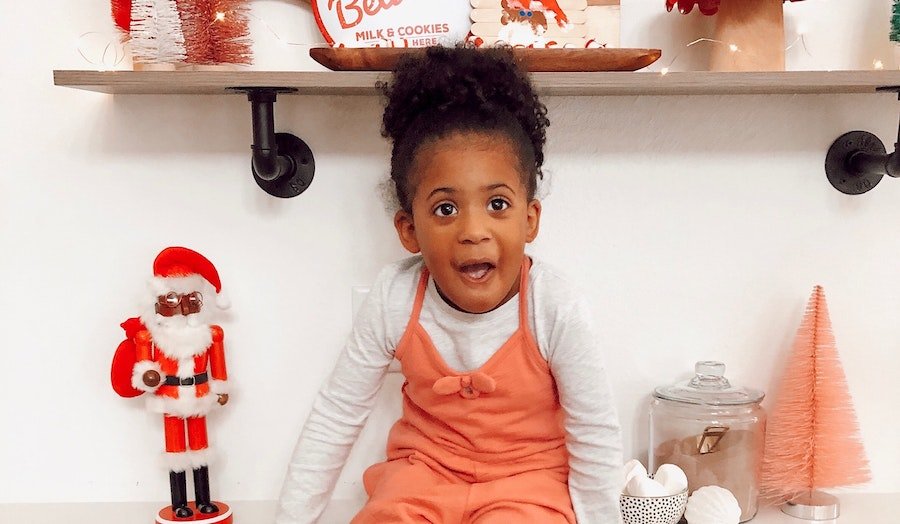 While there is truly no place like home for the holidays, some of your Christmas traditions this year may be looking a little...well...untraditional. That's why we have 23 fun quarantine Christmas ideas that you can enjoy with your loved ones while still social distancing. It's amazing what you can do with a selfie stick and some determination. Learn how to adapt some of your favorite holiday hobbies into quarantine-friendly ones, and read up on some new games you'll want to keep around even after the pandemic is over. Have a holly, jolly Christmas with these quarantine ideas for the family!
Decorate Christmas cookies
Use a favorite sugar cookie recipe from grandma, or try a new one for you and your kids to enjoy. This is a great family activity to do at home with a relative or two on FaceTime, baking their cookies in their own kitchen.
Build a gingerbread house
If you're itching to flex your creative muscle as you plan your Christmas activities, consider building some gingerbread houses with your family. You can do something as simple as buying a kit from the local grocery store, or bake your very own dough and start from scratch. Grab all the colorful candy you can find and build a house that Hansel and Gretl couldn't resist.
Video call some of your traditions
Just because you can't be with your extended family for Christmas doesn't mean you have to forego all your traditions! If you read Christ's birth story from the Bible with grandpa each year, video call him and gather the kids around the computer. If you enjoy cooking and eating dinner together with your loved ones during the holidays, Zoom them in this year as you bake and then enjoy your separate dinners together.
Deck the halls
Even if you can't go further than your own home this holiday season, you still can create a picture-perfect winter wonderland within your own four walls. Get out your favorite decorations and trim the Christmas tree with all the fixings.
Try Christmas crafts
Paper snowflakes, homemade ornaments and knitted scarves are great activities that'll fill your day with Christmas cheer. There are so many crafts to try with household items.
Play holiday games
Any of your favorite family night games can be turned into a holiday game with a little twist! Pin the nose on the reindeer, reindeer ring toss and holiday scattergories are all great starts. You can play a bunch of these over FaceTime with distant relatives!
Read holiday books
The Christmas season isn't complete without a good reading of The Night Before Christmas from grandma. Old and new holiday stories are always a great way to get into the Christmas spirit.
Learn new recipes
If you love experimenting in the kitchen, consider adding a few new recipes to your repertoire. The flavors and ingredients that are abundant during the holiday season always make for some delicious meals.
Make a traditional dinner
If you and your family make traditional dinners native to your heritage during the winter season, have a holiday cook-off on Zoom. Everyone can use the same family recipe and show off their final dishes.
Watch some festive movies
This list of the best holiday movies will surely get you into the jolly holiday mood. Pop some popcorn and plan out your movie nights for the rest of the season for a great quarantine tradition that will last for years to come.
> Listen to classic carols
You and your family can still rock around the Christmas tree, even without the Christmas party hop. Create a playlist of your top Christmas carols and play it on repeat until your ears start to bleed from all the holiday cheer. Sing along to the tunes and be sure to do mini dance parties with your kids.
Drive to see lights
Hop in the car and drive around your neighborhood to see who really went all out this year.
Consider safe outdoor activities
Look up some of the local attractions that are safe for you and your family to visit. Perhaps a lights festival or an outdoor nativity scene is available in your hometown. Your face mask can also keep you nice and warm as you spend some distanced time outside.
Go sledding
Was there anything more adventurous as a little kid than a sled race down the tallest hill in your area? If you live in a snowy climate, be sure to take a few snow days for some serious downhill fun.
Ski and consider other snow sports
Even though local requirements vary from state to state, many ski resorts are opening this year with some social distancing guidelines. For those who love to shred the gnar, grab your sticks and hit the powder.
Write handwritten notes
Although 2020 has been a bit of a rough year, it's given us the gift of more time to slow down and evaluate what's important. Pick some people to handwrite notes to and spread the love.
Roast marshmallows
Build a firepit in your backyard or roast marshmallows over the stove for a great new tradition that still brings a little glow to your heart. Plus, no treat is quite as good as a s'more.
Go caroling virtually
While you may not be able to share your pipes with the neighbors, a great way to continue traditions of years past is to offer up a virtual Christmas caroling hour in your area. Send out a Zoom link and sing the songs that are merry and bright when people log on.
Try outdoor ice skating
Check out some locations near you that are open for outdoor ice skating for a great day of family fun.
Make wreaths
Here are some great tutorials for how to build some beautiful wreaths for your front door. You'll love to spend an afternoon crafting with your kids.
Deliver gifts and notes
Dropping off gifts to your friends is still possible even while you're following your state guidelines. You can sit and catch up while in cars, properly distanced on porches, or even with a FaceTime or phone call.
Don Christmas jammies
This long-standing tradition can continue this year while you and your children get your matching jammies for a cozy and cute Christmas Eve. Find a little normalcy amidst all the chaos with this super cute Christmas idea.
Make holiday TikToks
If you've got some Gen-Z kids in your home, you've definitely heard of TikTok. There are some awesome Christmas dances and trends you can try out with your family. Maybe you'll even go viral.