DIY Crystals: How To Make Your Own Geodes in 24 Hours
Looking for easy kids camp projects you'll actually enjoy doing yourself? We've got you covered.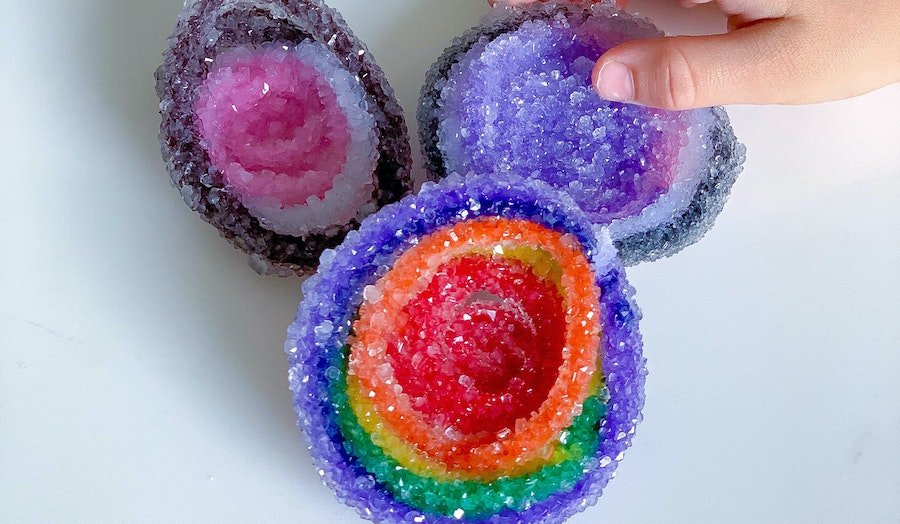 Looking for easy kids camp projects you'll actually enjoy doing yourself? Then you NEED to check out this DIY crystal tutorial. Not only does this pipe cleaner project result in crazy cool geodes that your kids will cherish forever, but it's also a low-mess tutorial (no glitter or glue here!). And once your kid makes their creation, snap a pic and save it in an art-centric Chatbook dedicated to their projects. Holding onto 2 million popsicle stick masterpieces can be tricky. Take a photo; it'll last longer. And give them something to hold onto with their very own Chatbook!
Pipe cleaners
Craft stick
4 cups boiling water
1 and 1/4 cup powdered Borax
Heat-safe glass jar with wide opening
1. Twist pipe cleaners into a concave oval shape. Use various colored pipe cleaners for a striated, rainbow look crystal. You can also select various hues within the same color family for a more natural-looking ombre geode.
2. Use another pipe cleaner to hang your shape from a craft stick.
3. Pour boiling water into heat-safe glass jar — mix in borax until it's dissolved.*
4. Place your pipe cleaner shape into the borax solution, making sure it's fully submerged and not touching any sides of the jar.
5. Leave the jar overnight, making sure not to disturb it.
6. Once the crystals are formed, remove it from the solution, dry it and enjoy beautiful homemade crystals!
*⚠️ Caution: The boiling water and mixture with borax should be done by an adult. Borax should not be ingested.
So how do you explain the STEM aspect of this project to small kids? This DIY shows how crystals can grow. Crystals are formed by a regular, repeating pattern of molecules (or tiny building blocks) connected together. Most crystals come in geometric shapes with sharp, straight edges and smooth sides.